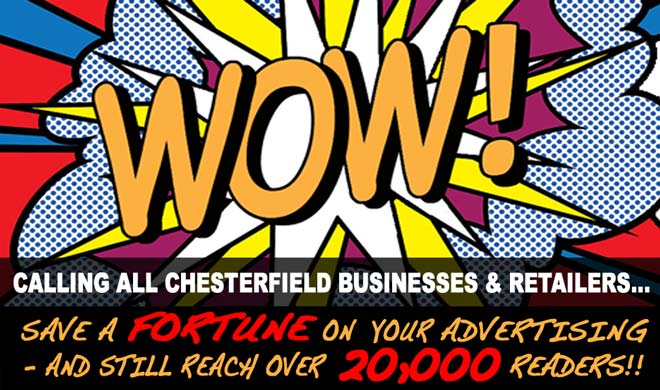 "And how's that work?" you'll probably ask?
3 reasons...
WE ARE AN ONLINE-ONLY NEWSPAPER...
And, we readily understand that for a lot of people, 'online-only' still means 'small', 'niche' and 'only for the kids and geeks' ... but really, follow it through...



'ONLINE-ONLY' OR NOT - WE HAVE A 20,000+ READERSHIP...
We have a readership of 20,000+ every month, with many more than that as 'visits' or 'hits' to the site!
That's NOT a distribution figure - these are actual, current*, recorded unique visits or 'readers' to the site -
and remember, the vast majority of these are YOUR LOCAL CUSTOMERS ... and it's growing...




WE HAVE VERY LOW PRODUCTION COSTS...


With those kind of serious readership figures, the words 'online-only' simply mean that we have the huge bonus of virtually no production costs to pass on to you. So

when compared to the overheads of any traditional printed newspaper / magazine / or other media - means you get matching or much greater local exposure for your advert (when compared to other forms of local advertising), for a near un-matchable cost.
So there you go...
it really is a "WOW!" - and we really can "SAVE YOU A FORTUNE!"


ADVERTISING OVERVIEW
If you are a small local business or independent retailer, you may want to advertise your product, service or sales regularly, but advertising costs in local papers and magazines prove too expensive.

Then take a look around this page at some of our basic advertising costs (for our Article Page positions) and sizes (in yellow with red borders) - along with their amazing Starting prices (per week).
Costs vary according to factors such as whether the ad is on the main homepage, a main section header page, or on the basic article page - as well as whether your ad is grouped with other ads (rotating) or as an exclusive position (no other ads displayed in that position).

These on-page positions are ALL listed as a basic 'price list' in our Media Pack, which you can DOWNLOAD HERE.

We've kept the Media Pack very straight forward and based on a traditional printed newspaper advertising space format, to easily select the advert you want.

You know our readership - and therefore how many people your ad will be seen by - so we don't go down the automated 'PPC' sales route and dazzle you with ridiculous and often misleading web stats - you simply choose your ad size, choose your ad position, choose your page, choose for how long and let us know!

And ALL our advertisers have complete flexibility to change their advert content/artowkr as often as they wish as well as being posted regularly to our Social Network pages.
It's that easy!
SECTION SPONSORSHIP PACKAGES
Our fantastic new SECTION SPONSORSHIP Packages - both Standard and Premium - are appropriate to our larger businesses, especially those who maybe have a link to a sports club, whether as a supporter or sponsor - or if your service or product is relevant to the subject of another section, for example a Pharmacy for the Hospital/Medical section or maybe a Security product for the Police section.

This package carries your message across Entire Sections of The Chesterfield Post - over which your branding and adverts are prominent and ever-present - with text links in your sponsored sections headlines that are carried on other pages - as well as on all related posts to our Social Network pages.

The exposure for the Section Sponsorships is truly amazing - and even more amazing - the cost for these packages start from under £80 per month for the Standard Sponsorships!

Email or call 07821 510 005 for full details and availability of our exciting SECTION SPONSORSHIP Packages.
CAR - PROPERTY - RESTAURANT PAGES
Our Advertorial Pages are excellent for businesses that add new content regularly on to an exclusive page, whether it's regular car listing updates, House sales and rentals, Restaurant and Pub Menus or events, Product offers or news - it's your page to add whatever, whenever you want.

Starting from just £400 per month - compare that to the price of a full or double page spread - weekly - in the printed press - AND there are no print deadlines to worry about if you have something urgent to tell your customers!
Please email or call Mark on 07821 510 005 for details.
FREE & DISCOUNTED ADS FOR CHARITY & COMMUNITY
The Chesterfield Post has a policy of not charging a penny for promotion, pages and advertising space for all Charities and Charity Events in the local community. FREE. All of it. NO money. On us. All the time!
Also - an 'Advertorial' (see above) style page is available for our local Community Clubs and Associations, and start from just £20 per month! Keep your club members up to speed with news, meetings and events and take advantage of the free re-posts to our Facebook and Twitter pages.
Please email or call Mark on 07821 510 005 for details.
ADDITIONAL ADVERTISING BONUSES
Included for FREE with ALL our Advertising and Sponsorship Packages - are regular posts/tweets to our very active and well supported Facebook and Twitter accounts, plus re-posts/tweets if information is updated or changed during your advertising period.
We can also arrange Fantastic Discounts for multi-advert packages. In this instance, if you use the Media Pack as a 'starting point' for costs for the multi-advert package you would like - let us know what you are looking at and we'll sort out a generously discounted price for you.
All specifications for creating and supplying artwork is in our Media Pack - or we can produce the artwork for you - for FREE! All artwork created by us is sent to you by email to be checked and proofed before it goes live.
With the exception of any regular Advertisers, with whom we are happy to set up a 30 day account after checks, payment for all advertising is due at time of booking. For full terms, CLICK HERE.
For any further details, please contact us as below or download / view our Media Pack.
Advertising Sales Manager:
Mark Ward
Email: sales@chesterfieldpost.co.uk
Telephone: 07821 510 005
CLICK HERE TO DOWNLOAD THE MEDIA PACK (3.3Mb)
* Figures as at February 2014