Please CONTACT US if you would like to advertise your restaurant, cafe, sandwich shop or take-away here.

RESTAURANTS AND FOOD OUTLETS IN AND AROUND CHESTERFIELD

Markham Vale McDonald's Introduces Table Service
Monday 31st October 2016 The McDonald's restaurant in the M1 Commerce Park at J29a, has undergone a new, exciting transformation following investment to improve the experience for local customers.

The restaurant will feature the option for customers to have their food delivered direct to their table.

Digital innovation is at the heart of the transformation. The big changes focus on providing customers with more choice as to how they order and pay, adapting how the food is prepared and served and offering new technological... READ MORE...
Staveley MWFC's Club House Is Open For Parties & Functions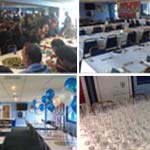 Monday 31st October 2016 The beautifully appointed Club House at Staveley MWFC's Inkersall Road Football Ground is now available to book as the perfect venue for your Party or Function.

Extensively refurbished and modernised, it's the ideal place to stage your event - from a children's birthday party through to a Wedding Reception.

Catering for buffets (hot or cold) through to 3 course dinners and fully licensed, the Club House allows space for a dance floor and DJ/Band stage to add to your events options... READ MORE...

Subway @ Chesterfield's Tesco Extra - The Grand Opening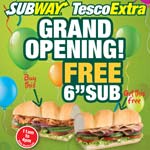 Tuesday 17th November 2015 On Sunday 29th November, between 11am and 4pm, SUBWAY at the Tesco Extra on Lockoford Lane, Chesterfield, is celebrating it's offical Grand Opening.

To celebrate the event, they are giving away a FREE 6" Sub with a 'Buy One Get One Free' deal and limited to one Sub Per Person Per Order and while stocks last.

Already established as a food favourite for many people, the Subway at Tesco Extra has been a successful franchise for several months, and the management are holding the Grand Opening as a way to say 'thank you' to their customers... READ MORE...

Derbyshire Meets Spain In Steve Perez's 'Mi Casa' Cookbook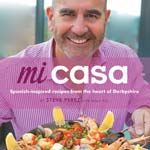 Thursday 30th April 2015 Hot on the heels of Casa Hotel being voted 5th best hotel in the UK, in Trip Advisor's 2015 Travellers Choice Awards, Steve Perez has unveiled a Spanish influenced cookbook, 'Mi Casa: Spanish-Inspired Recipes from the Heart of Derbyshire'.

The book not only shares some of the hotel's favourite recipes, but also tells the story of Casa and is an autobiographical recount of Steve's entrepreneurial journey.

Drawing influences from Steve's Spanish roots - and his passion for high quality local produce - Mi Casa offers insights into dishes inspired... READ MORE & AUDIO...
Wake Up And Smell The Coffee!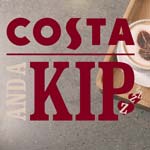 Wednesday 1st April 2015 The nation's favourite coffee shop, Costa, is trialing a new service from April that lets customers nod off and have a power nap when they hit an afternoon slump.

With sales figures highest between 3:00pm and 4:00pm, the time when people are most in need of a coffee ''pick-me-up', Costa is offering customers a chance to book a 15-minute snooze.

Specially imported, Japanese inspired Ostrich Pillows will turn tables into relaxation zones. Customers will be able to place their coffee... READ MORE & VIDEO...
Chesterfield McDonald's Goes Digital After Revamp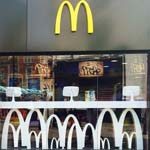 Tuesday 24th March 2015 Chesterfield is set to be given a significant investment boost with the bold transformation of the McDonald's restaurant, creating up to 10 new jobs.

The restaurant, which is situated on Low Pavement has now officially opened after it's extensive refit and redecoration work was completed.
 
The restaurant, which first opened in July 1984, has been given a high-tech makeover to feature new self-service kiosks, digital menu boards and tablet computers. The redesign also includes McDonald's signature style with... READ MORE & AUDIO...
Nando's Brings Peri-Peri Chicken To Chesterfield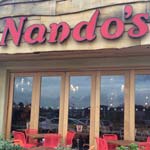 Wednesday 22nd October 2014 Chesterfield residents and visitors are in for a tasty treat as Nando's, home of legendary Portuguese flame-grilled PERi-PERi chicken, opened to the public today, Wednesday 22nd October 2014.

Located in Alma Leisure Park on the former Blockbusters retail site, the restaurant stays true to Nando's unique Afro-Portuguese roots with a stunning design seating up to 128 guests. The opening has also created 30 new jobs for the local area, ranging from cashiers and grillers to assistant managers.

Packed with flavour and great variety, the new restaurant... READ MORE & AUDIO...
2014 Food And Drink Awards Shortlist Announced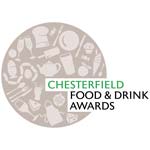 Thursday 14th August 2014 24 food and drink businesses have been shortlisted across nine categories in the 2014 Chesterfield Food and Drink Awards, organised in association with Chesterfield College - headline sponsor of the awards for the second year running.

The shortlisted establishments were selected from hundreds of nominations received by the competition organisers, Destination Chesterfield.

Four of the nominees - Calabria, Stephenson's Coffee and Tea House, Barca Bar and Tramway Tavern - are hoping to retain their titles in 2014... READ MORE...
Fancy The Chance To Build Your Own Dream Burger?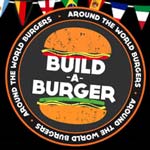 Thursday 6th March 2014 Ever wanted to make your mark on the menu at your local pub? Well now's your chance.

A Chesterfield pub/restaurant is giving local foodies the opportunity to create their ultimate dream burger, which if chosen, will feature in pubs across the nation - just in time to cheer on England during the summer's World Cup football.

The Donkey Derby, on Sheffield Road, is calling for burger buffs to help create pub restaurant chain Flaming Grill's first crowd-sourced burger - chosen by guests, for guests. READ MORE...

A New Chef, New Menu And New Award For Devonshire Arms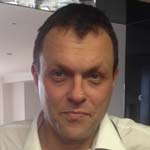 Tuesday 4th February 2014 There's not just a new chef and a new approach to dining at The Devonshire Arms, Middle Handley, but now there's another new award too.

The multi award-winning, Michelin listed inn, has recently welcomed new Head Chef Russell Caines.

With a wealth of experience gained around the country - and especially throughout North Yorkshire - Russell is the holder of a prestigious Michelin Bib Gourmand accolade, awarded when he was the owner and Head Chef at... READ MORE...

Historic Public House In Wingerworth Reborn!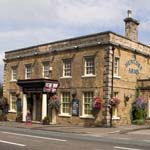 Thursday 7th November 2013 The Wingerworth Pub & Kitchen (formerly known as the Hunloke Arms) is to re-open tomorrow - Friday November 8th - following a £500,000 refurbishment.

The Grade II listed building, on the A61 Derby Road, has been brought back to its former glory, on time and on budget, thanks to the painstaking work of a dedicated team.

New Head Chef is Andrew Brookes, who has previously achieved 3-Rosettes at the East Lodge in Rowsley and the New Ellington in Leeds. READ MORE...
A Michelin Listing For The Devonshire Arms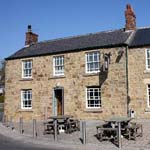 Thursday 3rd October 2013 The award-winning Devonshire Arms at Middle Handley has been given a place in the prestigious Michelin Hotel and Restaurant Guide for Great Britain and Ireland 2014.

The pub and restaurant in the village of Middle Handley, between Sheffield and Chesterfield, is the region's only new entry into the world famous guide to the best dining experiences.

Inspectors praised the restaurant's menu, saying: "Fresh, seasonal ingredients are at the core of the hearty menu. They like to keep things local..." READ MORE...
Major Refurbishment Of Grade II Listed Chesterfield Pub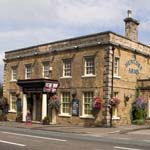 Wednesday 7th August 2013 It's a pub familiar to many of us in Chesterfield and it's been announced that The Hunloke Arms, a Grade II listed historical public house, is currently undergoing a half million pound refurbishment.

Situated on the A61 Derby Road, just 2 miles south of Chesterfield in Wingerworth, the refurbished premises, is to be called "The Wingerworth Pub & Kitchen" - and will become a major new local food and drink venue.

The Wingerworth will be serving breakfast, lunch and evening meals 7 days of the week and will be a major new local employer, creating around... READ MORE...
Back To School For Trainee Chef Jodi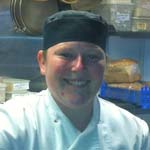 Tuesday 6th August 2013
From bar to kitchen to college - and Jodi Wilson hopes her next stop will be the winners' podium at the region's top food awards!

Jodi, who is 21 and lives in Eckington, is a rising star in the kitchen at the award-winning Devonshire Arms pub and Restaurant at Middle Handley.

Having originally worked behind the bar, her potential as a great kitchen talent was only spotted when she was asked to fill in for an absent team member on a busy Valentine's Night. READ MORE...
Merry Christmas From the Devonshire Arms, Middle Handley!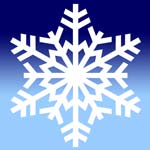 Thursday 1st August 2013 Is it ever too soon to wish everybody a Happy Christmas? Not according to the team at The Devonshire Arms!

The award winning pub and restaurant at Middle Handley is already celebrating the Festive Season after completely selling all its Christmas Day tables…six months in advance!

"We have 82 people booked in, which really is our full capacity for Christmas Day lunch," said Manager, Alistair Myers, "and we already have a reserves list of people hoping we might be able to squeeze them in if there are any... READ MORE...
Burgers For Independence Day At The Devonshire Arms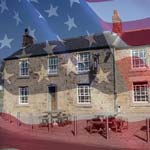 Monday 1st July 2013 Celebrate American Independence Day with the food that made (another) nation great, at The Devonshire Arms at Middle Handley.

The award winning pub and restaurant actually gets in ahead of the competition by hosting its Independence Day festivities a day early, this Wednesday, July 3rd.

But the taste choices are pure Americana as award winning Head Chef Tom Lawson delivers some Stateside classics at his special American Burger Evening.

There's a starter combo platter that includes sticky ribs... READ MORE...
Greek Deli-cious Opens On Whit Moor In Chesterfield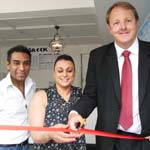 Friday 21st June 2013 Chesterfield's first Greek deli on Sheffield Road, was formally opened earlier this week by local MP Toby Perkins, as potential customers and passers-by were welcomed in to sample some of the dishes.

'My Little Greek Deli' is the brainchild of Vicky Kadis and serves traditional homemade Greek dishes, offering a fresher alternative to fast food.

Chesterfield MP Toby Perkins said, "I am delighted to open 'My Little Greek Deli' and wish Vicky well in her new venture.  It is vitally important that small businesses are given the support they need to boost our economy, and..." READ MORE...
Armed Forces Get Free 'Crown' On Armed Forces Day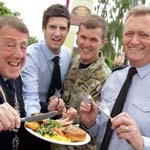 Tuesday 18th June 2013
Crown Carveries in Chesterfield are celebrating Armed Forces Day 2013 by treating all Army, Navy and Air Force men and women, past and present, to a free meal.

According to recent figures revealed by the MOD (Ministry of Defence), there are 4.6 million veterans across the country and over 176,000 current serving personnel who make up the current Armed Forces community, from serving troops to cadets and reservists across the Army, Royal Air Force and Naval Service; many of whom have risked their lives in battle to protect us back home... READ MORE...
Join St George For A Late Full English!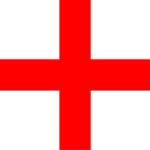 Monday 22nd April 2013 What better way to celebrate St George's Day than with that great culinary tradition, the Full English Breakfast?

But if you're one of the millions who now claim they're too busy for a sit down meal at daybreak, you can still tuck into the full works a little later in the day with the team at The Devonshire Arms at Middle Handley.

The Devonshire Arms will be celebrating St George's Day tomorrow, Tuesday, April 23rd, by serving a Full English from 5pm to 9pm. And in proper Devonshire Arms style, the meal will not just be English, but sourced locally too! READ MORE...

Red Noses And Big Smiles At The Devonshire Arms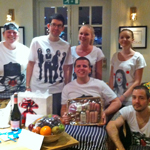 Wednesday 10th April 2013 The team at award winning pub and restaurant, The Devonshire Arms at Middle Handley, put a smile on customers' faces as they raised more than £500 for Comic Relief.

Head chef Tom Lawson, sous chef Craig Middleton, junior chef Simon Maw and commis chef Jodi Wilson competed against each other in a Great British Menu style competition, to create a series of dishes that were served at a special Red Nose Day dinner.

To support the charity, 50p from the sale of every starter and... READ MORE...
Chefs Compete - Great British Menu Style - For Red Nose Day!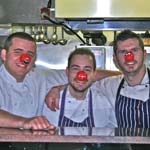 Thursday 28th February 2013 The team at the Devonshire Arms in Middle Handley are aiming to put a smile on costumers' faces with their own Comic Relief version of the 'Great British Menu' competition!

The award winning pub and restaurant's Head Chef Tom Lawson, Sous Chef Craig Middleton and Junior Chef Simon Maw will be competing against each other to create a series of dishes that will then be served at a special Red Nose Day dinner on March 15th.

Since last weekend and over the next two weekends... READ MORE...

"It All Comes Back To Food!" Nonnas' Gian Bohan Talks Italy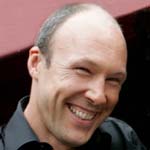 Monday 10th December 2012 A book, which I was given sight of before our interview and written by Nonna's very own co owner Gian Bohan, bears the title 'Strada Della Nonna' which translates as 'the way of the Granny' and that, in a nutshell, is the philosophy which led to Gian fulfilling a dream, but more importantly, continuing to follow and learn about the passion of the Italian way of life.

And pass it on, which Gian does through good food and company - with an enthusiasm that very quickly becomes infectious - and an unbending ethos which he believes his customers want and grow to embrace. READ MORE...

No Need To Be 'Lonesome On Sunday Night' - Competition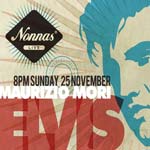 Friday 23rd November 2012 Elvis isn't down at the local chip shop after all - but he is about to hit the stage at a Chesterfield venue this weekend.

This Sunday (25th November) from 8pm, locally renowned band The Sharpcuts will also be taking to the stage for the evening hosted by Nonna's on Chatsworth Road and will be performing a full warm up set at the gig before 'The King' takes to the stage.

There is a twist in the tale though as 'Elvis' comes in the shape of Nonna's co - owner, Maurizio Mori, who performs regularly as the legend... READ MORE...
Let It Bean!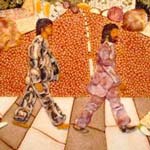 Thursday 13th September 2012 The Highwayman Beefeater Grill In Chesterfield has recreated the iconic image of The Beatles crossing Abbey Road - using items from the great British breakfast!

It is one of the most recognised album covers in history and now local visitors to the Highwayman in Chesterfield have chosen the iconic shot of The Beatles crossing Abbey Road as their favourite British image of all time. To celebrate their breakfast menu, food sculptor Paul Baker was commissioned to design and create a mosaic of the famous Beatles album cover 'Abbey Road', made entirely from classic ingredients found in a full English breakfast. READ MORE... 

The Delhi 41 Restaurant Celebrates Successful 1st Year
Monday 10th September 2012 DELHI 41 on Whittington Moor has now been open for 12 months and is fast gaining a reputation as one of the best Indian Restaurants in Chesterfield.

The restaurant - which also does takeaways - was opened by the Mayor of Chesterfield in 2011, Cllr Peter Barr, and is a blend of Indian and Bangladeshi cuisine.

Behind the good food and welcoming surroundings though lies a family business and a story of triumph over illness. READ MORE...
MP Votes For Chesterfield's West Bars Tandoori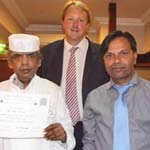 Thursday 6th September 2012 West Bars Tandoori has won the regional runners up prize in the Tiffin Cup, following their nomination by Chesterfield MP Toby Perkins.

The hotly-contested annual competition, backed by a cross-party group of Parliamentarians, sees MPs country-wide nominate a South Asian restaurant from their constituency.

Following Mr Perkins' nomination, a mystery diner ate at West Bars Tandoori to sample the curry house's signature dishes, atmosphere and service. READ MORE...

Casa Achieves A Second AA Rosette For Cocina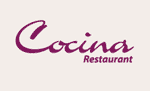 Monday 23rd July 2012 Casa Hotel in Chesterfield has scooped yet another accolade having been awarded a prestigious second Rosette for Cocina restaurant.

The hotel is celebrating its success following a second visit from the AA, and Casa has retained its status as the highest AA rated 4* hotel in Derbyshire with an 81% score, 4% above the national average.

Andrew Wilson, Head Chef at Cocina, has recently launched a new menu... READ MORE...