Articles and advertising for Hotels, B&B's and hostels in and around Chesterfield. Please CONTACT US if you would like to advertise your Hotel or B&B here.

HOTELS IN AND AROUND CHESTERFIELD

Accommodation In Chesterfield
Wednesday 15th December 2021 Chesterfield is a stunning part of the UK, located in the countryside county of Derbyshire.

The town is a great place to visit for weekend breaks, spa holidays, or even just a day out to visit local café's which sell some of the finest northern baked goods.

For entertainment, Chesterfield has a range of activities which include hiking, a museum visit, the famous twisted spiral church, and additional reading will tell you there are plenty of gambling opportunities if you are interested in making an extra bit of cash. READ MORE...
Derbyshire Meets Spain In 'Mi Casa' Cookbook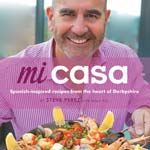 Thursday 30th April 2015 Hot on the heels of Casa Hotel being voted 5th best hotel in the UK, in Trip Advisor's 2015 Travellers Choice Awards, Steve Perez has unveiled a Spanish influenced cookbook, 'Mi Casa: Spanish-Inspired Recipes from the Heart of Derbyshire'.

The book not only shares some of the hotel's favourite recipes, but also tells the story of Casa and is an autobiographical recount of Steve's entrepreneurial journey.

Drawing influences from Steve's Spanish roots - and his passion for high quality local produce - Mi Casa offers insights into dishes inspired... READ MORE & AUDIO...
Iconic Chesterfield Hotel To Close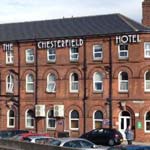 Thursday 29th January 2015 It's been confirmed that the iconic Chesterfield Hotel on Malkin street is to close on Saturday evening for the last time.

Staff - who had received no pay over December - and creditors, have been told by owners that they will receive the monies they are owed - with Chesterfield MP Toby Perkins saying his office will "continue to chase" the situation and called it "a sad day for all staff."

It is believed that the owners are to complete a feasibility study into whether an investment programme will be successful.
DVLA Wants Swinging Success As TA12 ZAN Goes Up For Sale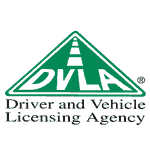 Monday 24th February 2014 One lucky motorist could well be lord of the urban jungle, thanks to DVLA Personalised Registrations, who are auctioning -
"TA12 ZAN" later this week.

The registration, which clearly resembles the name of the jungle-living hero created by author Edgar Rice Burroughs, is among 1,500 personalised registrations going under the auctioneers' hammer during the Agency's first live sale of 2014 which gets underway at the Casa Hotel in Chesterfield on Wednesday, February 26th.

While the three-day sale is festooned with fun-related registrations... READ MORE...
CASA's Events Manager Wins Prestigious Industry Award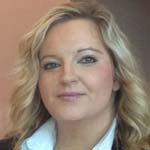 Friday 17th May 2013 Casa Hotel has added to its impressive list of accolades following the announcement that the 4-star hotel's Events Sales Manager has been recognised by the mia-List for outstanding contribution to the industry.

Alexandra Hopkins, aged 28, was presented with her award at the prestigious mia-List ceremony in London at the end of April. The mia-List recognises and rewards those hardworking and enthusiastic individuals who inspire the very highest standards of service and facilities throughout the UK meetings industry.

Casa Hotel owner, Steve Perez, commented, "This award..." READ MORE...
WIN A Brampton Manor Fitness Centre Family Membership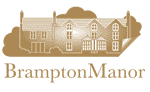 Saturday 26th January 2013 A fantastic prize of a 6 month Family Membership is on offer from Chesterfield's county wide popular venue for weddings, receptions and functions and business facilities.

Brampton Manor's fully equipped Health & Fitness centre is one of very few venues in Chesterfield that offers a creche, heated indoor pool, squash courts, fully air conditioned gymnasium as well as a fantastic class timetable including Bokwa, yoga, pilates and spinning. It is also now offering the chance to win an amazing FREE 6 month family membership* (2 Adults and 2 Children) to their health and fitness centre in our great FREE to enter Prize Draw. It's a fantastic prize and doesn't cost a penny to enter - and you can enter as many times as you wish! READ MORE...
Casa Named Fourth Best UK Hotel By TripAdvisor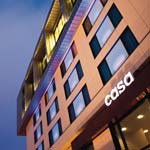 Thursday 17th January 2013 Chesterfield's 4-star hotel, Casa has announced that it has won 'an Oscar of the hotel world', having been named the UK's fourth best hotel by the world's largest travel site, TripAdvisor.

Unlike any other hotel honours, the Travellers' Choice Awards are based on millions of reviews and opinions covering more than 650,000 hotels collected in a single year from travellers around the world. The campaign identifies the most outstanding properties worldwide, and Casa also placed as the number 21 hotel in Europe.

Casa's Owner, Steve Perez, commented, "I'm overwhelmed..." READ MORE...
Casa Achieves A Second AA Rosette For Cocina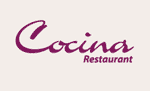 Monday 23rd July 2012 Casa Hotel in Chesterfield has scooped yet another accolade having been awarded a prestigious second Rosette for Cocina restaurant.

The hotel is celebrating its success following a second visit from the AA, and Casa has retained its status as the highest AA rated 4* hotel in Derbyshire with an 81% score, 4% above the national average.

Andrew Wilson, Head Chef at Cocina, has recently launched a new menu... READ MORE...
Casa Hotel Wins Best Employer In Hospitality Award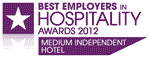 Friday 22nd June 2012 Casa Hotel in Chesterfield is officially the Best Employer in the Medium Independent Hotels category for England and Wales after scooping the accolade at Caterer.com's Hospitality Awards 2012.

After beating off hundreds of applicants, Casa was named number one at the annual awards, which encourage employees to vote for their employer using the learnpurple employee engagement survey.

Ian Burke, Director of Caterer.com said; "The bar was set high this year and we had a record number of companies enter the awards. It is fantastic to see employees engage and feedback to the business what they like about working with them. These are the only awards that focus on what the people at the core of the business really think." READ MORE...
CASA's Housekeeping Manager Scoops Prestigious Award
Tuesday 22nd May 2012 After just one year as Housekeeping Manager, Sandra Dean has scooped a prestigious award for her work at Casa Hotel, Chesterfield.

Sandra, from Chesterfield, has been awarded runner up for the AA Housekeeper of the Year 2012, an amazing accolade as she has only been working in hotels for 3 years. Sandra became part of the Casa opening team in 2010 and was promoted the Housekeeping Manager after just one year of service.

Mrs Dean commented: "I wouldn't have been able to achieve this accolade without the help of my team. We're all extremely proud to work at Casa..." READ MORE...
CASA Named In Top 50 Hospitality Employers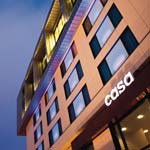 Monday 14th May 2012 The 4 star Casa Hotel in Chesterfield has been shortlisted for Caterer.com's Best Employers in Hospitality Awards 2012 England & Wales, and has achieved a ranking in the Top 50 Employers in Hospitality.

After beating off hundreds of applicants, Casa is up against four other hotels in its category to be named the Best Employers in Hospitality. The annual awards encourage employees to vote for their employer using the learnpurple employee engagement survey.

Ian Burke of Caterer.com said: "The best employers are those..." READ MORE...
Home From Home For Spanish Students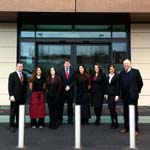 Monday 14th February 2011 The motto of Chesterfield's Hotel, The CASA is, "Mi casa es su casa", and for 4 students it really has proved to be a home from home as they act as guinea pigs for a link between a Spanish University and the Hotel.

They are studying at the Spanish themed Hotel as part of their International Hotel Management course and have travelled from the University of the Balearic Islands to complete the third year of study here.

The first students to come to the hotel as part of this programme... READ MORE...
Steve Perez Interview -
"It's Not Just About Me, It's About The Town Too!"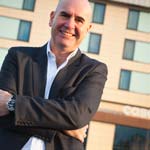 Wednesday 2nd February 2011 If ever the phrase 'self-made-man' summed up anyone - it sums up Steve Perez.

Brought up in Chesterfield where his dad owned a restaurant and then the Red Lion at Stanedge, Steve has learned his trade from the ground up - working first in catering and hotels and, via a drinks business, he's now the proud owner of an iconic and groundbreaking Four star hotel (Chesterfield's first), the CASA.

We met with Steve at the hotel and chatted to him about his life, his love for the town, and to discover what makes a successful businessman. READ MORE...