LATEST NEWS FROM SHEFFIELD STEELERS ICE HOCKEY TEAM

A 4 Point Weekend Keeps Steelers Top Of The League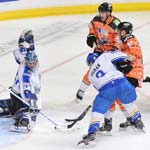 Monday 22nd December 2014 The Steelers remained top of the Elite Ice Hockey League with a 4-3 road win against the Hull Stingrays on Sunday evening.

The result rounded off a 4 point weekend for Gerad Adams' side who defeated the Stingrays 5-2 at the Motorpoint Arena on Saturday.

Mathieu Roy was again the star of the show scoring twice on Sunday evening in Hull taking his tally to 23 for the season to date.

It was Colton Fretter who put the Steelers in to an early lead... READ MORE...
Steelers Secure First 4 Point Weekend Of The Season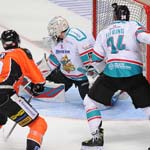 Monday 21st October 2013 Sheffield Steelers secured their first 4 point weekend of the season after victories over Fife Flyers and the Belfast Giants.

Saturday evening saw a Rob Sirianni brace sink the Flyers with further goals coming from Steven Goertzen and Drew Fata as the Steelers collected 2 points with a 4-1 victory in Scotland.

Sirianni scored the only goal of the first period and then doubled the advantage 12 minutes into the second session before Steve Goertzen added a 3rd for a 3-0 lead at the second break. READ MORE...

Lacroix Out For Three Months With Broken Ankle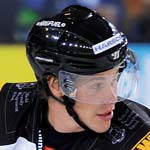 Monday 30th September 2013 Steelers leading scorer Maxime Lacroix, has undergone surgery on two fractures to his ankle in an injury picked up in Saturday's game against the Nottingham Panthers.

Steelers have since confirmed that they have begun the search for a replacement forward - and hope to have news shortly.

Head Coach Doug Christiansen said, "Losing Max Lacroix for a minimum of 3 months is a big blow to our team. He was leading the league in goals when he got hurt and was really emerging into the player we expected him to be." READ MORE...
Steelers Sign Gord Baldwin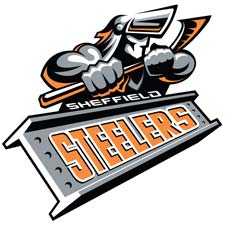 Thursday 1st August 2013 The Sheffield Steelers are delighted to confirm the signing of 26 year old defenseman Gord Baldwin on a two year contract.

Baldwin joins the Steelers on the strong recommendation of returning forward Steven Goertzen, both players were team mates back in 2011-12 with Czech side BK Milada Boleslav and Baldwin was drafted in the 3rd round of the 2005 NHL entry draft by the Calgary Flames and boats 275 American League and play off games.

Steelers head coach Doug Christiansen was delighted with the Baldwin signing saying, "Gord is a tall, skilled d-man. I actively recruited him..." READ MORE...
LeFebvre Returns To Steelers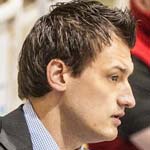 Thursday 18th July 2013
One of the Steelers all time favourite characters has returned to the club - but this time - as new member of the coaching staff.

Marc LeFebvre played over 100 games for the Steelers in a two year spell between 2003-05 and was an important member of the clubs league and play off winning championship side of 2004.

After leaving the Steelers, Lefebvre then moved on to the Coventry Blaze before spells in North America, in the UHL and SPHL, and Europe... READ MORE...
House Is Back! New Contract For Geoff Woolhouse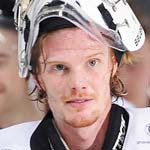 Tuesday 18th June 2013 Geoff Woolhouse has signed a new one year contract with the Steelers, returning for a fourth season with the club.

Woolhouse joined the Steelers in time for the league championship winning season in 2010-11 and is widely regarded as the best of the back up goalies in the EIHL.

In 2011-12 he started 9 games with an incredible 96.8% saves percentage earning him a call up to the senior GB squad under new Steelers coach Doug Christiansen. Woolhouse had just the 6 starts last season behind John DeCaro with a goals against average of just 2.67. READ MORE...

Steelers Attend LUK 25th Anniversary Fun Day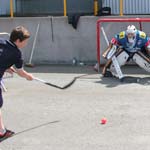 Friday 7th June 2013 The Sheffield Steelers assisted long term sponsor LUK in their 25th Anniversary celebrations at the weekend at their impressive factory in Waleswood Road, Wales.

Over 1000 staff, family and invited guests enjoyed a multitude of events including the Steelers exhibition stand and shoot out competition. Mascot Steeler Dan was also on hand to join in with the fun.

"LUK are one of our longest serving sponsors and good friends" said Steelers' Commercial Manager Mike O'Connor... READ MORE...
Hot Shot Legue Back With The Steelers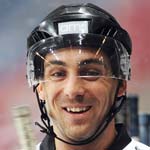 Tuesday 14th May 2013 Steelers leading scorer Jeff Legue has signed a new one year contract with the club.

Legue is new head coach Doug Christiansen's first import signing, "Having coached against Jeff, I certainly came to appreciate his skill set and clutch goals in big games" said Christiansen, "He can play in all situations, five on five, penalty kill, power play and also takes penalty shots which in our league is very important.

"Speaking with Jeff, I was impressed with his commitment and he echoed my desires to bring winning ways to the club." READ MORE...

Dowd, Christiansen And The Steelers Reunited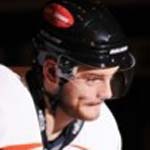 Tuesday 7th May 2013 The signing all Steelers fans have been waiting for was confirmed today with the news that this Country's best homegrown talent, Robert Dowd, had signed a two year contract.

Dowd returns to the UK following a season with Troja Lungby in Sweden. The Great Britain international left the Steelers after winning the league title in 2011, ironically to join Doug Christiansen in Belfast where he also won the championship the following season.

"I'm so happy to be back home" said Dowd..." READ MORE...
Sheffield Steelers Appoint Doug Christiansen As Head Coach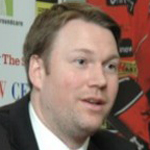 Wednesday 10th April 2013
The Sheffield Steelers have confirmed the appointment of Doug Christiansen as their head coach for the next two seasons.

Christiansen led the Giants to a league championship back in 2012 and an Erhardt conference title this season.

The 34 year old American arrived in the UK back in 2007 as player coach of the Edinburgh Capitals and earned instant respect rebuilding that organisation and ensuring play off qualification. READ MORE...
No Contract Renewal For Steelers' Head Coach Ryan Finnerty
Thursday 4th April 2013 The Sheffield Steelers have confirmed that they will not be renewing the contract of head coach Ryan Finnerty following two seasons in charge of the club.

Finnerty (pictured) joined the Steelers as a player in 2006 and remained with the club for two and a half years, playing 188 games and scoring 64 goals before spells back in North America and Cardiff.

Finnerty returned to Sheffield as Player Coach in 2011 and as a stand alone Head Coach for this past season. READ MORE...

Steelers Hit 4 Without Reply To Beat The Devils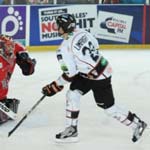 Monday 11th March 2013 The Steelers staged a stunning come back in Cardiff trailing 4-1 after 23 minutes but eventually beating out the Devils 5-4.

Rod Sarich scored the game winning goal 4 minutes into the final session after early strikes from Messrs: Limpright, Tait, Legue and former Devil Chris Frank.

Ashley Tait had the Steelers ahead after just 19 seconds but Ryan Finnerty's side then conceded 4 in the next 23 minutes, first period efforts from Gerad Adams and Kenton Smith followed by two quick goals at the start of the second session from Birbraer and Piggott. READ MORE...
Sheffield Steelers Through To Final Of 2014 Challenge Cup
Wednesday 6th March 2013 The Sheffield Steelers progressed to the final of the 2014 Challenge Cup with a character 4-2 'come from behind' victory over the Braehead Clan.

Without the injured Steve Goertzen and Shawn Limpright (whose wife delivered their first baby daughter 20 minutes before face off), the Steelers struggled early on and went behind to the only goal of the first period scored by Jordon Krestanovich.

Steelers still held the advantage following their 4-2 win in Glasgow last week but that was short lived after Ash Goldie doubled the Clan's lead... READ MORE...
Steelers Heather Runs London Marathon For Team Bluebell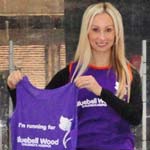 Tuesday 5th February 2013 Heather Finnerty, wife of the Sheffield Steelers coach Ryan, is pulling on her trainers and running the London Marathon for local children's hospice, Bluebell Wood.

Canadian-born Heather became involved with the hospice after Ryan and the team visited back in December, as they are keen supporters of the charity. She was incredibly touched after hearing about their work from Ryan and as a result offered her services as a volunteer as she is a qualified counselling psychologist.

Bluebell Wood offer care and support to local children... READ MORE...
Magnificent 7 Steelers Make Team GB For Olympic Qualifiers
Wednesday 24th October 2012 Rod Sarich will make his National Team debut in November when Team GB head out to Japan for the first round of the Olympic pre-qualification tournament playing Korea, Rumania and the host country.

Sarich is one of 7 Sheffield Steelers players to make the final squad with Danny Meyers, Mark Thomas, Jason Hewitt, Jonathan Phillips, Ashley Tait and Colin Shields joining him on the trip to the far east.

After eight seasons with the Steelers, Canadian born Sarich finally received his British passport this summer, thus making him eligible... READ MORE...
Steelers 2 - 1 Giants. Match Report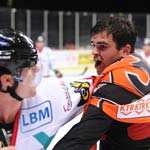 Wednesday 24th October 2012 Tom Sestito made a home debut he will remember with a goal, an assist and a fight as the Steelers came from behind to beat the Belfast Giants at the Motorpoint (Sheffield) Arena on Sunday 14th October by 2 goals to 1.

Steelers were down 1-0 to an early Belfast power-play when Craig Peacock slotted home in the 4th minute they leveled, 7 minutes later, after Sam Roberts took a cross checking minor, Sestito pounced to equalise.

Just 19 seconds into the middle period, Sestito turned from scorer... READ MORE...
Steelers Sign Tom Sestito From Philadelphia Flyers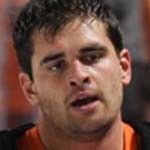 Thursday 11th October 2012 Ryan Finnerty has confirmed that the Sheffield Steelers have signed NHL power forward Tom Sestito for the duration of the NHL lockout.

Sestito played 14 games in Philadelphia last season with a further 34 in the Flyers farm team in Adirondack, in all he has graced the ice for 27 NHL games scoring twice and collecting 147 penalty minutes.

Head coach Ryan Finnerty confirmed the signing saying, "We had various options to move in many different directions. I do like what Tom will bring..." READ MORE...
"Unacceptable" Ryan Finnerty. Steelers 3 - 4 Coventry Blaze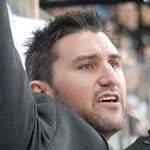 Tuesday 2nd October 2012 Despite leading 2-0 and looking comfortable at the end of the first period, the Sheffield Steelers collapsed in the final 40 minutes and went down 4-3 to the Coventry Blaze on Sunday.

Coming 24 hours after a 2-1 penalty shoot out loss to the Nottingham Panthers, it certainly wasn't the weekend that Coach Ryan Finnerty and his side were looking for. Finnerty held his team back after the game in a closed door meeting and certainly let his displeasure be known.

It looked so different 20 minutes in... READ MORE...
Steelers Edge The Giants In Last Sunday Evening's Cracker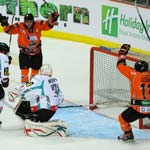 Friday 28th September 2012 Steelers forward Jeff Legue sent 4,000 Steelers fans home happy scoring the all important penalty shot winner against the Belfast Giants last Sunday evening.

The 5-4 victory over Belfast completed a successful 4 point weekend for the Steelers. On Saturday they overcame fierce rival Nottingham in a 3-2 road victory before further success 24 hours later against last years league champions.

You would have had long odds on the game going to overtime when Steven Goertzen made it 4-1 to the Steelers in the 27th minute... READ MORE...
Steelers Stay Top And Tait Breaks Record at Nottingham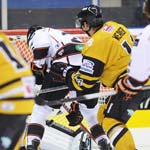 Wednesday 26th September 2012 What a Saturday night for the Sheffield Steelers in Nottingham! Firstly a great 3-2 victory on the road, a great return to the NIC for former Panthers Captain Danny Meyeres and then forward Ashley Tait breaks the EIHL scoring record with the game winning goal!

Steelers opened the scoring with the only goal of the first period, Jason Hewitt beating Kowalski from close range. Ashley Tait assisted, a point that took him to 511 Elite League points, tied for first place with former team mate Dan Carlson.

Jeff Legue extended the lead 5 minutes into the 2nd period... READ MORE...
Jorgensen Joins The Steelers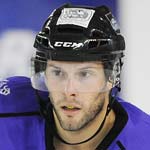 Friday 20th April 2012 Ryan Finnerty has moved quickly to acquire the services of former Braehead Clan defenceman James Jorgensen.

"From the first time we played against Braehead last season, he became a target" said Head Coach Ryan Finnerty. "I found him hard to play against defensively, as did the rest of our team. He is smooth, good on the puck and takes no prisoners in front of goal. I'm excited to sign him, he is hungry to win and just the kind of player we needed to bring to this club."

Jorgensen joined the Clan after spending two seasons... READ MORE...
5 Steelers Included In GB Squad, DeCaro Leaves For Norway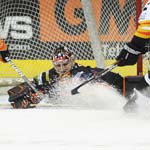 Monday 16th April 2012 Steelers Captain Jonathan Phillips heads a Sheffield contingent that headed to Slovenia on Saturday with the Great Britain national side competing in the World Championships.

Phillips, Jason Hewitt, Mark Thomas, Geoff Woolhouse and new signing Colin Shield all made the final cut for the Team GB's three day training camp in Manchester.

GB open their campaign against host side Slovenia before playing games against Austria, Ukraine, Japan and Hungary over this week. READ MORE...
Is 1 Point Enough For The Steelers?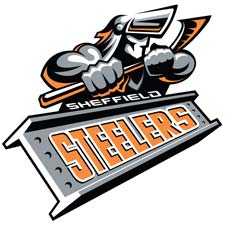 Friday 9th March 2012 Braehead Clan 4 - 3 Sheffield Steelers (after overtime). Mike Bayrack scored the game winner 3 minutes into overtime as the Braehead Clan beat the Steelers 4-3 in Glasgow last night (Thursday 8th March) and it leaves the question "Is 1 Point enough for the Steelers?"

Steelers trailed at the end of the first period as Jade Galbraith and Mike Wirill gave the Clan the early advantage at the Braehead Arena.

2 goals in 41 seconds had the Steelers level mid way through the 2nd period through Colt King and Jeff Legue. READ MORE...
Woolhouse Leads The Steelers To Victory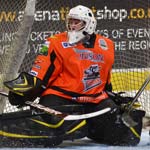 Wednesday 7th March 2012 Geoff Woolhouse stopped 22 third period shots, 38 in all as the Steelers beat the Hull Stingrays 2-1 on Saturday at the Arena.

Second period goals from Mike Ramsay and Nick Duff, his first for the club, secured the points and keep the Steelers in the championship hunt.

It was a scoreless first period as the Steelers looked a little fatigued following the overtime battle with Belfast the previous evening (which finished 3-2 to Belfast after Penalty shots) but, with Stingrays Captain Kurtis Dulle sitting out a tripping penalty, the Steelers struck with Mike Ramsay converting from close range. READ MORE...
Steelers Enjoy A Four Point Weekend Against The Scots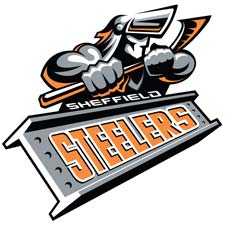 Monday 27th February 2012 Sheffield Steelers came from behind to beat the Fife Flyers 5-3 in Scotland on Saturday evening, then Ryan Finnerty led the way on Sunday, scoring twice in a 7-0 win over Edinburgh Capital as his side completed a 4 point weekend to stay right in the title race with the Belfast Giants - whom they play on Friday evening at the Motorpoint (Sheffield) Arena.

In Sunday's game at Fife Flyers, Luke Fulghum scored twice with further strikes from Colt King, Jason Hewitt and Jeff Legue.

The visitors had to fight all the way in this one to take the points... READ MORE...
Ramsay Leads Steelers To Incredible Comeback Win Over Blaze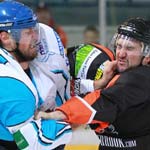 Tuesday 14th February 2012 Mike Ramsay led the Steelers to an incredible comeback victory against the Coventry Blaze on Sunday.

With just 15 minutes remaining, the Steelers trailed 3-1 and the game looked out of reach. Step forward Coach Ryan Finnerty, who did his best to get his team going by fighting Blaze forward Matic Kralj. In the 5 minutes Finnerty sat out, his side hit three goals to lead 4-3.

The first period was a tight affair with former Steeler Robert Farmer scoring the only goal of the session to give the Blaze the lead. READ MORE...
Finnerty Disappointed Despite Steelers Victory Over Coventry
Monday 13th February 2012 "It was embarrassing at times, in fact almost farcical. I went past being annoyed at one time and just laughed. We went from having a good first period to the most crazy indisciplined second I can remember for a long time. I then thought we came back well in the third and that one moment of brilliance from Ramsay earned us the points" - so said Sheffield Steelers Head Coach Ryan Finnerty.

With fellow title contenders Nottingham hosting Belfast twice this weekend, Saturdays game for the Steelers was a big chance to close the gap at the top of the table and early indications were that Finnerty's side were ready. READ MORE...
No Complacency For Finnerty's Steelers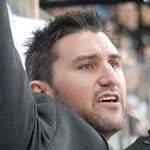 Wednesday 1st February 2012 Steeler's Boss Ryan Finnerty today warned his team of against thinking ahead to Sundays top of the table clash with Belfast.

"We won't think to much about the Giants until we have played Hull on Saturday" said Finnerty. "Sure we will talk about Belfast this week, we will do things in training geared for that game, but I will make sure that Hull is our primary focus. I've seen it happen too many times - that you have a big game on Sunday and forget about Saturday and come unstuck. I won't allow that to happen!

"In saying that, I don't think I will have to harp on too much..." READ MORE... 
Seventh Straight Win For Sheffield Steelers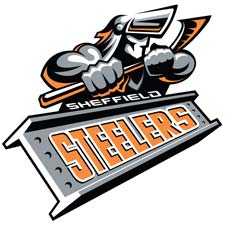 Tuesday 24th January 2012
Steelers make it 10 OT wins this season with player coach Ryan Finnerty leading the way with 2 goals.

Stars took title favourites Steelers all the way before losing out in a shootout, with Steelers once again finding that way to win with both Steve Birnstill and Jeff Legue scoring in the shootout with no Stars reply.

However it ended up a three-point weekend for Stars with a couple of solid displays, while Steelers march on, winning their seventh straight game. READ MORE...
Steelers See Off Stars And Sign D Man Duff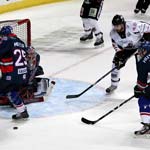 Tuesday 17th January 2012 Luke Fulghum scored twice as the Sheffield Steelers kept their winning record up at the Arena with a 3-1 victory over the Dundee Stars on Sunday evening and confirmed the signing of new D Man Nick Duff.

Steelers out shot the Stars 25-3 in the first period but only had Colt King's deflected power-play goal to show for the dominance.

Luke Fulghum scored his first in the opening minute of the second session to give the Steelers a comfortable advantage, many expected the floodgates to open but the Steelers failed to find a way past the super impressive Whitley ... READ MORE...
A 6 Point Weekend For The Steelers - 3 Wins In 3 Nights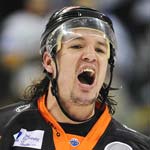 Monday 9th January 2012 Three Wins in Three Nights for the Sheffield Steelers, following road wins in Coventry and Fife on Friday and Saturday, the Steelers travelled to Edinburgh on Sunday and despite trailing mid way through the final period, hit three unanswered goals to secure victory and a hard earned 6 points.

Lee Esders scored the only goal of the opening period giving the Steelers the early advantage, however the Capitals hit back with strikes from Rene Jarolin at the end of the second period and 5 minutes into the final session.

Steelers seemed to find another gear with the pressure mounting... READ MORE...
Fulghum Brace Beats Blaze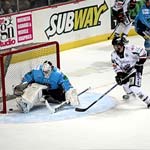 Wednesday 4th January 2012
Luke Fulghum was the Steelers hero on New Years Day scoring twice against his former side in a 6-3 victory played out in front of 4500 fans at the Motorpoint (Sheffield) Arena.

Steelers started sprightly and were ahead after just two and a half minutes when Colt King scored an individual goal having split the Blaze defence open.

Bryan Jurynec levelled in the 9th minute before Fulghum scored his first of the night to have the Steelers ahead at the first break. READ MORE...
Steelers Fail The Panthers Test
Wednesday 28th December 2011 The Unison Sheffield Steelers suffered a reality check over their two festive games against arch rivals Nottingham, going down on both nights and, in doing so, being on the wrong end of back to back losses for the first time this season.

Whilst the Boxing Day encounter ebbed and flowed, yesterday's game saw a more convincing win for the Panthers.

On both nights the Steelers had their chances, Mike Ramsay had the Steelers ahead at home on Boxing Day in front of the largest Elite League crowd of the season (7,454) and late in the game, the Steelers still only trailed by a goal until a late empty netter from Nottingham. READ MORE...
Finnerty Hails Character Win After Dramatic Comeback At Fife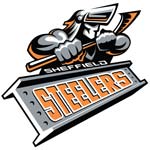 Tuesday 20th December 2011 Fife Flyers 5-6 Sheffield Steelers. Sheffield Steelers came back in the most dramatic fashion in Fife to claim two of the most unlikely points of the season.

Just 3 minutes into the final period, the Steelers trailed 5-1 and were looking down the barrel of just their 3rd league defeat of the season. Led by a brace from Luke Fulghum and single strikes from player coach Ryan Finnerty, Steve Birnstill and Jeff Legue, the Steelers tied the game in the 57th minute claiming a valuable point. They then went on to win the game scoring in overtime through Mark Thomas to collect a second point which moves them into second place... READ MORE...
Ramsay Stings The Stingrays With Overtime Winner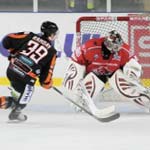 Monday 5th December 2011 HULL STINGRAYS 2 - 3 SHEFFIELD STEELERS. Mike Ramsay scored the overtime winner 24 seconds into the extra period for the Steelers in Hull on Sunday to complete a 4 point weekend for Ryan Finnerty's men.

Hull took the lead inside 20 seconds when Jeremy Tendler fired past John DeCrao in the Steelers' net.

Steelers hit back with two goals in 10 minutes. New signing Luke Fulghum scored his first goal for his new team... READ MORE...
Steelers Sign D Man Trudel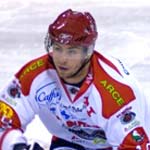 Monday 5th December 2011 The Steelers have moved quickly for defensive cover following the season ending injury to Rod Sarich by signing 28 year old Francis Trudel.

Trudel has played the last two seasons in Norway and Italy and will fly into Britain on Tuesday and be in the line up for Friday's top of the table encounter with Belfast Giants, the first of 3 games in 3 nights.

"We are lucky to have signed Trudel" said Head Coach Ryan Finnerty, "We had several options and Trudel became available at the eleventh hour." READ MORE...
Disappointing End To Steelers' European Journey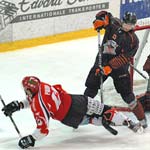 Tuesday 29th November 2011 Steelers ended their Continental Cup experience with a 6-3 defeat at the hands of Hungarian champions Dunaujveros Bull's.

It was a similar story for Ryan Finnerty's side - penalties against for their physical stye of play and tired bodies through playing with a depleted squad.

Steelers ran into early penalty trouble and conceded two first period power play goals through Balazs Somogyl and Atilia Pavuk.

Matt Stephenson soon had the Steelers on the board... READ MORE...
"Frustrated, Disappointed And Upset" Says Finnerty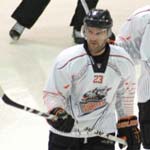 Tuesday 29th November 2011 Head coach Ryan Finnerty said he was frustrated, disappointed and upset after the Steelers 3-0 loss to Herning on Saturday evening.

"Things were going well after the first period. I was happy where we were" he said. "We had played physical just like the referee's had told us we could when we had the team meeting on Friday.

"We didn't do anything different in the middle period but the calls just kept coming against us..." READ MORE...
Steelers Await Clarification On Sarich After Night In Hospital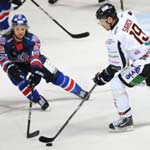 Wednesday 23rd November 2011
Rod Sarich spent time in hospital following the Steelers 3-2 victory against the Nottingham Panthers on Sunday night.

Sarich left the ice ahead of his team mates and headed to the clubs medical staff. Rod was then taken to hospital for tests and kept in over night.

The club has been advised that further tests will determine a full prognosis. The club has been already advised that Rod Sarich won't participate in this weekends Continental Cup. READ MORE...
Braehead Clan 2 - 4 Sheffield Steelers - Saturday's Match Report
Tuesday 22nd November 2011 A second period burst from the Steelers that saw them score three within the first seven minutes cemented this win for the Yorkshire team.

There was nothing to separate the teams after twenty minutes as the period ended goalless. The home side had 3 powerplay opportunities but failed to make any of them count. The visitors got their first powerplay with a minute to go and 40 seconds later it was a 5 on 3. READ MORE...
Split Weekend For The Steelers, But They're Still In The Cup!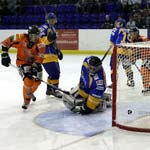 Wednesday 16th November 2011 The Sheffield Steelers' Challenge Cup hopes remained in place after a 2-1 home victory over the Hull Stingrays on Sunday evening.

The win means that further victories against Coventry (10th Dec) and Cardiff (23rd Dec) will ensure a semi final place for Ryan Finnerty's side.

Steelers looked comfortable with a first period goal from Colt King doubled by a R G Flath strike in the middle session. The Stingrays hit back with a controversial goal at the end of the second period. READ MORE...
Double Win Keeps Steelers League And Cup Hopes Alive
Tuesday 8th November 2011 The Sheffield Steelers recorded two more wins over the weekend that kept their hopes of both league and challenge cup success.

Neil Clark scored his 2nd goal of the game v Hull Stingrays with just 10 second remaining to keep the Sheffield Steelers Challenge Cup hopes alive. Steelers went 1-0 down to a Jack Watkins opener in the first period but bounced back to win the middle period 2-0 with goals from Clark and Colt King.

It looked like the Challenge Cup points were heading back to Sheffield, but under pressure Player Coach Sylvain Cloutier equalised with less than 5 minutes remaining leaving the Steelers in a precarious position as far as qualifications for the semi finals. READ MORE...
Sheffield Steelers Shut Out The Blaze For A 4 Point Weekend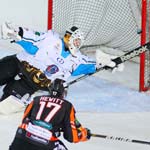 Tuesday 1st November 2011 The UNISON Sheffield Steelers moved into 2nd place in the league standings after a 4 point weekend with victories at home against Dundee (8-5) on Saturday and on road in Coventry (2-0) on Sunday.

The Steelers are now 5 points behind first place Belfast but have 3 games in hand over the Giants.

Goalie John DeCaro recorded his 3rd shut out of the season stopping 38 shots in Coventry whilst at the other end goals from Jason Hewitt and Jeff Legue secured the Steelers best win of the campaign to date. READ MORE...
Steelers 'Bouncebackability' Keeps Them In The Challenge Cup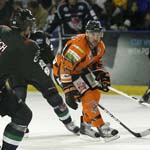 Monday 24th October 2011 The Unison Sheffield Steelers bounced back from a
3-0 defeat in Nottingham on Saturday to beat the Cardiff Devils 5-3 and with it, stay in the Challenge Cup with hopes still high of making the semi finals.

Both Jeff Legue and Colt King scoured twice for Ryan Finnerty's side with Lee Esders continuing his good run of form and also finding the back of the net.

"It's a big win and a big performance for us" said Coach Ryan Finnerty. "We bounced back well from the Nottingham defeat and played a solid game, putting in a full 60 minute effort. I thought we competed a lot better." READ MORE...
Sheffield Steelers 2 - 4 Nottingham Panthers. Match Report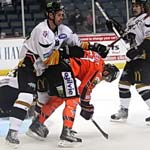 Monday 17th October 2011 Steelers disappointed a crowd of over 6,500 on Sunday evening with a lacklustre performance against the Nottingham Panthers in the Challenge Cup.

The Steelers took two early penalties with Nottingham advantage scoring on both power plays through player coach Corey Neilson and Guy Lepine.

The middle period didn't get better for Ryan Finnerty's side with youngster Robert Lachowicz scoring a third. It was all too much for Steelers winger Colt King who immediately challenged Lepine at the restart... READ MORE...
Huttle Back For The Steelers
Friday 14th October 2011 Steelers head coach Ryan Finnerty has confirmed that Chad Huttle will return to the line up for this weekends games in Dundee and at home to Nottingham Panthers on Sunday.

Huttle received a concussion three weeks ago in the game against Hull Stingrays and though finishing that game failed to play the following night against Dundee or in the two weekends since

Finnerty said "Chad has received the go ahead from the clubs medical staff and has practised the last two days without any further problems. He is so anxious to get back in the line up and will be ready for Saturday's game in Dundee before making his Steelers / Panthers debut on Sunday."
Sheffield Steelers v Nottingham Panthers. Sunday 16th October, Face Off 5.00pm. Tickets: 0114 256 5656
Huge Win For The Sheffield Steelers In Cardiff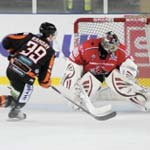 Monday 10th October 2011 After the Steelers came from behind to tie the Coventry Blaze in their first Challenge Cup game on Saturday (2-2), Ryan Finnerty's side went one better in a thriller in Cardiff on Sunday evening and extended their winning streak to 5 games.

Less than a month ago, Steelers were blanked in Wales in their first visit to the 'Big Blue Tent' this season but they gained sweet revenge in this one as a Mike Ramsay shootout strike was good enough to take the extra points after the teams had shared four goals in regulation and overtime. Steelers have now won five and tied one from their last six... READ MORE...
'It's About Time We Won The Cup!' Says Steelers' Bull Dog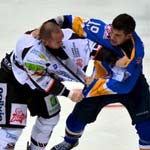 Friday 7th October 2011 The Unison Sheffield Steelers commence their Challenge Cup campaign this weekend with a home game at Ice Sheffield against Coventry Blaze on Saturday evening.

The Challenge Cup is the one trophy that has eluded the Arena side in the 8 years of the Elite Ice Hockey League, though the Steelers lifted the trophy in the ISL era on several occasions.

Forward Jason Hewitt believes it's about time that the Steelers gave the Challenge Cup a better run. READ MORE...
Sheffield Steelers 6 - 4 Coventry Blaze. Match Report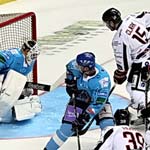 Monday 26th september 2011 A big second period set up an outstanding 6-4 victory for the Steelers against the Coventry Blaze.



Neil Clark once again led the way with 2 goals and a 5 point night as his line with Jeff Legue and Mike Ramsay set the tone.



It was the Blaze though that struck first when Luke Fulghum scored the only goal of the first period in the 7th minute

.

Steelers came out the stronger in a dominant second session. READ MORE...


Captain Jono Undergoes Surgery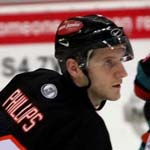 Tuesday 20th September 2011 Steelers Captain Jonathan Phillips has undergone surgery to repair damaged knee ligaments.

Phillips underwent the operation in Coventry on Monday evening with early indications that all has proceeded well "The surgeon has told me the operation was a success" said Phillips. The ligament came off the bone cleanly and therefore was easy to re-attach.

"I feel sore at the moment and didn't have the best nights sleep but I'm pleased the operation is over and can't wait to return to Sheffield..." READ MORE...
Now It's Three Out Of Three For The Steelers!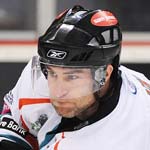 Tuesday 13th September 2011 Steelers forward Neil Clark bagged another 2 goals as the Sheffield Steelers made it 3 wins out of 3 with a gutsy performance in Hull on Sunday evening.

The win takes the Steelers to the top of the Elite league, though Head Coach Ryan Finnerty will have a busy week the clubs medical staff after a couple of the players picked up injuries over the weekend. "It's been a great weekend on the ice. Two good games, two good performances and 4 points" said Finnerty. "It has come at a cost though with a couple of the guys picking up knocks. We will take a few days off and rest these bodies." READ MORE...
Two Out Of Two For The Steelers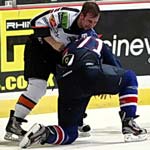 Tuesday 13th September 2011 The Steelers made it two wins out of two with a 4-1 home opening victory against the Dundee Stars on Saturday evening at the Motorpoint Arena.

Neil Clark led the way with 2 goals and a 3 point night with further strikes coming from Mike Ramsey and Colt King, both making their home debut.

Steelers outshot the Stars 10-2 in the opening period but only had King's goal to show for it at the first break. The middle session turned the Steelers way with 3 goals in under 10 minutes. READ MORE...
Clark Gets Green Light For Home Opener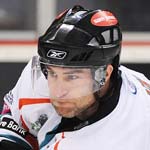 Friday 9th September 2011
Power forward Neil Clark is expected back in the Steelers line up for Saturdays home opener against Dundee Stars.

Clark missed Tuesdays exhibition game against local rivals Sheffield Steeldogs as a precaution but head coach Ryan Finnerty expects the 6'3" winger back in time for Saturdays game at the arena. "At this time of the year you want to be careful and Neil had a knock which needed rest. He has seen the physio a couple of times and we have kept him off the ice. He will skate on Friday but I expect a green light and to see him in full flight against Dundee on Saturday." READ MORE...
A Winning Start For The Champions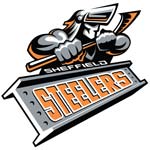 Thursday 8th September 2011 Belfast Giants 1 - 2 UNISON Sheffield Steelers. A very tight low scoring encounter to open the season in Belfast with the visiting Steelers taking the extra point thanks to a shootout win, with Mike Ramsay claiming the winning shot.
 
Steelers took little time to settle and given a powerplay opportunity when Giants' Derek LeBlanc was binned for holding, the man advantage paid off resulting in Matt Stevenson firing home on the powerplay at 4.15.
 
From that point on it was defence on top READ MORE...