LATEST NEWS FROM EDALE MOUNTAIN RESCUE TEAM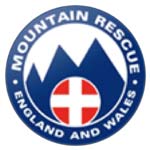 Derby MRT Join Edale MRT In Search For Missing Dronfield Man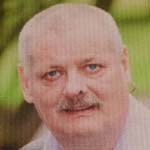 Friday 24th January 2014
Derby Mountain Rescue Team joined forces with Edale Mountain Rescue on Thursday 23rd January, to search for 58 year old Kevin Herbert, missing from a nursing home in Dronfield.

As we have previously reported, Mr Herbert was reported missing from Brookview Nursing Home, Holmley Lane at around 10pm on Wednesday 22nd January. Derbyshire Police carried out house to house enquiries and used the police helicopter to search the local area before calling out mountain rescue at around 1pm to extend the search. READ MORE...

Edale MRT Passes Milestone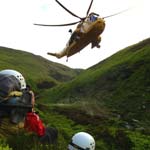 Wednesday 19th June 2013 The last week has seen Edale MRT pass the milestone of 50 callouts in 2013.

Their 50th job, on Saturday 8th June, was a request from a local farmer to free a sheep which was stuck on the crags at Burbage South. A couple of team members managed to release the sheep which had become wedged in a crack.

After a relatively quiet weekend (apart from the sheep!), on Monday evening they were called to two incidents simultaneously. A fell runner had injured his ankle while running near Burbage Bridge. The injured man was actually training to... READ MORE...
Busiest May In The Teams History...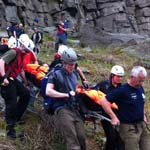 Wednesday 5th June 2013 We've all enjoyed the lovely weather over the last few days but, as Summer arrives, with it comes a spate of callouts for Edale Mountain Rescue Team.

On Friday evening, an unusually late climbing accident saw the team deployed to Stanage Edge near Hathersage where a young man had fallen around 10 metres while soloing. He had fractured both ankles and both wrists.

After being given pain relief and having his ankles and wrists splinted, he was carried down to the Plantation car park and transferred to an ambulance... READ MORE...
Cars, Mountains And Shopping In The Snow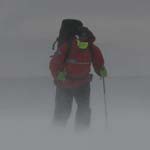 Tuesday 26th March 2013 The surprise return of winter has seen Edale Mountain Rescue Team assisting a whole range of people around the Peak over the weekend.

Friday night saw team members in two of their Land Rovers rescuing motorists who were stuck in the snow on the A619, the main road between Chesterfield and Baslow.

After several hours digging, towing and transporting drivers, Derbyshire Police asked the team to assist Buxton and Derby MRTs with a similar... READ MORE...
Derby Mountain Rescue Find North Wingfield Pensioner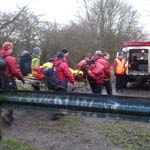 Tuesday 12th February 2013 Derby Mountain Rescue Team located a missing 73 year old woman on Sunday (10th February) after a search in the North Wingfield area.

The woman, a resident of North Wingfield, was believed to have left her house at 6:00am on Sunday and police had become concerned for her safety, especially with the very wet and cold conditions that day.

After an initial police search, including the use of the police helicopter overhead, mountain rescue were called in to expand the search. READ MORE...

Ambulance Service 'Snowed' Under With Calls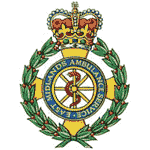 Monday 21st January 2013 Freezing conditions over the weekend have seen East Midlands Ambulance Service NHS Trust (EMAS) deal with 900 more calls than during the same period last year.

Between Thursday January 17th and Sunday January 20th, the 999 service received 6,335 calls, compared to 5,395 over the same dates in 2012.

Of these calls, 1,118 related to falls and 140 to road traffic incidents.

In Derbyshire longstanding links with local Mountain Rescue Teams... READ MORE...
Edale Mountain Rescue Team Help In Search For April Jones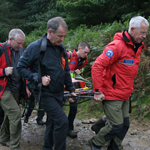 Wednesday 10th October 2012 Edale Mountain Rescue Team volunteers have been called out twice in the last 10 days to incidents in our area.

In addition, their team dog handler has been assisting with the search for April Jones in Machynlleth. Other Peak District Mountain Rescue teams have sent vehicles and personnel to help in the search and those teams that have remained in the Peak District have been on standby to fill the gaps here.

On Sunday 30th September, the team were called to assist a young woman who had been thrown from her horse on a remote bridleway... READ MORE...
2,000 Hours And Counting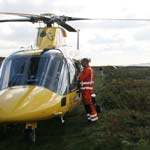 Wednesday 26th September 2012 The last week has seen Edale Mountain Rescue Team called out 3 times. These jobs have taken the total man hours spent on rescues in 2012 to just over 2000.

On Thursday afternoon, a couple walking on Kinder became lost when the cloud descended. After calling for help, they managed to locate themselves again as the team were preparing to deploy.

On Saturday afternoon, a walker slipped while climbing up rocks at Stanage End and was knocked unconscious. The team attended... READ MORE...
Edale Mountain Rescue Team - Somewhere Different...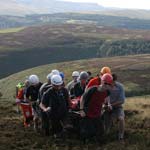 Thursday 13th September 2012 Edale MRT have attended 3 incidents in the last week, including a callout for a climber who had fallen at Dovestone Tor on Derwent Edge.

The team gets called for lots of fallen climbers - there are some of the most popular outcrop climbing in the world on their patch - but in the last 12 years, they have never been called to a climber on Derwent Edge. This edge is one of the more remote climbing crags in the area, with a long walk in from the nearest road.

On this occasion, a young woman climbing on Saturday afternoon... READ MORE...
Edale MRT Assist Stranded Motorists On Snake Pass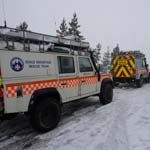 Thursday 5th April 2012
Edale Mountain Rescue Team was called out yesterday by Derbyshire Police to reports of motorists stranded in heavy snow near Snake Summit on the A57 Snake Pass road between Sheffield and Glossop.

Team members spent two hours clearing the road to reach a number of vehicles which had become stuck before evacuating four drivers to their base in Hope.

Glossop MRT were busy recovering drivers from the Snake Pass road at the same time. READ MORE...
Mountain Rescue Helped With Search For Missing Roy Barnes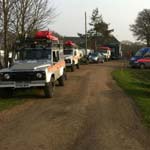 Tuesday 27th March 2012 After news came of the sad death of pensioner Roy Barnes today, the Edale Mountain Rescue Team also issued a statement.

"Edale Mountain Rescue Team was called alongside the Search and Rescue Dogs Association (SARDA) and members of Derby and Woodhead Teams, by Derbyshire Police, to help search for a vulnerable man in his late seventies, on Thursday last week.

Volunteers searched throughout the day and night of Thursday and throughout Friday, over the local golf course and surrounding woodland... READ MORE...
Police Confirm Body Is Missing Dronfield Man, Roy Barnes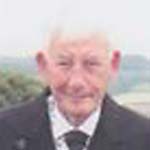 Tuesday 27th March 2012 Police have today confirmed that the body of a man found in Dronfield is that of missing man Roy Barnes as reported yesterday.

Mr Barnes was found by walkers at around 4pm on Sunday, March 25th in a pond off Barlow Lees Lane. He had been reported missing by his family on Wednesday, March 21st. Edale Mountain Rescue Team assisted police over several days in the search for Mr Barnes.

His death is not being treated as suspicious and police are preparing a file for the coroner.
Royal Reception For Peak District's Outstanding Volunteers
Friday 24th February 2012 Volunteers who have given many years outstanding service to the Peak District National Park will be treated to a royal reception with HRH the Prince of Wales today (Friday, Feb 24th).

10 Peak District National Park Authority Volunteer Rangers, whose combined service to the national park would stretch back 430 years to the reign of Elizabeth I, are among those to be presented to the Prince at medieval Haddon Hall, near Bakewell.

Alongside them will be volunteers who regularly record wildlife or archaeological sites, do conservation work, or support activities such as climbing, Duke of Edinburgh award schemes or access for black and minority ethnic communities. READ MORE...
Edale Team Rescue Climber And 2 Walkers In Busy Weekend
Monday 12th September 2011 On Saturday at 3pm Derbyshire Police called out the team to a climbing accident at Curbar Edge.

As is commonplace at the weekend, two-team vehicles were already crewed participating in team activities. The first team members were on scene within 20 minutes of being alerted by the police.

On attending it was found that a male climber had fallen approximately 20 feet / 6 metres whilst leading a route in the Avalanche Wall area. READ MORE...
A Busy Weekend
Monday 23rd May 2011 Edale Mountain Rescue Team has had another busy weekend with three rescues over Saturday and Sunday.

On Saturday 21st, the Edale team was called to Bamford Edge to assist an air ambulance crew with a climber who was suffering an acute medical problem causing severe headaches. Due to the urgent nature of the situation, team members evacuated the casualty rapidly to the helicopter above the edge in a vacuum mattress, rather than the normal procedure of using the stretcher as well. READ MORE...
Who Are Edale Mountain Rescue Team?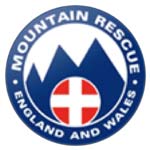 Monday 23rd May 2011 If you're out in the Peak District these are the people you hope you won't need to meet.

Every year however, Edale Mountain Rescue Team provides a vital search and rescue service to a large part of the Peak District, North East Derbyshire, and the edges of Sheffield, bringing pre-hospital medical care and specialist search expertise to people who are injured or ill away from the road.

Locally they're members of the Peak District Mountain Rescue Organisation, and nationally part of Mountain Rescue England & Wales. READ MORE...
Edale Mountain Rescue Annual Raffle Drawn In Sheffield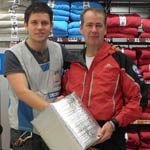 Thursday 7th October 2010 Edale Mountain Rescue's 2010 raffle was drawn at the Sheffield branch of Decathlon, the sports retailer on Sunday 3rd October. The raffle is a major fundraising activity for them and regularly contributes more than £1,000 to the team funds.

Decathlon generously donated the top prize of £300 in vouchers to be used in the store and the winning tickets were drawn by Store Manager Richard Nuttall.

Like other MRTs in England and Wales, the team receives no financial support from National or Local Government. READ MORE...