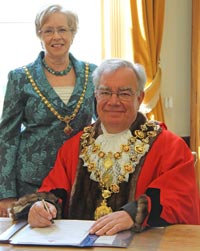 The Mayoral Parlour is a real paradox ... steeped in tradition with souvenirs from visiting dignitaries lining the cupboards and robes of office in the corner. However look through one of the vast windows and you have a birds eye view (possibly one of the best around) of the hustle and bustle that is modern Chesterfield life.

The role of Mayor in this Borough is a civic one. The elected Councillor must be non political during his/her time in office, and serve every member of the community without political prejudice.There'll be over 300 events to attend, with the diary growing daily, and even Full Council meetings to chair.

The proud First Citizen of Chesterfield 2010 - 2011 is Cllr Keith Morgan. He will be supported in his year in office by his wife Pat The Mayoress. His Worship the Mayor was first elected to the Council in Chesterfield in 1995 representing Walton Ward. Ten years later he was elected to the County Council as Member for the Hipper Division. During his time he has served both as Lead Member for Sustainability and Environmental Services and then exchanged this portfolio for with Healthy Communities and Leisure .
After qualifying as a teacher, Keith eventually became Head of English at Middlecroft (now Springwell) school at Staveley. During his time there one if his most notable achievements was to set up Emerald Radio which ran for 9 years and gave the students a valuable experience in radio work.
His Worship the Mayor has set the Community at the heart of his year. His motto is "Helping communities to help themselves" and he intends to visit every place of worship during his time in Office.

The chosen Mayoral charities this year for the Mayor's Appeal are Fairplay and the Samaritans.

The Mayoress

Mrs Pat Morgan is the Mayoress this year. Bought up in Glossop and a member of the Girl Guides there, she remembers her childhood with fondness, especially the snowy winters! The mother of their two daughters, she was a full time Mum for many years before returning to teaching both at Westwood School in Brimington and then to teach Science at Deincourt School, North Wingfield until 2003 when she retired and then became a magistrate, sitting on both adult and youth court benches. A regular at St Thomas' Church in Brampton she participates in the music and choral groups there. Any spare time is taken up with needlecrafts, reading and gardening and the Guardian Crossword.

The Mayors' Appeal.

Two local charities will benefit from the year.

Fairplay is a registered charity which supports children and young people with sensory, physical, learning and behavioural disabilities by providing youth clubs, befriending , residential breaks and parent support groups. It is currently trying to raise money to develop a one and a half acre site at its new Fairplay Centre in Chesterfield, into an innovative garden for the young people. Designed in collaboration with Sheffield University it will feature a wheelchair carousel, outdoor musical instruments and a tactile wall block amongst many other activities. Its a unique project, the first of its kind in the UK and will set new standards in inclusive design.


Chesterfield Samaritans. This charity offers 24 hour emotional support to people in our town who are distressed and maybe even suicidal. They currently receive around 26,000 contacts every year and have to raise £25,000 a year to meet their costs.


The Mayoral Appeal will help both charities meet their needs. There are many charity Appeal Events scheduled for the year ahead (see below ) - more are being added throughout the weeks. For more information or dates please contact the Civic Secretary Vivien Miller
Email -vivien.miller@chesterfield.gov.uk
Tel: 01246 345239
Fax: (01246) 345252
www.chesterfield.gov.uk

You can make a donation in the following ways .
By cheque - Please make payable to "The Mayor's Appeal"
Cash - given in to The Mayor's Office, Rose Hill, Town Hall, Chesterfield.




RECENT STORIES
FESTIVE FUNDRAISING WITH THE MAYOR AND MAYORESS -
It's been a quiet Christmas for the Mayor and Mayoress - but, though there weren't many engagements over the Festive period, it was still a profitable one for their charities More...
PRIDE OF CHESTERFIELD -
Ten young soldiers, after undergoing a gruelling selection process, today swore their Oath of Allegiance to the Queen during an emotional ceremony at the Mayor's Parlour. More...
IN THE COURSE OF ANOTHER BUSY
WEEK -
The Mayor and Mayoress of Chesterfield had attended Pathways AGM. This Charity, situated on Sheffield Road,... More...
A BUSY WEEK -
Invitations are coming in to the Town hall all the time, unbelievably some already for Carol Concerts, and the Mayor expressed his gratitude to the Deputy Mayor. More...
TABLE TOP SALE AND FAYRE -
The event is part of the Mayors Charity Appeal and is in aid of Fairplay and the Samaritans. More...
CHESTERFIELD DOING WELL - Our Discussion with His Worship the Mayor of Chesterfield this week began on the subject of the Development of Chesterfield. More...
COUNTING CUPPAS- So, just HOW many cups of tea will the Mayor drink during official engagements in his year of office? More...
THE MAYOR AND THE ARMED FORCES. Chesterfield has very close links with all the Armed Forces and those ties remain something which the Town is immensely proud of.
More...