Tuesday 16th February 2016




After another disappointing defeat against Burton Albion on Friday evening, it's back on the road for Chesterfield on Tuesday night as they face bottom of the league Colchester United at their Community Stadium.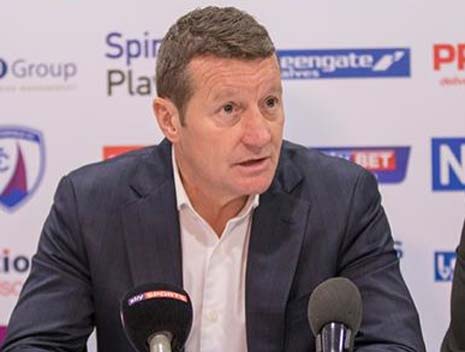 Ahead of the game, manager Danny Wilson (above), told The Chesterfield Post that, "It will be a feisty game! We know what's at stake and the value of the three points. If it's a rubbish game and we win 1-0, I'll take that now, the return is the most important to us.

"They are having the same problems as we are but they have been conceding goals in recent weeks and we are hoping that trend continues!"

Having alluded to changes in his post match interview at the Pireilli, Wilson expanded, saying that outside forces may influence his selection on Tuesday night, "That depends on what's available to us - whether we get anyone coming in or anyone fit. I would like to. I would like a spark in there. I am hoping that we can bring a couple in, this window is quite difficult to operate in, it's just about loans, about hitting the right place at the right time."

One man in the right place at the right time may be about to sign confirmed the gaffer, "We're hoping that Jordan Slew will do a short term contract between now and the end of the season and that will hopefully be done today we're not sure 100%."

After seeing Liam O'Neill stretchered off on Friday night and taken for a CT scan on his neck, Wilson said he was pleased to report that the prognosis was positive, "He's a bit groggy - we're just very fortunate that there was no long term damage - no break in the neck. Thankfully the CT scan in Burton came back clear - but it's going to rule him out for a while.

"Novak and Ebanks-Blake are still doubts, there will still be areas where we're not sure but we will wait until the morning of the game to decide."

Commenting on Friday's 1-0 defeat to Nigel Clough's team, the gaffer said, "I am still very frustrated! I think we've done enough in the game to come away with something and, if you can't win the game, you make sure you don't lose it.

"Unfortunately, we let a sloppy goal in and let good opportunities get wasted by indecision in front of goal. That 1-0 score line has been favourable for Burton this year and that's great from their point of view - and from ours - that's three on the roll that we've lost by the odd goal and that's avoidable. More frustrating is the amount of chances we're having and not putting in the back of the net.

"The pressure that puts us under from not taking those chances is clear to see. It's important the players understand that - we're not going to sit back and hope and pray we get results, we have to embrace the situation and return with points from games."
Listen to the interview with Danny in full here...

For more information and other CFC news, go to www.chesterfield-fc.co.uk
RECENT STORIES
SADDLERS 'RIDE AWAY' WITH THREE POINTS AFTER PROACT CLASH -
Chesterfield's unbeaten run was brought to end by Walsall on a miserable afternoon for the Spireites at the Proact Stadium. More...
THE DANNY WILSON INTERVIEW - "WE'LL RISE UP THE TABLE!" WALSALL PREVIEW -
Chesterfield are hoping to stretch their unbeaten run to six this weekend as manager Danny Wilson prepares to welcome SkyBet League One high flyers, Walsall, to the Proact on Saturday
More & Audio...
THE CHRIS MORGAN INTERVIEW - A LOOK AHEAD TO THE SHRIMPERS AWAY -
It was assistant gaffer Chris Morgan who faced the press ahead of this Saturday's game away at Southend.
More & Audio...
SPIREITES MAKE A POINT AGAINST THE SEASIDERS. MATCH REPORT -
Jay O'Shea's wonder strike earned Chesterfield a point against fellow relegation strugglers Blackpool on Tuesday evening. More...
SPIREITES BAG VITAL THREE POINTS WITH VICTORY OVER GILLINGHAM -
Danny Wilson took his side to the Priestfield Stadium buoyed by the vital win over Crewe but knowing that the high flying Gills, who sneaked a 1-0 win at the Proact earlier in the season, would be an even harder nut to crack. More...
THE DANNY WILSON INTERVIEW - LOOKING FOR AN AWAY WIN AT THE GILLS -
"You never know what can happen in a game!" - that's Danny Wilson, Chesterfield Manager, as he spoke to The Chesterfield Post ahead of this weekend's game against Gillingham.
More & Audio...
DREAM DEBUT FOR DIMAIO IN HOME WIN OVER CREWE.
MATCH REPORT -
Chesterfield-born Connor Dimaio scored on his Spireites home debut to help Chesterfield to a 3-1 victory over fellow strugglers Crewe Alexandra. More...
THE DANNY WILSON INTERVIEW - "EXCITING RATHER THAN TERRIFYING!" -
Crewe Alexandra visit the Proact Stadium this weekend for an all-important relegation 'six-pointer' against Chesterfield.
More & Audio...
SPIREITES SEE
THREE POINTS 'GONE FOR A BURTON'! MATCH REPORT -
The Spireites went down bravely at table-toppers Burton Albion, losing to a single strike in first half added time. More...
THE DANNY WILSON INTERVIEW - "BURTON WILL BE A STERN TEST!" -
A rare Saturday off ahead for the Spireites as they take on top of the league Burton Albion on Friday evening on police advice. More & Audio...
THE DANNY WILSON INTERVIEW. PREPARED FOR POSH GAME AT PROACT -
After a two-week break from competitive football, Chesterfield return to action this Saturday looking to bounce back from two consecutive defeats when they host Peterborough United at the Proact Stadium.
More & Audio...
A HAT TRICK OF SPIREITE SIGNINGS ON DEADLINE DAY -
The signing of Tom Anderson on loan from Burnley, Gary Liddle and Connor Dimaio made for a trio of transfer deadline day deals for the Spireites. More...
BACK TO BACK DEFEATS FOR THE BLUES. MILLWALL MATCH REPORT -
Chesterfield suffered a second consecutive defeat as Millwall ran out 2-1 winners on their first ever visit to the Proact Stadium. More...
THE DANNY WILSON INTERVIEW, ANYBODY CAN BEAT ANYBODY! MILLWALL PREVIEW -
Millwall make their first ever visit to the Proact Stadium on Saturday and Danny Wilson is hoping that his Chesterfield side can bounce back against the 2004 FA Cup finalists after defeat to Wigan Athletic last weekend. More & Audio...
WIGAN PICK UP POINTS AS DANNY WILSON SUFFERS FIRST DEFEAT -
Danny Wilson's unbeaten run as Chesterfield manager came to an end on Saturday at the DW Stadium as Wigan Athletic defeated the Spireites 3-1. More...
THE DANNY WILSON INTERVIEW - "WE'LL TURN UP AND PUT ON A GOOD SHOW!" -
Just three games into the job and currently unbeaten Chesterfield gaffer Danny Wilson is taking nothing for granted as he faces high flying Wigan Athletic at the DW Stadium this Saturday. More & Audio...
CHESTERFIELD HOPING FOR THREE POINTS AT WIGAN. MATCH PREVIEW -
Chesterfield travel to the DW Stadium this Saturday to face Wigan Athletic as they attempt to climb up the Sky Bet League One table. More...
A 'TOPSY TURVY' THREE POINTS FOR THE SPIREITES AT SPOTLAND -
What a topsy turvy game! The Spireites made it back to back wins after they returned home from Lancashire with three huge points after clinching a 3-2 win over Rochdale. More...
DANNY WILSON INTERVIEW - "LET'S HOPE IT'S THE START OF THINGS!" -
With confidence - and spirits - high after a commanding 7-1 home win against Shrewsbury Town, Spireites' boss Danny Wilson says it was "unexpected" but welcome.
More & Audio...
CHESTERFIELD'S MAGNIFICIENT SEVEN TAMES THE SHREWS. MATCH REPORT -
Chesterfield kicked off the new year in style with an incredible 7-1 demolition of fellow SkyBet League One strugglers, Shrewsbury Town. More...
THE DANNY WILSON INTERVIEW - "THE ATMOSPHERE WAS TERRIFIC!" -
In his first full pre-match press conference since taking up the post, new Chesterfield gaffer Danny Wilson said he had been generally happy with what he'd seen on Monday as his side faced Coventry. More & Audio...
"EVERYTHING TO PLAY FOR!" - TURNER, ALLEN AND WILSON TALK DANNY WILSON -
Danny Wilson yesterday oversaw his first match in charge at the Proact - engineering his new side to a draw against Coventry City.
More & Audio...
SPIREITES GO POSH FOR BOXING DAY AS DANNY WILSON MADE NEW BOSS -
The day after Mark Smith's Press Conference, Danny Wilson was named as the new manager of Chesterfield, replacing Dean Saunders, who departed at the end of last month.
More & Audio...
THE MARK SMITH INTERVIEW - "WE NEED A RESULT!" BRADFORD PREVIEW -
After the disappointment of losing out to Walsall in the FA cup on Tuesday night, it's back to the league programme for Chesterfield, as they take on Bradford at the Proact. More & Audio...
SPIREITES LOSE OUT TO WALSALL ON PENALTIES IN FA CUP 2ND ROUND REPLAY -
Chesterfield went out of FA Cup after Walsall clinched their berth in the next round thanks to scoring all five penalties in the shoot-out after the game had ended goalless. More...
THE MARK SMITH INTERVIEW - "ACTIONS SPEAK LOUDER THAN WORDS!" -
"We're close but not quite there at the moment!" said Chesterfield's caretaker Manager Mark Smith as he previewed this Tuesday evening's FA cup second round replay clash with fellow league one side Walsall. More & Audio...
MAYOR RULES AS SPIREITES LOSE AT RAIN SOAKED BURY. MATCH REPORT -
Caretaker Boss Mark Smith's first league game in charge ended in a narrow 1-0 defeat for the Spireites at a rain sodden Gigg Lane. More...
THE MARK SMITH INTERVIEW - "EVERYONE'S DONE EVERYTHING I'VE ASKED" -
One week into the Caretaker Manager's role - and with his first league game in charge looming - it was a philosophical Mark Smith who faced the press this week.
More & Audio...
MORSY EARNS SPIREITES A REPLAY AND THE CHANCE TO BATTLE BRENTFORD -
Three players had claimed it - but it was Sam Morsy's last minute equaliser which earned Chesterfield a replay as they drew 1-1 with Walsall More...
THE MARK SMITH INTERVIEW - "I'M TAKING EVERY DAY AS IT COMES!" -
"Management is completely different to coaching - you just have to win a few games and see what happens after that!" Caretaker Manager Mark Smith previews Walsall. More & Audio...
THE CHRIS TURNER INTERVIEW - THE SPIREITES CEO ON SAUNDERS' SACKING -
Just a few short days ago, Chesterfield parted company with manager Dean Saunders after four straight defeats, the last being a 4-0 home defeat to Swindon.
More & Audio...
ROBINS SING AS SPIREITES SACK MANAGER AFTER HEAVY HOME DEFEAT-
Dean Saunders was sacked by Chesterfield only six months after his appointment as the side fell to a fourth consecutive defeat at the hands of struggling Swindon Town. More...
DEAN SAUNDERS INTERVIEW - "WE HAVE TO LEARN FROM IT & PUT IT RIGHT!" -
After three defeats on the bounce, Chesterfield FC face their next league game opponents, Swindon Town, in determined mood.
More & Audio...
SPIREITES SLUMP
TO A DISAPPOINTING DEFEAT AT DONCASTER -
It was a disappointing return to The Keepmoat Stadium for former Rovers boss Dean Saunders as his Chesterfield side slumped to a third successive defeat against mid table opposition. More...
DEAN SAUNDERS INTERVIEW - AIMING TO PILLAGE 3 POINTS FROM VIKINGS LAIR -
After a disappointing loss away to Port Vale on Saturday, it's back on the road for Dean Saunders and the Spireites - this time with a short trip to Doncaster Rovers.
More & Audio...
Related Tags