Tuesday 11th November 2014




On the 11th hour, of the 11th day of the 11th month, Chesterfield, as it always does, fell silent to honour and remember those who have fallen in conflicts recent and past.
Shops and schools throughout the town paid their respects with silence - and in the centre of Chesterfield, thousands gathered around the Cenotaph opposite the Town Hall to mark the moment in public.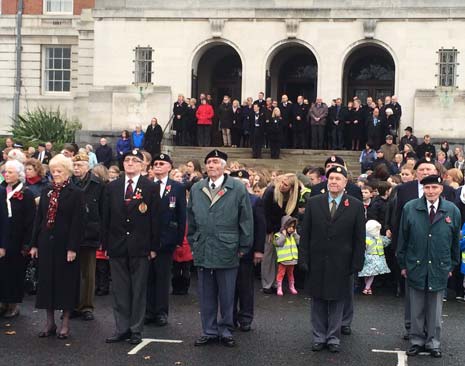 Council leaders and staff joined the Deputy Mayor - Cllr Denise Hawksworth and her consort Mr Tony Rogers, on the steps of the Town Hall, alongside 500 children from local schools and nurseries, and students from Chesterfield College, to observe an impeccable two minutes silence. In what was believed to be one of the best turnouts of recent years hundreds of members of the public also lined the area.

The Mayor and Mayoress were unable to attend today, having been invited as guests of French President Francois Hollande, to be part of the unveiling and dedication of the Ring of Remembrance Memorial at the Notre Dame de Lorette - a monument signifying, in part, the deaths of over half a million soldiers at Flanders during the 1914-18 conflict.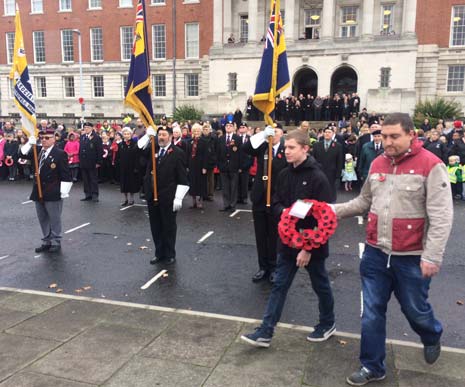 Public Service Students from the College were on parade, whilst two of their fellow students laid a wreath alongside the many others which had been placed on Sunday, alongside veterans from past conflicts who left the parade ground to thunderous applause from the crowds. Pupils from Dunston Primary and Little Leprechauns nursery, amongst others, also braved the cold to stand and pay their respects.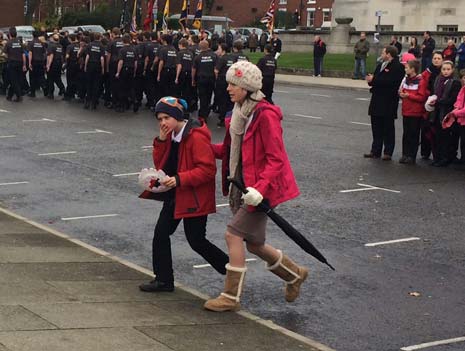 Afterwards the Head teacher of Dunston Primary, Mr Paul Burgess, (below), told The Chesterfield Post why they were proud to be there, "It's really important - we've brought the year 5's and 6's but we are having a minutes silence for the rest of the school. In the curriculum now, we are looking at British values and I think it's important that children have a sense of belonging and are thankful for what we have now.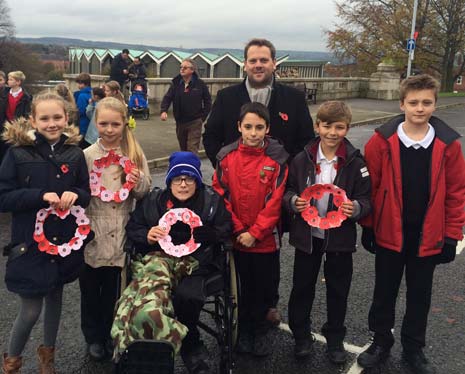 "We have children who have members of their family currently serving and I think it gives them a sense of pride in what their mums and dads are doing. as they are not always with them and they miss them - especially coming up to Christmas."

Having watched one of his pupils lay a school made wreath alongside those of The Mayor and the MP, Mr Burgess said, "I was really proud of Charlie who was chosen to present his wreath. I had a little lump in my throat. The children have walked 40 minutes to be here today so they've had a proper route march like they would have done in the Army! I am very proud of them!"

John Collins, Standard bearer for the Royal Engineers Association, Chesterfield Branch said he had been honoured by how many people had turned out today, "It meant a great deal. The Sunday parade is the highlight but I think nowadays, people are focused on the 11th and I think this year, being the 100th year of the beginning of the First World War, this year has meant more to us than previous years.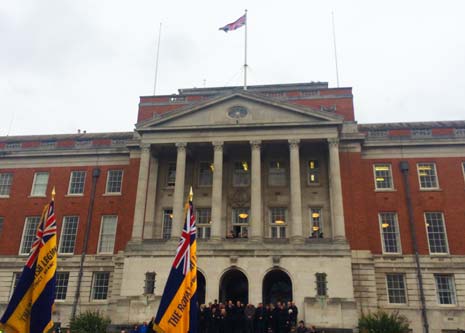 "I think the poppies at the Tower of London (created by Derbyshire's own Paul Cummins and crafted by local firm Denby) have really been fabulous and have helped the public get behind us.

"Although troops are now leaving Afghanistan this is not the end of all wars - there will always be a conflict somewhere. We can't let it (Remembrance) die. We have two big regiments in Chesterfield and we have many associations in the town. Unfortunately, we are all getting older and the young ones coming out want to have a break like we all did before they join associations."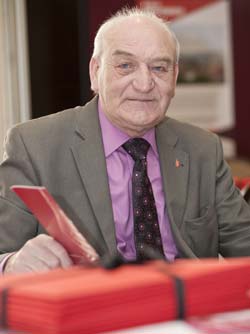 Cllr John Burrows, leader of Chesterfield Borough Council (left), said that once again, Chesterfield had done the military proud, "It was bigger than ever this year, not just the public, but the dozens of school children here today. To see them standing the cold, resolute and silent - they did it with some pride today.

"Doesn't Chesterfield do the Armed Forces well every time they have an opportunity? The town is very proud of its links with the Armed Services, the veterans and the young army cadets - we will continue to work with the veterans. We do the Armed Services proud in Chesterfield!

"We always think respectfully of the dead - but there are also lots of young people with lost limbs and disturbed minds as a consequence of their services on our behalf - and we should remember that as well.

"We have to look to the future - we have a memorial out there with names from World Wars One and Two - but we need to look at those who have lost their lives since - and we need to look at a fitting memorial to them too."

Cllr Burrows paid particular tribute to the young students from Chesterfield College many of whom will be doubtless thinking of a career in the services, saying, "The public services students did the town proud too. They were standing their in their t-shirts in the cold - 16 or 17 years of age - and when the grumble about teens goes up, please remember the 99% of extremely good young people in our town.

"I was very proud of Chesterfield, the residents the children and the veterans - alongside the staff in the Town Hall that came out to recognise those that have done their duty for this country."
Listen to Cllr Burrows' interview in full here...
Chesterfield Football Club also held a service for the fallen at lunchtime, attended by players, staff and members of the public, at the newly opened Memorial Garden.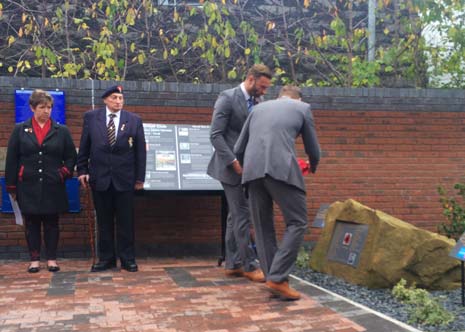 PFA Chairman Ritchie Humphreys and Captain Ian Evatt, along with Phil Tooley and Community Director at the club, John Croot, laid wreaths at the memorial - dedicated at the opening ceremony in August.
Pete Whiteley, member of Chesterfield Community Trust, admitted it was a proud day for the Trust saying, "It's our first act of Remembrance at the garden for the war memorial that we have put in there over the summer. It is fitting that on this poignant day we are doing our first act of remembrance.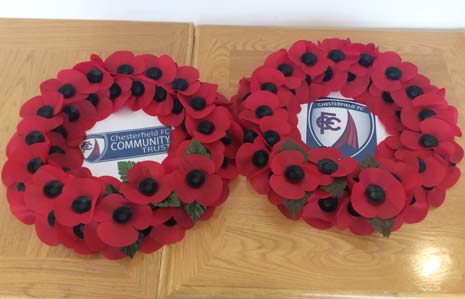 "The club have been supportive - after all there were 16 players and officials at the club who went to war and never came back. The Royal British Legion have been with us every step of the way. It's a very proud moment - one of the best things I've been involved with at the football club."
OTHER STORIES
ICONIC CHESTERFIELD CHURCH 'BRANCHES OUT' TO CELEBRATE COMMUNITY -
The most iconic church in Chesterfield is 'branching out' in the community this Christmas, with visitors flocking to the newest exhibition in the town - and organisers saying they are humbled by its success. More...
LIFE IS STILL SWEET FOR CHESTERFIELD APPRENTICE FIRED
BY LORD SUGAR -
Lord Sugar, condemned Chesterfield lad James Hill to a week 8 exit from the BBC1 flagship show 'The Apprentice' earlier this evening. James spoke with the Chesterfield post
More & Audio...
'STRICTLY' FESTIVE
AS CHESTERFIELD'S CHRISTMAS LIGHTS ARE SWITCHED ON -
The stage was set for the festive season in Chesterfield yesterday as thousands packed into New Square to celebrate the switching on of the Christmas lights by stars of this year's panto and local dignitaries (oh, and Santa himself!).
More & Video...
'MOST WANTED'
MARK LEESON
OPENS NEW SALON
IN CHESTERFIELD -
The Mayor and Mayoress of Chesterfield attended the opening of the salon of a Global hairdressing icon - and local lad - who has now opened a salon in the town, bringing not only his famous brand, but several jobs.
More & Audio...
CHESTERFIELD PHOTOGRAPHER SHORTLISTED FOR NATIONAL AWARD -
Bryn Graves, a professional photographer from Staveley in Chesterfield, has been shortlisted for a prestigious national award in the 5th annual EEF/Lombard 'Make it Britain' photography competition. More...
TOWN 'STEELS' ITSELF DURING 'MADE IN CHESTERFIELD' WEEK -
The unveiling of a new sculpture kicked off an entire week dedicated to celebrating the town's manufacturing heritage, with help from apprentices and students from Parkside School. More...
LAUNCH FOR CHESTERFIELD'S LATEST LANDMARK - 'GROWTH' -
Chesterfield's latest landmark, 'Growth', the sculpture at Hornsbridge Island, has been officially launched.
More & Audio...
TRIBUTES PAID TO ESA CENTRE IN CHESTERFIELDS TWIN TOWN OF DARMSTADT-
Tributes paid to the efforts of scientists at the ESA, in Chesterfield's twin town of Darmstadt, as they analyse and celebrate the success of the Rosetta Mission More...
CHESTERFIELD TOWN TAKES PRIDE IN REMEMBERING -
They came to remember, Chesterfield's veterans shared their private memories of war on the most public of occasions - Remembrance Sunday More, Audio & Video...
LOCAL CHESTERFIELD VETERAN TO MARCH AT THE CENOTAPH IN LONDON -
A registered blind ex-soldier from Derbyshire will be remembering friends and family killed in action when he takes part in the Remembrance Sunday march to the Cenotaph with Blind Veterans UK. More...
CHESTERFIELD REMEMBERS THE DEAD -
Chesterfield residents will come together to remember those who have died in conflicts since 1914. More...
CHESTERFIELD CHURCH AND ROTARY CLUB JOIN FORCES TO SELL POPPIES -
Chesterfield's Church of Jesus Christ of Latter-day Saints along with members of the Rotary Club, have joined forces to sell poppies for the poppy appeal. More...
NEW ROC CAFE IN CHESTERFIELD HELPS YOUNG PEOPLE OFF THE STREETS -
A local drop-in centre, at Grace Chapel, has recently been made a ROC Cafe for the work it does within the community. More...
'COMPUTER SAYS YES' IN CHESTERFIELD JOBCENTRE -
Old-fashioned 'signing-on', job cards in windows, and Full Monty-style dole queues have been consigned to the past as Chesterfield Jobcentre is among those to undergo a digital revolution. More...
THE LARGEST FALL
IN UNEMPLOYMENT FIGURES SINCE RECORDS BEGAN -
Unemployment has seen the largest annual fall since records began over 40 years ago. More...
CHESTERFIELD APPRENTICE SCOOPS FOUR NATIONAL AWARDS -
An auto-electrician apprentice from Chesterfield has been recognised as one of the best in the country after scooping four awards at a national ceremony. More...
"ALL ABOUT LOVE!" CHESTERFIELD UNVEILS NEW CANNELE TWIST RING-
An award-winning designer was at a Chesterfield jewellery store on Saturday - showcasing his range of statement pieces and unveiling his Cannele twist engagement ring.
More...
FUNERAL PLANS FOR DOWAGER DUCHESS OF DEVONSHIRE ARE ANNOUNCED -
It's been announced that the funeral service for Deborah, Dowager Duchess of Devonshire will be held at 12 noon, at St Peter's Church, Edensor on Thursday 2nd October 2014. More...
POSSIBLE STRIKE ACTION MAY HIT
TRAIN SERVICES
THIS WEEKEND -
Chesterfield train commuters may face a week of disruption to services as East Midlands Trains' engineering and maintenance staff will strike unless an agreement can be reached More...
BOROUGH COUNCIL SCHEME TO HELP FIRST TIME BUYERS
IS EXTENDED -
A scheme to get house buyers in Chesterfield on the first step of the property ladder is being extended so applicants can buy homes costing up to £150,000. More...
POUNDLAND DOUBLES IT'S VALUE AS NEW STORE OPENS IN CHESTERFIELD -
Poundland, Europe's biggest single price discount retailer, will be opening a second store in Chesterfield on Ravenside Retail Park on 27th September - creating 30 jobs for the local community. More...
DEBORAH, DOWAGER DUCHESS OF DEVONSHIRE DIES, AGED 94 -
Chatsworth has announced that Deborah, Dowager Duchess of Devonshire passed away this morning, Wednesday, September 24th. More...

STAGECOACH BUS DRIVERS BIDDING FOR PASSENGERS VOTES TO WIN STAR TITLE -
Bus passengers in Chesterfield are being encouraged to vote for their favourite driver and be in with a chance of winning a top prize. More...
TV STAR VISITS THE PROACT STADIUM
AND TALKS UNKNOWN QUANTITIES -
Jesse McClure, star of Storage Hunters - currently airing on satellite channel Dave - was in town on Friday visiting the PROACT stadium More & Audio...
CASA ADDS UNIQUE WEDDING SPLENDOUR AT WALTON LODGE AND WEDDING FAYRE-
Casa Hotel is adding a further string to its wedding bow by offering weddings at the captivating Walton Lodge as well as staging their own Autumn Wedding Fayre on Sunday 21st September. More...
HIGHWAYS AGENCY WANT YOUR VIEWS
ON PLANNED M1 IMPROVEMENTS -
The Highways Agency has said it is planning to undertake improvements to the M1 through delivering a smart motorway between junctions 28 to 31 and between junctions 32 to 35a. More...
CLARENCE HOUSE ANNOUNCE A NEW ROYAL BABY IS ON THE WAY! -
It's been announced this morning that HRH The Duke and Duchess of Cambridge are expecting their second baby. More...
JEWELLERY DESIGNER PAYS HOMAGE TO HER DERBYSHIRE ROOTS -
One local designer, who says the hills and landscapes of her home county - Derbyshire - provides inspiration for her unique creations, is now showcasing her wares in Chesterfield More...
INQUEST RESPONSE TO INSPECTION REPORT ON HMYOI HINDLEY -
The Chief Inspector of Prisons has today published an inspection report on HMYOI Hindley that notes, despite 'significant improvements', Hindley was 'still struggling to keep some of the boys it held safe'. More...
CHESTERFIELD ARMY CADET PASSES OUT FROM SANDHURST MILITARY ACADEMY -
A young cadet from Chesterfield has joined around 200 fellow graduates in a prestigious ceremony as she passed out from the Royal Military Academy Sandhurst More...
'FARM TO FORK' ROADSHOW HITS CHESTERFIELD'S TESCO EXTRA -
Tesco customers are being invited TODAY (Friday, 125th August) to the Chesterfield Tesco Extra store at Lockoford Lane, for a 'Farm to Fork' roadshow. More...
THE SHORTLIST FOR THE 2014 FOOD AND DRINK AWARDS IS ANNOUNCED -
24 food and drink businesses have been shortlisted across nine categories in the 2014 Chesterfield Food and Drink Awards, organised in association with Chesterfield College - headline sponsor of the awards for the second year running. More...
FLOODING AND ROAD COLLAPSE CHAOS FOLLOWING HEAVY DOWNPOURS -
Chesterfield was once again left struggling with flooding at major junctions into the town tonight following heavy rain in the early evening. More...
NEW MARKHAM DEVELOPMENT BRINGS FURTHER JOBS BOOST -
A new family pub and restaurant development is to open on Derbyshire County Council's flagship regeneration site bringing 40 jobs to the area. More...
LOCAL MCDONALD'S VOLUNTEERS CLEAN UP CHESTERFIELD SKATE PARK -
Local McDonald's franchisee, Walter Wright and crew from the two restaurants in Chesterfield joined forces to tackle litter in the local skate park situated in-between the two restaurants. More...
DERBYSHIRE COMPANIES URGED TO EXPLORE OMAN AND QATAR -
Forward-thinking local companies are being urged to make the most of business opportunities in some of the fastest growing areas in the world, as export body UK Trade & Investment (UKTI) launch a high profile market visit to Oman and Qatar. More...
HAVE WE GOT A HANDLE ON ONLINE GAMBLING? (GUEST ARTICLE) -
With the World Cup finally ended, sports betting and online gambling in general has been making the headlines for more than a few reasons recently. More...
COUNCILLORS CAMPAIGN FOR
SAFER EXIT FROM WHITTINGTON STORE -
Cllrs David and Paul Stone have been campaigning on behalf of local residents for a clearer and improved view of passing vehicles when cars are exiting the Tescos Store on the High Street at Whittington. More...
NEXT STOP, AWARD WINNING APPRENTICESHIP PROGRAMME -
Three talented young people are being given the opportunity to join one of the transport industry's leading engineering apprenticeship programmes. More...

CHESTERFIELD TURNS OUT TO WELCOME HOME THE LANCERS -
The 9/12th Lancers, marched through Chesterfield this morning as part of their homecoming parade after returning from an eight month tour of duty in Afghanistan.
More, Pics & Audio...
CHESTERFIELD SOLDIER READY TO PARADE THROUGH HER HOME TOWN -
Soldiers from the 9/12th Royal Lancers (Prince of Wales') are looking forward to marching through the streets of Chesterfield tomorrow - Thursday, 3rd July More...
NEW FOOTBRIDGE IS OPENED AT CHESTERFIELD CANAL FESTIVAL -
The new Constitution Hill Footbridge, built over Chesterfield Canal in Staveley has been officially opened More...