Tuesday 9th March 2021



Originally planned in October 2019, the first major steps have recently taken place to integrate Chesterfield to modern 5G coverage standards.

First noted in the Sheffield City Region Statement of Common Ground, this effort applies to both fibre and wireless networks. Intending to reach a 1Gbps standard as part of a nationwide effort, 5G integration plays an important part in going forward, but it's a complicated and sometimes rocky path.
Nothing To Fear
Although there have been comments regarding the safety of 5G, it's worth noting that these claims are entirely unsupported.

Thousands of trained experts all over the world have confirmed the safety of 5G towers and radio waves, constituting the overwhelming majority of specialists in related fields.

So, while you might have heard about attacks on these towers as the BBC has recorded, these attacks have accomplished nothing but burn tax contributions.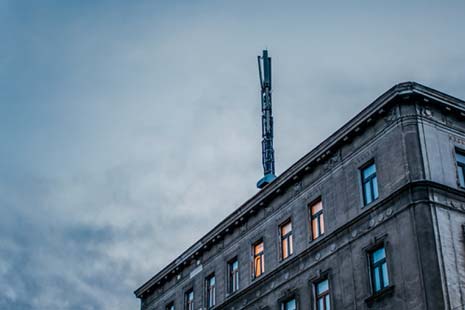 5G transmitter on a residential building (CC BY 2.0) by Ivan Radic
Current Versus Future Benefits
While the promise of 5G technology is immense, it's important to note that right not it's not a strictly must-have technology for most.

To illustrate this, consider the popular entertainment as illustrated by online casinos.

An analysis of trusted casino sites shows that, despite the wide range on offer, 5G is never close to a necessity. Whether just browsing the websites, collecting bonuses, or playing, even 3G connections for this form of entertainment would be enough. Online casino games are among the less-demanding forms of digital entertainment, true, but the same idea holds for other industries too.

Ultimately, the entire concept ties into bandwidth usage. For most casual users, the most demanding systems today will be the like of 4K video streaming. Though not usually managed through mobiles due to the lower screen resolutions, such a pursuit is realistically possible with 5G, where it would struggle or fail with 4G. Perhaps best used as a mobile hotspot-type solution, there is a real possible use case here.

More realistically, better use of 5G could be found for businesses when their employees are out and about. Uploading and modifying large amounts of data in the growing remote work market relies on significant bandwidth demands, which only 5G can match.

Such currently niche opportunities might imply a gap of uselessness, but this isn't exactly true. Rather, the goal of 5G is to futureproof Chesterfield, against whatever demands might be coming next. Our data demands today are many times what they were ten years ago, and in another ten years, this will again prove true.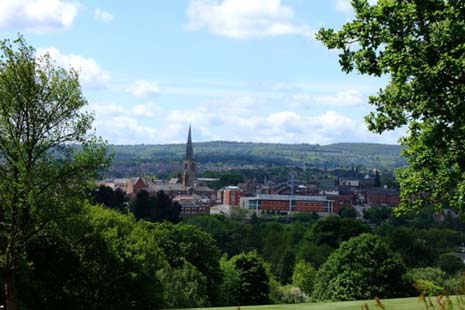 chesterfield (Public Domain) by martin 65
The Chesterfield Advantage
One of the biggest disadvantages of 5G technology is its limited range.

Early tests of 5G painted its reach per tower at about 1,000 feet or around 2% of 4G's maximum distance. Though this range has increased with updates to the tech, it's still not a viable complete replacement for 4G in all areas.

For this reason, smaller towns and communities like Chesterfield could see immense benefits from just a few 5G towers. Ashgate, for example, could be covered by only a couple, wherever demand is most important.

Though it will be a few years yet before Chesterfield's 5G rollout is complete, residents can at least rest easy that they probably don't need the tech yet. It might not be necessary to run out and get a new 5G phone, but keep in mind that in a couple of years, they might be worth the switch.

Until then, your older 4G or even 3G systems should work just fine in most cases.

OTHER STORIES
2018 IS SET TO BECOME THE YEAR
OF E-COMMERCE -
E-commerce has come to dominate marketing and is set to continue as it's going in 2018, with an emphasis on carrying on the incredible sales growth it's seen already More...
WHY HAS UK HOUSEHOLD DEBT BEEN RISING? -
Since the 2008 financial crisis, which saw countless banks and businesses go bust, the world has been in a state of recovery. More...
THE 'GAMIFICATION' OF ONLINE SLOTS -
Gamification is the process of adding more features to classic games such as slots or mini-games. More...
WHY IT MIGHT BE
TIME TO RETHINK YOUR BUSINESS FLEET -
The electric car revolution may be here sooner than first thought. What are the Options? More...
IS CHESTERFIELD'S TOWN CENTRE ENJOYING A RENAISSANCE? -
With the festive season underway, Chesterfield's shops will be helping everyone enjoy the retail boom that accompanies this time of year. More...
CHESTERFIELD'S REMEMBRANCE SUNDAY -
They came to remember and, in scenes replicated across the UK, Chesterfield's veterans shared their private memories of war on the most public of occasions - Remembrance Sunday. More & Audio...
ARMISTICE DAY IS HONOURED IN CHESTERFIELD -
On a day of Remembrance, Chesterfield came to a standstill to pay respects to serviceman who lost their lives in conflicts passed and present. More & Video...
CHESTERFIELD REMEMBERS THE FALLEN -
Chesterfield residents can remember those who have lost their lives in war at a series of events organised by Chesterfield Borough Council.
More & Video...
LOCAL AND BRITISH HIGH STREETS SEE SHARP DECLINE IN SHOPPERS -
Figures released by the British Retail Consortium show that in September 2017, there was 2.2% decline in the number of shoppers visiting British high streets. More...
LOCAL INDUSTRIES CONCERNED BY LEAKED POST BREXIT IMMIGRATION PLANS -
The leaked post-Brexit immigration plans could have a concerning impact upon many industries in Chesterfield and nationally if they are followed through once the UK leaves the EU. More...