Tuesday 23rd November 2010





As Christmas approaches, the NHS Blood Transfusion Service is asking people in Chesterfield to think about giving one free but valuable gift this Christmas and donate a pint of blood.

Winter is a crucial time of year for people who rely on blood transfusions, with winter illnesses and infections meaning donors are sometimes unable to give blood. Added to that, this year Christmas Day falls on a Saturday, which means that there will be a reduction in the number of donor sessions taking place over the two-week festive period. There will only be six full days and four half days instead of the usual full 10 days.

The Service says it's therefore vital that both regular and new blood donors come forward in December to make sure that sufficient blood is available.

Holly Mason, Spokesperson for the service, said, "Blood donors are kind and generous individuals who take time out of their busy lives to help others. We need to maintain bloods tocks through December and into the New Year and can only achieve this through volunteer blood donors. So, please make every effort to attend your local blood donor session and help save a life by giving blood."

So, here comes the science bit ......
Only 4% of us are active blood donors


The NHS needs 7,000 voluntary donations of blood daily


The National Blood Service collects 2 million units of blood a year from 1.4 million donors


First time donors should be aged between 17 and 65, weigh at least 7 stone 12 pounds (50 kg) and be in general good health. There is however no upper age limit for donors who have donated in the last two years


Donated blood will be broken into its component parts, red blood cells last about 35 days but platelets (usually given to leukaemia and cancer patients) only last about five
Karen Johnson, Editor of The Chesterfield Post, went along to Sunday's session at the B2 NET Stadium and, after giving blood for the first time (read her views of the experience below), caught up with Nurse Deborah Dixon (pictured below), who was able to tell us a bit more about the process and why the blood donated is so important.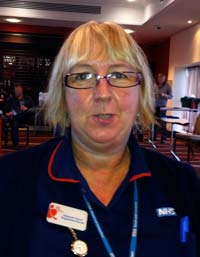 We asked Deborah why it's so important to give blood?

"It's because demand for blood for patients never stops. We need to retain our regular donors, which is so important. We're really trying to encourage the younger generation to give blood too."

At this time of year, with the winter illnesses it's particularly important to give blood isn't it?

"It really is. We're under extra pressure at this time of year to keep our blood stocks healthy - Bank Holidays and Christmas mean that people can't get to give blood and our schedules mean that there aren't always regular sessions."

What happens when you come to donate blood for the first time?

"You'll come along and register, and be health screened - a nurse will talk to you about your history and you'll have your iron levels checked, that's important, as we need to know that you have enough iron to make the donation. We have to make sure it's safe for you and for the patient.

Then onto the donation itself, it doesn't take long, and shouldn't take longer than 15 minutes. It varies person to person, but the machine cuts off after 15 minutes. After you have made your donation we'll pop you a dressing on and you can have a drink - a cold drink for first timers so you can rehydrate yourself."

Who can't donate?

"Certain medical conditions and people who take certain medications, although always check as it changes. New guidelines came in recently meaning that some people on certain blood pressure medications can now give blood.

If you've travelled abroad recently you may not be able to donate. For instance, because there's West Nile Disease in the US, Canada, NE Italy and parts of Greece you will be asked to wait 28 days after returning from there before you can donate. We need to make absolutely sure a donation is safe for use."

Are some blood groups more useful than others?

"O negative is special as it can be given to everyone. But we sometimes do ask people to come in who are certain blood groups - it depends on what the hospital needs and asks for."

So, what happens to the blood once it's been given?

"It will go to the Blood Centre in Sheffield within hours of donation, the time of your donation is logged. In the processing lab it will be put through a centrifuge - they will spin it to separate the blood into its components, red cells, platelets and plasma."

Every bag of blood donated today is valuable isn't it - it could be your bag that saves a life?

"Absolutely! Many people we know come because they had relatives who needed blood and realize just how precious it is."

Finally, what's your message to people reading this who maybe are thinking about donating but don't know whether to come along?

"Come along and give it a try - some people can do it easily, some need reassurance - we'll give that, you can bring a partner or friend. The staff will all help you, keep you chatting and distracted, they're their to look after you - even staff at the tea table are there to make sure you're alright. So, pop along to a session."

AND, THE EDITOR'S VIEW...

Now, not much scares me - in fact I have been given many an assignment over the years simply because I'm not easily fazed. If I had a motto, it would be "I have children, nothing scares me". I admit however to a certain degree of trepidation as I wandered in to the Leengate Suite at the B2 NET.
I had chosen to do this as I knew that the blood Service was desperate for new donors, and, like many of us, it was something I had always though I'd get around to. But hadn't. Doing it on behalf of The Chesterfield Post was the kick up the pants I needed.

I can tell you honestly it was nowhere near as bad as I feared. The staff were kindness itself, the many donors present were chatting to each other, in the waiting area, in the tea rooms after and there were even comforting and encouraging smiles exchanged from table to table as the process was on going. Some were first timers like me, some veterans of the process. All ages, both genders, even kids accompanying their parents though, "She's only here for the biccies after!", said one mum!

After checking in I was summoned for my health check, a chat about my medical history and a prick on my finger to check for iron (the drop of red stuff was dropped into a vial of Copper Sulphate - if it sinks within 15 secs, you're ok. I was) and then, after a short time perusing the pitch through the windows of the suite I was off to the table to donate.

It was no different to having a blood sample taken - just longer. The hardest bit for a fidget like me was the staying still for even that short a time! A pressure cuff was attached to make sure there was enough blood in the vein and the bag was attached to the tube. A machine measured how fast blood leaves you on a scale of 1 - 9 (9 being fastest). My blood turned out to be the Lewis Hamilton variety and thankfully registered at a speedy 8 so I was pretty quick.

Once it was all over and, after a plaster and a quiet sit down for a couple of minutes, I was sent to the refreshment table for a welcome drink and biscuit.

The whole visit lasted no more than 45 mins and that was due to it being my first visit. Next time (yes, I've booked again), it will be less. In a couple of weeks I will receive my blood group through the post, along with confirmation of my next visit.

Having finally done it, I cannot recommend it highly enough and would encourage anyone to have a go. Your bag could be the one that makes a difference to someone's life. It was easy, quick and painless.

The most painful bit? ... removing the plaster six hours later at home! Not recommended without a large G+T !!!!

Oh, and I forgot to pick up a sticker!



RECENT STORIES
BLOOD DRAW TO SCORE DRAW -
A local donor who was one of the first to give blood at the new B2 NET stadium was Guest of Honour to see The Spireites grab a draw in the dying minutes of the game against Bradford on Saturday. More...
MORE FANS FOR ROYAL HOSPITAL -
A few weeks ago Chesterfield Hospital was appealing for friends on Facebook - now they're proud to announce they have fans of a different kind. More...
FLU ADVICE -
As swine flu cases once again begin to rise, Chesterfield Royal hospital is advising people who think they, or someone they know may have the illness to visit their website in the first instance for further advice. More...
STROKE SERVICES SHOWCASED AT HOSPITAL -
The statistics are frightening - around 150 000 people have a stroke every year, it's the largest form of disability and the 3rd most common cause of death in the UK More...
WHEN A CHILD IS BORN -
There were bumper bundles of joy at Chesterfield Royal Hospital on Christmas Day after 7 mums gave birth. More...
DON'T TAKE RISKS WHEN WALKING HOME-
As we're all out enjoying the Christmas Spirit, there's a warning that we need to take care whilst walking home. More...
MORE MRSA SCREENINGS THAN EVER BEFORE AT ROYAL -
The Chesterfield Royal Hospital has announced today that it has extended its MRSA screening programme to include emergency patients. More...
ROYAL GETS DIGITAL TONIC -
Chesterfield Royal Hospital is appealing for friends today. It's become one of the first trusts in the UK to set up a facebook profile More...
NEW ERA FOR WOMEN'S HEALTH AS NEW UNIT OPENS -
A ground breaking Woman's Health Unit has opened today at the Chesterfield Royal and hopes to change the way the hospital provides gynaecology nursing and medical care. More...
HOSPITAL MAKE CONTINGENCY PLANS AHEAD OF WINTER -
Although it's only just November, Chesterfield Royal say they are already seeing a rise in admissions due to "winter illnesses" More...
YOUR HOSPITAL NEEDS YOU! -
North Derbyshire's patients are being asked to tell Chesterfield Royal how it can improve it's services. More...