Monday 10th January 2011

A few weeks ago Chesterfield Hospital was appealing for friends on Facebook - now they're proud to announce they have fans of a different kind.

One new ward, Ridgeway, has just had 34 fans donated, along with two salon quality hairdryers and ten shaving mirrors by a Chesterfield organisation after one of it's members became a patient on the ward and, after recovering, raised money to buy equipment needed for the Trust.

Harry Johnson, from the Chesterfield and Mansfield Royal Antediluvian Order of Buffaloes (RAOB) was treated for Pneumonia - a condition that resulted in his temperature rising to over 40 degrees.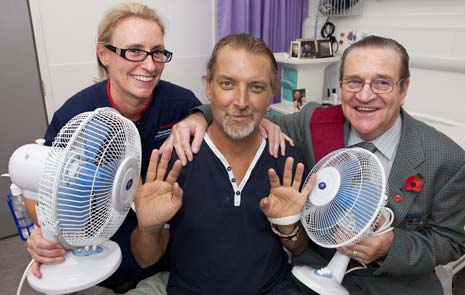 He has nothing but praise for his treatment and wanted to help others, saying "The ward and staff there were incredible, and they took such good care of me but, because of my temperature, what was really missing was a fan or something to keep me cool.

"They told me that some of the smaller items had been missed off the list when furnishing the bays and that some of the charitable funds could be used to buy things like fans and that's where the idea behind this donation came from."
Mr Johnson's Lodge raised nearly £700 in two weeks, and the money left was put towards leaflets for the inflammatory bowel disease nurse specialist and the purchase of twelve vases and twenty four shaving adaptors from Tesco at Clay Cross.

Sally Foster is the Matron on Ridgeway ward and she said: "We're very grateful to Mr Johnson and the Buffaloes and it's great to see that he's recovered so well and hear the nice things he's said about the care he received here on Ridgeway.

"Because this is a new ward, we have lots of brand new, state of the art equipment, but we're still in the process of making improvements and need some of the smaller things that make a difference to patient comfort.

"We use charitable funds to buy things like that and Mr Johnson has also pledged to buy us some flower vases and shaver plugs. It's such a kind thing he's done and we would like to say 'thank you'."
RECENT STORIES
COUNTY'S DENTISTS CHAMPION PATIENT SCHEME -
Almost half of Derbyshire County's dentists are now championing a national scheme proving their commitment to patient care. More...
THE ROYAL GOES GLOBAL -
After conquering Facebook, the Chesterfield Royal Hospital has now reached another social networking milestone with its 1,000th YouTube viewing. More...
SAFE AND SUSTAINABLE -
A 4 month long review of the future of children's congenital heart services is about to begin in England and the NHS is seeking the views of people in Chesterfield. More...
ROYAL INSPECTION FOR HOSPITAL -
The Royal Hospital at Calow lived up to its name on Friday as it welcomed HRH The Duchess of Cornwall. More...
A ROYAL VISITS THE ROYAL -
Chesterfield Royal Hospital announced today that HRH The Duchess of Cornwall will perform the official opening of the new £12m development More...
KICK THIS BUG INTO TOUCH -
Chesterfield FC and nurses from Derbyshire Community Health Services have joined forces to give one of the most virulent and severe winter bugs the 'Red Card'. More...
MODERN MAKEOVER PUTS STROKE PATIENTS FIRST -
Over 450 stroke patients in Chesterfield are to benefit from a £1.4m purpose-built facility for stroke sufferers will soon open at the Royal. More...
BLOOD DRAW TO SCORE DRAW -
A local donor who was one of the first to give blood at the new B2 NET stadium was Guest of Honour to see The Spireites grab a draw in the dying minutes of the game against Bradford on Saturday. More...
FLU ADVICE -
As swine flu cases once again begin to rise, Chesterfield Royal hospital is advising people who think they, or someone they know may have the illness to visit their website in the first instance for further advice. More...
STROKE SERVICES SHOWCASED AT HOSPITAL -
The statistics are frightening - around 150 000 people have a stroke every year, it's the largest form of disability and the 3rd most common cause of death in the UK More...
WHEN A CHILD IS BORN -
There were bumper bundles of joy at Chesterfield Royal Hospital on Christmas Day after 7 mums gave birth. More...
DON'T TAKE RISKS WHEN WALKING HOME-
As we're all out enjoying the Christmas Spirit, there's a warning that we need to take care whilst walking home. More...
MORE MRSA SCREENINGS THAN EVER BEFORE AT ROYAL -
The Chesterfield Royal Hospital has announced today that it has extended its MRSA screening programme to include emergency patients. More...
ROYAL GETS DIGITAL TONIC -
Chesterfield Royal Hospital is appealing for friends today. It's become one of the first trusts in the UK to set up a facebook profile More...
GIVE BLOOD, GIVE LIFE -
As Christmas approaches, the NHS Blood Transfusion Service is asking people in Chesterfield to think about giving one free but valuable gift this Christmas and donate a pint of blood. More...
NEW ERA FOR WOMEN'S HEALTH AS NEW UNIT OPENS -
A ground breaking Woman's Health Unit has opened today at the Chesterfield Royal and hopes to change the way the hospital provides gynaecology nursing and medical care. More...
HOSPITAL MAKE CONTINGENCY PLANS AHEAD OF WINTER -
Although it's only just November, Chesterfield Royal say they are already seeing a rise in admissions due to "winter illnesses" More...
YOUR HOSPITAL NEEDS YOU! -
North Derbyshire's patients are being asked to tell Chesterfield Royal how it can improve it's services. More...