Saturday 21st May 2011

As we reported on Wednesday 18th May Councillor Peter Barr has this week become Chesterfield's 371st Mayor, and today, in a Civic Service he was introduced to the town and his Mayoralty celebrated with a service at the Parish Church of St Mary's and All Saints (The Crooked Spire).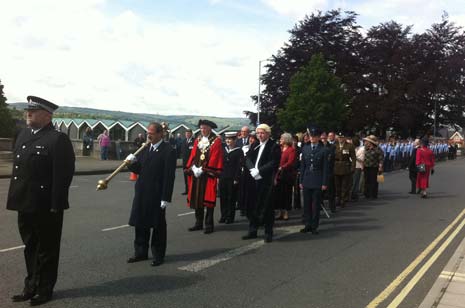 Hundreds of people lined the streets of the town to witness the party leave the Town Hall just after 10.30am to parade through the busy Saturday town centre to the church.

Attended by dignitaries including His Grace The Duke of Devonshire, MP Toby Perkins and Mayors and Civic Leaders from across the county it was conducted by the Mayor's Chaplain, Reverend Canon Michael Knight.

It was the first outing for the Mayoral Cadets too, as they accompanied the distinguished guests on parade with military colleagues and bands.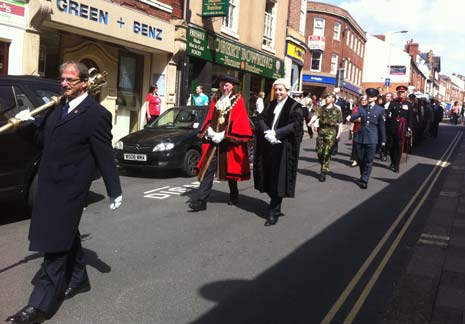 During a service in which Reverend Canon Knight spoke about the need for responsible governance and praised volunteers who gave up their time for service hymns were sung and prayers were said for The Mayor and Councillors as they embarked on their new year in office.

After a parade back through the lined streets of Chesterfield the Mayor took the salute on the steps of the Town Hall.

A short ceremony in the Mayor's Chambers followed to unveil the chosen Charities for this year's Mayoral Appeal.

It was announced that they are to be Ashgate Hospice and the Chesterfield Cancer Drop In Centre.

Representatives from both charities were present at the service and gave short speeches.

Kathy Hollyer from Ashgate Hospice told the guests they were honoured to have been chosen to be one of the charities and why it was so important to them. She began by congratulating the Mayor and Mayoress and thanked them for inviting her to the service. She then added, "As many know, Ashgate Hospice provides care for people with Life Limiting illnesses and their families and has been open for 23 years."

She then revealed some surprising figures, "In that first year we needed £400,000 to operate; today we need £4.7 million. This reflects our service through the years and how people near death are cared for."

She went on to describe how that money provides vital services, "175 people employed and we have 330 volunteers. Our services are varied - community care, where approximately 1,000 patients are helped by us every year, and 360 patients helped by us in our In patients care.

"Half our patients go home where we carry on caring for them, and we have a day centre, lymphodema team, family support team and Chaplain, so it's easy to spend £4.7 million pounds.

"We do receive 45% from the NHS, but are worried about the future and I will talk to Toby later! Events raise the rest - £4.7 million only covers running costs, so we are extremely grateful as the appeal will help us to replace equipment."

She finished by reading a quote form the Mayor which she said summed up what they're about, "So many individuals and families benefit from the care at Ashgate Hospice that it seems that they have touched the lives of everyone in Chesterfield. We have personally experienced the unconditional level of care provided by Ashgate Hospice and we want it to continue to be available to all those people who need their care in times of deep distress". She added that statement had almost brought her to tears.

In an emotional speech Barbara Wallis, founder of the Chesterfield Cancer Drop in Centre, told how the charity began, "It's very close to my heart because it was set up in memory of my daughter. We went to Weston Park and on our days when we were between appointments we'd go to a centre at the back - a lovely centre where you could go and have a chat and get things off your chest. One day coming home Helen decided Chesterfield needed one of these and said 'come on mum we can do it' ".

There was work to do over the next few months, "We had a look round for premises - Claire Cunningham was fantastic at pointing them out - and eventually we found Market Hall, we opened the Cancer Drop in Centre - the other name for it is 'Nenna Kind'.

"It does what it says, people can come in, have a chat and get things off their chest. We're not open every day, but we do therapies for people who need it and a benefits advice service. Everything is free but anyone can use it, even if they're tired and just want to have a sit down."

Barabara added that it had been a hard slog raising funds, "We are self-funding totally; we started a year last January and opened in October. In that time we have raised £20,000 through lots of things - bike rides, market stalls and coffee mornings. We are really grateful to the Mayor for asking us to be part of the appeal this year."
RECENT STORIES
FORCES SHARE LIFE WITH CHESTERFIELD -
Once again Chesterfield today took part in a week aimed at supporting and honouring Armed Forces connected with the town, past and present. More...
MAYOR FLIES THE FLAG ABROAD -
Last week, His Worship The Mayor, Peter Barr had just returned from a trip to Darmstadt as we spoke with him. More...
TOWN PAYS ITS RESPECTS TO FORMER MAYOR -
Over 100 councillors and council employees lined the steps of the Town Hall today to pay their respects to former Mayor, Cllr Nicky Qazi More...
CHESTERFIELD ARMED FORCES DAY 2011 -
Chesterfield is to honour once again the Armed Forces Community, from current serving troops to veterans. More...
FORMER CHESTERFIELD MAYOR AND COUNCILLOR DIES -
It's been announced that Nicky Qazi, a much respected and admired former Mayor and Councillor of Chesterfield Borough Council has died, aged 81 years. More...
CROWDS TURN OUT FOR CHURCHES -
Despite heavy rain, hundreds lined the streets to watch the Annual Procession of Witness (the 'Whit Walk') through the town centre More...
MICK BAGSHAW, CIVIC THANKS -
We have today received the following Letter from Mick and his partner Ruth asking us to convey the message of thanks to residents of the Borough. More...
THE START OF THINGS TO COME -
Unsurprisingly it's been a quiet but pivotal week for Chesterfield's new Mayor Cllr Peter Barr. More...
SO WHO IS THE NEW MAYOR OF CHESTERFIELD? -
Peter Barr was born in Chesterfield in 1940 and as a young boy watched the craftsmen working in his Grandfather's coach building business, Metcalf's on Saltergate. More...
THE OUTGOING MAYORS SPEECH -
Cllr Keith Morgan responded to the New Mayor at the swearing in ceremony today with his outgoing speech More...
NEW MAYOR TAKES THE OATH -
Chesterfield has a new Mayor tonight after Cllr Peter Barr was sworn in as the 371st Mayor of Chestefield. More...
ON PARADE FOR THE MAYOR -
It was a case of 'all change' this week as this year's Mayoral Cadets were sworn in at the Town Hall by the Mayor and Mayoress of Chesterfield. More...
THE MAYOR DRAWS AT THE B2NET -
The Mayor's Appeal 'Football Raffle' was drawn during half time of the game against Bury on Easter Monday at the B2net. More...
PASTORS, POTATOES AND POPPIES -
It's been another busy week for the Mayor, beginning with the visit of Camilla to the Royal hospital to officially open the new wards.More...
THE MAYORAL WEEK -
The Mayoral week began with the Complimentary Dinner, a 'thank you' to all the councillors and council workers who've been part of the Mayoral year. More...
PASTORS, POTATOES AND POPPIES -
It's been another busy week for the Mayor, beginning with the visit of Camilla to the Royal hospital to officially open the new wards.More...
THE MAYORAL WEEK -
Last week was a relatively quiet one for the Mayor, as events pick back up after Christmas but, as ever, a productive one. More...
A DAY TO REMEMBER AND RESPECT -
The Mayor and Mayoress of pay tribute to those who suffered in the Holocaust, signing the Commemoration Book in the Town Hall More...
FESTIVE FUNDRAISING WITH THE MAYOR AND MAYORESS -
It's been a quiet Christmas for the Mayor and Mayoress - but, though there weren't many engagements over the Festive period, it was still a profitable one for their charities More...
PRIDE OF CHESTERFIELD -
Ten young soldiers, after undergoing a gruelling selection process, today swore their Oath of Allegiance to the Queen during an emotional ceremony at the Mayor's Parlour. More...
IN THE COURSE OF ANOTHER BUSY
WEEK -
The Mayor and Mayoress of Chesterfield had attended Pathways AGM. This Charity, situated on Sheffield Road,... More...
A BUSY WEEK -
Invitations are coming in to the Town hall all the time, unbelievably some already for Carol Concerts, and the Mayor expressed his gratitude to the Deputy Mayor. More...
TABLE TOP SALE AND FAYRE -
The event is part of the Mayors Charity Appeal and is in aid of Fairplay and the Samaritans. More...
CHESTERFIELD DOING WELL - Our Discussion with His Worship the Mayor of Chesterfield this week began on the subject of the Development of Chesterfield. More...
COUNTING CUPPAS- So, just HOW many cups of tea will the Mayor drink during official engagements in his year of office? More...
THE MAYOR AND THE ARMED FORCES. Chesterfield has very close links with all the Armed Forces and those ties remain something which the Town is immensely proud of.
More...
THE MAYOR'S FIRST COLUMN -
The Mayoral Parlour is a real paradox ... steeped in tradition with souvenirs from visiting dignitaries lining the cupboards and robes of office in the corner. More...