Thursday 13th September 2012
Edale MRT have attended 3 incidents in the last week, including a callout for a climber who had fallen at Dovestone Tor on Derwent Edge.

The team gets called for lots of fallen climbers - there are some of the most popular outcrop climbing in the world on their patch - but in the last 12 years, they have never been called to a climber on Derwent Edge. This edge is one of the more remote climbing crags in the area, with a long walk in from the nearest road.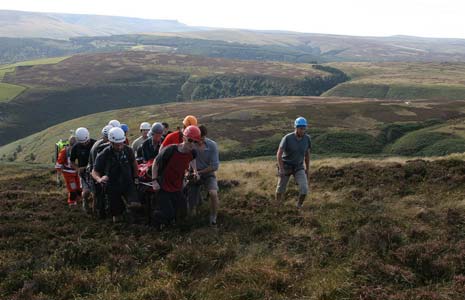 On this occasion, a young woman climbing on Saturday afternoon had fallen and sustained some nasty facial injuries as well as a possible spinal injury. The Derbyshire, Leicestershire & Rutland Air Ambulance arrived on scene shortly before the first team members.

After being assessed, she was loaded on to the stretcher and vacuum mattress and carried to the aircraft, (above) which had been forced to land some distance away.

Earlier in the day, the team had been tasked to another lady who had fallen off her bike on the Monsal Trail near Great Longstone and broken her leg. After pain relief and splinting she was carried along the disused railway line to an ambulance near the village.

On Wednesday 5th September, the team were called to rescue another young woman, this time a runner with an ankle injury in woodland between Grindleford and Hathersage. An ambulance had managed to reach her and the team were stood down while they were assembling at the rendezvous point.

These jobs bring the total number of incidents for 2012 to 84, which is almost exactly the same as the previous year, despite the terrible summer weather.
RECENT STORIES
DERBY MRT JOIN EDALE MRT IN SEARCH FOR MISSING DRONFIELD MAN -
Derby MRT joined forces with Edale MRT on Thursday 23rd January, to search for 58 year old Kevin Herbert, missing from a nursing home in Dronfield. More...
EDALE MRT PASSES MILESTONE -
The last week has seen Edale MRT pass the milestone of 50 callouts in 2013 including a dramatic callout for n RAF Sea King Helicopter More...
BUSIEST MAY IN THE TEAM'S HISTORY... -
We've all enjoyed the lovely weather over the last few days but, as Summer arrives, with it comes a spate of callouts for Edale Mountain Rescue Team. More...
EDALE MRT - CARS, MOUNTAINS AND SHOPPING IN THE SNOW -
The surprise return of winter has seen Edale Mountain Rescue Team assisting a whole range of people around the Peak over the weekend. More...
DERBY MOUNTAIN RESCUE FIND NORTH WINGFIELD PENSIONER -
Derby Mountain Rescue Team located a missing 73 year old woman on Sunday 10th February, after a search in the North Wingfield area. More...
EMRT HELP IN SEARCH FOR APRIL JONES -
Edale Mountain Rescue Team volunteers were called out twice in the last 10 days to incidents in our area as well as helping with the search for missing April Jones. More...
2,000 HOURS AND COUNTING -
The last week has seen Edale Mountain Rescue Team called out 3 times. These jobs have taken the total man hours spent on rescues in 2012 to just over 2,000. More...
EDALE MRT ASSIST STRANDED DRIVERS ON SNAKE PASS -
Edale MRT was called out yesterday by Derbyshire Police to reports of motorists stranded in heavy snow near Snake Summit on the A57 Snake Pass More...
EDALE MRT HELP SEARCH FOR MISSING DRONFIELD MAN -
After news came of the sad death of pensioner Roy Barnes today, the Edale Mountain Rescue Team also issued a statement. More..
ANOTHER BUSY WEEKEND FOR EDALE MRT -
On Saturday at 3pm Derbyshire Police called out the team to a climbing accident at Curbar Edge. More...
A BUSY WEEKEND! -
Edale Mountain Rescue Team has had another busy weekend with three rescues over Saturday and Sunday. More...
WHO ARE EDALE MOUNTAIN RESCUE TEAM? -
If you're out in the Peak District these are the people you hope you won't need to meet. More...
ANNUAL RAFFLE DRAWN IN SHEFFIELD -
Edale Mountain Rescue's 2010 raffle was drawn at the Sheffield branch of Decathlon, the sports retailer on Sunday 3rd October. More...