Tuesday 26th March 2013
The surprise return of winter has seen Edale Mountain Rescue Team assisting a whole range of people around the Peak over the weekend.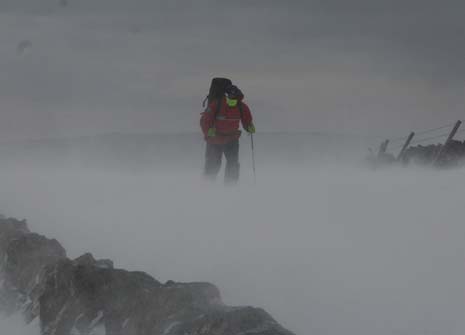 Edale MRT Team Members ploughed on through driving snow to help motorists and holidaymakers at the weekend

Friday night saw team members in two of their Land Rovers rescuing motorists who were stuck in the snow on the A619, the main road between Chesterfield and Baslow.

After several hours digging, towing and transporting drivers, Derbyshire Police asked the team to assist Buxton and Derby MRTs with a similar situation on the A515 near Newhaven.

On Saturday afternoon, the team had the unusual task of rescuing a party! The Landlady of the Shoulder of Mutton pub in Bradwell was stranded with food for her granddaughter's 6th birthday party - Edale MRT were happy to help by delivering the food.

On Sunday, the team were out again assisting yet more drivers on the higher roads throughout our area where strong winds had caused significant snow drifts, completely blocking the road in many places.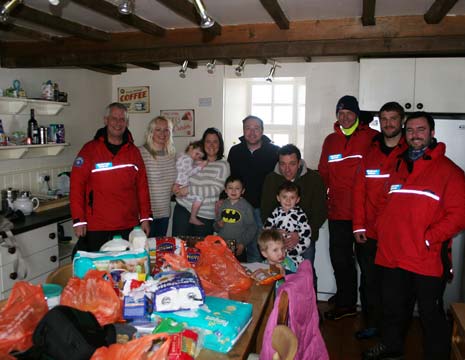 In the afternoon, they were contacted by Derbyshire County Council (DCC) Emergency Planning Staff. Three families staying in holiday cottages on Bradwell Moor were snowed in and running out of food and other supplies. After collecting a significant amount of shopping from DCC, they got as close as they could in their Land Rovers before having to abandon the vehicles and carry the supplies the last two kilometres on foot through deep snow driven by strong winds. The families had a number of small children with them and were very pleased to see them! (above)

The team remains on standby for anything else the weather has in store!

For more information about Edale MRT, see their website at www.edalemountainrescue.co.uk
RECENT STORIES
DERBY MRT JOIN EDALE MRT IN SEARCH FOR MISSING DRONFIELD MAN -
Derby MRT joined forces with Edale MRT on Thursday 23rd January, to search for 58 year old Kevin Herbert, missing from a nursing home in Dronfield. More...
EDALE MRT PASSES MILESTONE -
The last week has seen Edale MRT pass the milestone of 50 callouts in 2013 including a dramatic callout for n RAF Sea King Helicopter More...
BUSIEST MAY IN THE TEAM'S HISTORY... -
We've all enjoyed the lovely weather over the last few days but, as Summer arrives, with it comes a spate of callouts for Edale Mountain Rescue Team. More...
DERBY MOUNTAIN RESCUE FIND NORTH WINGFIELD PENSIONER -
Derby Mountain Rescue Team located a missing 73 year old woman on Sunday 10th February, after a search in the North Wingfield area. More...
EMRT HELP IN SEARCH FOR APRIL JONES -
Edale Mountain Rescue Team volunteers were called out twice in the last 10 days to incidents in our area as well as helping with the search for missing April Jones. More...
2,000 HOURS AND COUNTING -
The last week has seen Edale Mountain Rescue Team called out 3 times. These jobs have taken the total man hours spent on rescues in 2012 to just over 2,000. More...
SOMEWHERE DIFFERENT FOR EDALE MRT -
Edale MRT have attended 3 incidents in the last week, including a callout for a climber who had fallen at Dovestone Tor on Derwent Edge. More...
EDALE MRT ASSIST STRANDED DRIVERS ON SNAKE PASS -
Edale MRT was called out yesterday by Derbyshire Police to reports of motorists stranded in heavy snow near Snake Summit on the A57 Snake Pass More...
EDALE MRT HELP SEARCH FOR MISSING DRONFIELD MAN -
After news came of the sad death of pensioner Roy Barnes today, the Edale Mountain Rescue Team also issued a statement. More..
ANOTHER BUSY WEEKEND FOR EDALE MRT -
On Saturday at 3pm Derbyshire Police called out the team to a climbing accident at Curbar Edge. More...
A BUSY WEEKEND! -
Edale Mountain Rescue Team has had another busy weekend with three rescues over Saturday and Sunday. More...
WHO ARE EDALE MOUNTAIN RESCUE TEAM? -
If you're out in the Peak District these are the people you hope you won't need to meet. More...
ANNUAL RAFFLE DRAWN IN SHEFFIELD -
Edale Mountain Rescue's 2010 raffle was drawn at the Sheffield branch of Decathlon, the sports retailer on Sunday 3rd October. More...