Tuesday 12th October 2010

The reputation of Chesterfield College's hair and beauty salon attracted visitors from far and wide this week, all looking to gain an insight into the experience of the UK hair and beauty industry.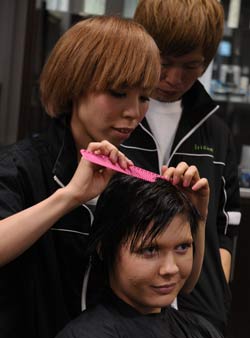 Students from hairdressing colleges in Japan, currently on internships here in the UK, visited the Infirmary Road campus, taking part in lessons and swapping techniques with its resident students.

Japanese College Directors also took a tour of the campus and met with staff.

The visiting students also took advantage of the College's excellent Quadrant restaurant, enjoying a delicious three course meal.

Accompanying the Japanese delegates was organiser Justin Tellus, an International Educator for the Hairdressing and Beauty Industry Authority (HABIA) in Japan.

Following a previous exchange trip with London colleges he wanted to visit the North of England instead and chose Chesterfield College amongst a handful of quality UK representatives following a glowing recommendation from the British branch of HABIA, as it recently won an award at the Salon International Exhibition for its health and safety practices.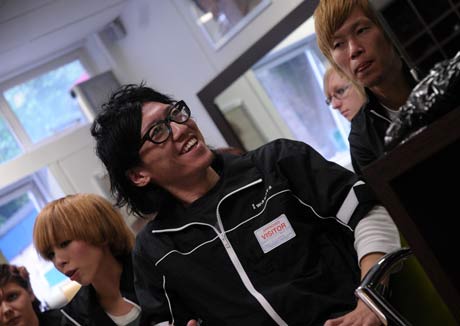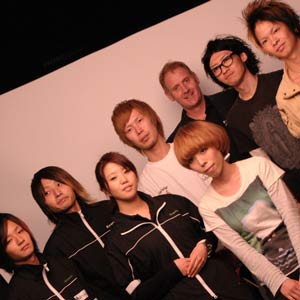 Following a day of styling a selection of models alongside resident students, the Japanese interns were photographed in the College photography studio with their created styles.

Using Sheffield as a base for the project, Doncaster and Manchester will also be included in the trip.
RELATED STORIES
BACK TO SCHOOL FOR CHESTERFIELD MP -
Schoolchildren in Chesterfield heard first hand about life in Parliament when MP Natascha Engel visited their school More...
"SHUTTING THE DOOR ON THE ASPIRATIONS OF YOUNG PEOPLE" -
That's Chesterfield College lecturer and Union Representative James Eadon's view on the Government's proposals to withdraw EMA. More...
BRINGING HISTORY
TO LIFE -
During a period when most schools in Chesterfield closed as a result of the bad weather, one actually opened its doors - for the first time in more than 40 years. More...
SCHOOL CLOSURES DUE TO SNOW FROM
NOV 30th 2010 -
Here's a list of schools closed today that we know of. If you have any more to add to the list, go to our forum More...
NO SUGAR - BUT LIFE STILL SWEET FOR CHESTERFIELD APPRENTICES -
Chesterfield College launching it's innovative Apprenticeship Academy based at it's Tapton Campus. More...
BEST SCHOOL FROM NOTTINGHAM TO LEEDS! -
A Chesterfield School is celebrating after climbing 41 places in the league table and becoming the highest performing prep school between Leeds and Nottingham. More...
'JOG DERBYSHIRE' JOG GROUP LAUNCHED AT COLLEGE -
Chesterfield College has become the first employer in the area to launch an official jogging group for its members of staff. More...
STUDENTS TAKE A 'PREGNANT PAUSE' AT LONDON STATION -
Chesterfield College Childcare and Health and Social Care students took part in a 'Flash Mob' alongside other volunteers including Holby City star Duncan Pow at London's Victoria Rail Station More...
CHESTERFIELD'S GRADUATES PUBLIC SHOW OF SUCCESS -
It was a first for Chesterfield College when more than 100 proud graduates celebrated at the Crooked Spire, after a procession through the town centre More...
NEW FACILITIES FOR CHESTERFIELD HIGH SCHOOL -
A Chesterfield Secondary School is celebrating the opening of its new Student Resource and Learning Centre. More...
BUILDING LIFE
SKILLS -
Year six children at New Whittington Community Primary school got a taste of town planning when they took part in a unique project designed to coincide with 'money week' in school. More...