Thursday 4th November 2010

Chesterfield College has become the first employer in the area to launch an official jogging group for its members of staff.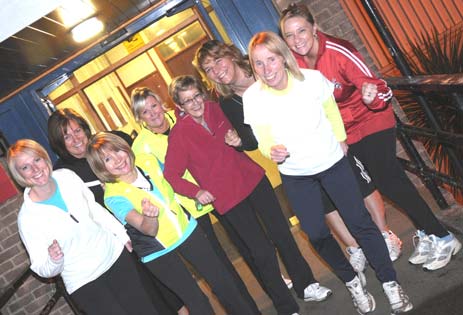 Led by keen runner, Lyz Evans, Schools Liaison Assistant at the College, the group quickly got into it's stride and is proving to be extremely popular, with sessions taking place once a week and more people set to join over the coming weeks and months.

The College is keen to encourage healthy living in both its students and staff and was eager to take part in the Jog Derbyshire initiative - because it allows participants to improve their fitness, lose weight, meet new people and reach their healthy goals.

Jog Derbyshire Officer Kate Nelson says, "We are delighted that there has been such positive interest in Jog Derbyshire by Chesterfield College staff. It is great that Chesterfield College is embracing this initiative to help keep their workforce healthy, and we hope that other employers may follow their lead."

If you would like to join the group, it meets every Monday, 5:15pm, at the Infirmary Road Fitness Suite, lasts an hour, and costs £1 each session.

Contact Lyz Evans at the College for any further info.
RECENT STORIES
CLEANING UP THE FUTURE OF OUR PARKS -
Chesterfield Borough Council's Street Scene Enforcement team has been working with pupils at Parkside School to help improve local parks. More...
£2.5m INVESTMENT BOOST FOR CHESTERFIELD -
Good news today for both businesses and the unemployed in Chesterfield with news that £2.5m of new funding and grants is now available More...
BACK TO SCHOOL FOR CHESTERFIELD MP -
Schoolchildren in Chesterfield heard first hand about life in Parliament when MP Natascha Engel visited their school More...
"SHUTTING THE DOOR ON THE ASPIRATIONS OF YOUNG PEOPLE" -
That's Chesterfield College lecturer and Union Representative James Eadon's view on the Government's proposals to withdraw EMA. More...
BRINGING HISTORY
TO LIFE -
During a period when most schools in Chesterfield closed as a result of the bad weather, one actually opened its doors - for the first time in more than 40 years. More...
SCHOOL CLOSURES DUE TO SNOW FROM
NOV 30th 2010 -
Here's a list of schools closed today that we know of. If you have any more to add to the list, go to our forum More...
NO SUGAR - BUT LIFE STILL SWEET FOR CHESTERFIELD APPRENTICES -
Chesterfield College launching it's innovative Apprenticeship Academy based at it's Tapton Campus. More...
BEST SCHOOL FROM NOTTINGHAM TO LEEDS! -
A Chesterfield School is celebrating after climbing 41 places in the league table and becoming the highest performing prep school between Leeds and Nottingham. More...
STUDENTS TAKE A 'PREGNANT PAUSE' AT LONDON STATION -
Chesterfield College Childcare and Health and Social Care students took part in a 'Flash Mob' alongside other volunteers including Holby City star Duncan Pow at London's Victoria Rail Station More...
COLLEGES SALON QUALITY ATTRACTS INDUSTRY PROS FROM FAR AND WIDE -
The reputation of Chesterfield College's hair and beauty salon attracted visitors from Japan this week More...
CHESTERFIELD'S GRADUATES PUBLIC SHOW OF SUCCESS -
It was a first for Chesterfield College when more than 100 proud graduates celebrated at the Crooked Spire, after a procession through the town centre More...
NEW FACILITIES FOR CHESTERFIELD HIGH SCHOOL -
A Chesterfield Secondary School is celebrating the opening of its new Student Resource and Learning Centre. More...
BUILDING LIFE
SKILLS -
Year six children at New Whittington Community Primary school got a taste of town planning when they took part in a unique project designed to coincide with 'money week' in school. More...