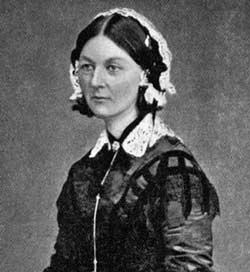 Few of us wouldn't recognise the name of Florence Nightingale, but how many of us know that the "Lady of the Lamp" shone brightly in the life of Derbyshire?

Born in Italy and named after the place she was born, her paternal grandmother was the niece of William Shore who owned Lea Hurst, near Matlock. After his death, Florence's father returned here having inherited the estate, and Florence spent much of her childhood there. It's also the place she returned to after the Crimea war.

Her family remained active in the life of the village and, in 1932, a Florence Nightingale Memorial hall was opened by the then Prince of Wales.

The family home is now, perhaps fittingly, a nursing home for the elderly.

Derbyshire remains proud of it's connections to the nursing pioneer and three statues of Florence dominate Derby City Centre.

Florence died in 1910 and a service to mark the Centenary was held at Derby Cathedral, attended by the Deputy Mayor of Chesterfield, Mick Bagshaw.
RECENT STORIES
UPDATE: TRACING THE HISTORY OF A LOCAL ARTIST -
An exhibition of a late local artist's work has been launched at Chesterfield Museum with art experts from London still trying to trace some of his pupils More...
WERE YOU IN THIS CLASS OF THE 1950'S -
A London company, about to mount an exhibition of Paintings by a local artist, is appealing for help in tracing some of his pupils. More...
SEARCH FOR WWII AIRMANS FAMILY -
One of Chesterfield's twin towns is asking residents for information on the family of a WW2 airman who was shot down in Germany. More...