Friday 28th January 2011

A company in London, about to mount an exhibition of Paintings by a local artist is appealing for any help in tracing some of his pupils.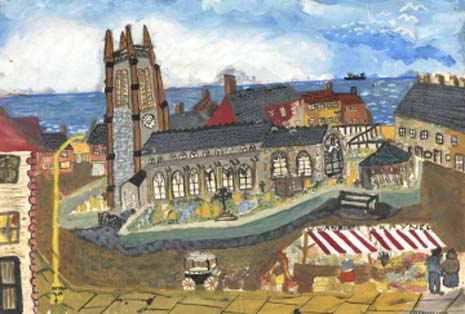 A selection of images (above) from Robert Young Antiques of London of the work of local artist and art teacher, Stanley Dyson will be exhibited at Chesterfield Museum and Art Gallery.

Also on display will be some of the work of Dyson's former pupils who attended New Whittington Secondary School in the 1950's.

Robert Young Antiques are now searching for the New Whittington Secondary School, class of 1950 and any other pupils who may have been taught by Stanley Dyson (a list of names is included below).

The exhibition will be opened by Councillor, Keith Morgan, Mayor of Chesterfield, on Tuesday 8th February at 10am.

The paintings on show will then go on to join a larger exhibition of Dyson's work at Robert Young Antiques in London in March.

Robert and Josyane Young spotted the collection of over 500 pictures at an auction house in Beccles in 2007. They were immediately struck by Dyson's remarkable use of colour and purchased every single picture. As they explored the works further, they discovered that some of them were by children.

Many of these pictures are a mystery and it is the Young's hope to reunite some of the original students with their art, learn more about the artists as well as be able to pay them the duty owed to the artist when a work is sold.

"We have never bought such an extensive collection before, let alone by one artist but we liked it immediately" commented Robert Young.

The pictures are on display at Chesterfield Museum until the 19th February. The museum is open everyday except Wednesday and Sunday, 10am until 4pm and admission is free.

Stanley Dyson was born in Old Whittington, Chesterfield. He was the only child of poor working class parents and at the death of his mother, when he was five, he went to live with his grandmother.

Stanley's love of drawing developed as a boy. He used to cycle through the Peak District, sketching landscapes and churches. He was so dedicated that Nicholas Pevsner's team on the 'Buildings of England' series reputedly commissioned the teenager to take dimensions and makes sketches of local Derbyshire monuments.

After leaving school at 16, Stanley went to work as a clerk at Sheepbridge Works and on the outbreak of war in 1939, he joined the navy. After the war he attended Liverpool City Art School, returning home in 1950 to become an art teacher at New Whittington Secondary School. He taught in Derbyshire for 16 years then moved to Norfolk.

The list below is of pupils of Stanley Dyson, most of whom we believe to have been taught by him at New Whittington Secondary School from the 1950s & maybe into the early 60s.

Stanley kept two portfolios of the children's work which were found amongst his own paintings after he died.

There is one picture by each of the following, who today would be in their 60s/70s.

They are in poster paints, charcoal or crayon on paper and most are inscribed on the back with the artist's name.

Many have a note of the form they were in at the time.

Robert Young are keen to know the whereabouts of any of the former pupils mentioned below:

G. Ackerley
E. Allsop
Tony Bannister
Ann Birkinshaw
Jennifer Borrington - Class 2B
Christine Clarke
J. Malgalel Fox
Raymond Gorecki
J. Holt & J. King
A. Hutchinson
D.H. Stephen Jackson
Norman Hilman
John Hewill
P. Hicklim
P. Jordan
A. Kent
P. Lamb
Linda Lloyd
R. Maskosz
Stuart Mathews
Ruth Moneton
Linda Moore
T. Moore
Janet Parker
R. Percival G.B.
Nora Scragg
J. Shaw
Williamson


If you can help or recognise your or someone else's name in this list, get in touch with the Chesterfield Post - email: karen@chesterfieldpost.co.uk
RECENT STORIES
UPDATE: TRACING THE HISTORY OF A LOCAL ARTIST -
An exhibition of a late local artist's work has been launched at Chesterfield Museum with art experts from London still trying to trace some of his pupils More...
SEARCH FOR WWII AIRMANS FAMILY -
One of Chesterfield's twin towns is asking residents for information on the family of a WW2 airman who was shot down in Germany. More...
FLORENCE NIGHTINGALE -
Few of us wouldn't recognise the name of Florence Nightingale, but how many of us know that the "Lady of the Lamp" shone brightly in the life of Derbyshire? More...