Thursday 10th February 2011

An exhibition of a late local artist's work has been launched at Chesterfield Museum with art experts from London still trying to trace some of his pupils who are believed to still live locally.
As previously reported on The Chesterfield Post, family discovered Stanley Dyson's works after his death in 2007. Unsigned and undated, the paintings were sent for auction.

Below are a selection of paintings by Dyson and his pupils - Click on the thumbnails for a larger image (will open in a new browser window).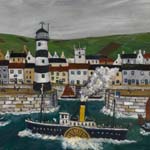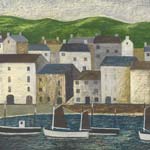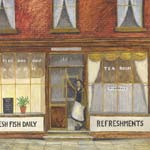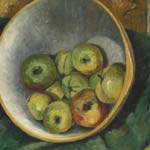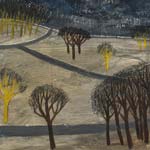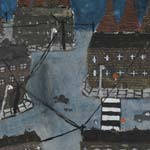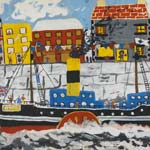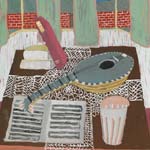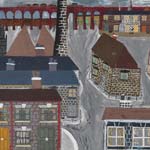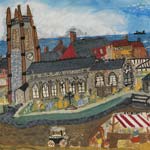 After being bought by Robert Young Antiques of London, their history was researched and Stanley was found to have been a teacher at New Whittington Secondary School on London Street in the 1950's. Some of the paintings are believed to have been created by his pupils at the school during that period.

With the help of Chesterfield Museum, Robert Young Antiques are now desperately trying to find these students (names at the bottom of this article) and have bought the paintings to Chesterfield for display before they move on to form part of an exhibition at their Galleries in London.

We attended the launch of the Exhibition and spoke to local residents, pupils and fellow teaching staff who knew Stanley and who were happy to share their memories of him.

The Mayor and Mayoress were also in attendance at the event and His Worship gave a speech thanking the Auction House for their perception in bringing the paintings and the story behind them to the attention of Chesterfield, saying "We're at the beginning of an exciting and unusual story and please, if anyone knows anyone who had any connection to Stanley, contact the Museum and we can start to put the pieces of the jigsaw together."

Olive Hoddle taught at the same school with him and recalls him as, "A great man, we were young at the time, he was of his age, we had a very good time and spent a lot of time together - my husband was a Derbyshire man, we all started teaching together.

"My husband taught Art and Architecture at William Rhodes so colleagues as well as friends. Stanley was married to a lady called Kathleen from Holymoorside, until he ran off with the English teacher! She then left the town too.

"He was outgoing, a typical artist, I'm very sad, my husband only died before Christmas - he could have told us a lot more."

Former pupils were there and reminisced about Stanley Dyson, or 'Mr Dyson' as they knew him. Marion Oliver, nee Bottoms, attended the school and remembers Mr Dyson. He was, she remembers "A very gentle man. We used to live in the pub, the Star, which was behind the school - we used to just run round in a morning." Laughing, she recounted, "I do remember him having an affair though! I came today to see if one of mine is here, I doubt it will be though."

She remembers the staff, "There were some good ones, Miss Black, Mr West and the Head Mr Lyn and his wife who taught domestic science at the school. I think about them a lot."

Walter Jones was there too - he was taught art by Mr Dyson and recalls, again, a gentle man, tall and thin, just like his portrait. "He was enthusiastic. He helped any one who he saw potential in. Of course, in those days, we moved round classes and saw him only for Art, they were good days."

Imogen Begg who was at the exhibition representing Robert Youngs, explained to us why they bought the paintings and why they are so keen to re-show them in Chesterfield, "Stanley was born in Chesterfield and taught in Whittington .All these years he kept the work of the child artists. We brought them back to find these and allow people in the town to see the artwork.

"Robert and Josyane discovered them at an auction, finding bundles of this art. They loved them and that's why they had them. A researcher, David Drew, investigated Stanley's life and we found out so much about him and we hoped to find out more.

"We're trying to find the child artists who are possibly in their 60's or 70's - we've talked to people who fondly remember him as their teacher and we'd like to reunite them with their owners.

"Some of the paintings will resonate with local people due to the locations he painted. Had he not died these paintings would have remained out of sight. This is an exhibition of works never intended to be seen."


Robert Young are still keen to know the whereabouts of any of the former pupils mentioned below:

G. Ackerley
E. Allsop
Tony Bannister
Ann Birkinshaw
Jennifer Borrington - Class 2B
Christine Clarke
J. Malgalel Fox
Raymond Gorecki
J. Holt & J. King
A. Hutchinson
D.H. Stephen Jackson
Norman Hilman
John Hewill
P. Hicklim
P. Jordan
A. Kent
P. Lamb
Linda Lloyd
R. Maskosz
Stuart Mathews
Ruth Moneton
Linda Moore
T. Moore
Janet Parker
R. Percival G.B.
Nora Scragg
J. Shaw
Williamson


If you can help or recognise your or someone else's name in this list, get in touch with the Chesterfield Post - email: karen@chesterfieldpost.co.uk
RECENT STORIES
WERE YOU IN THIS CLASS OF THE 1950'S -
A London company, about to mount an exhibition of Paintings by a local artist, is appealing for help in tracing some of his pupils. More...
SEARCH FOR WWII AIRMANS FAMILY -
One of Chesterfield's twin towns is asking residents for information on the family of a WW2 airman who was shot down in Germany. More...
FLORENCE NIGHTINGALE -
Few of us wouldn't recognise the name of Florence Nightingale, but how many of us know that the "Lady of the Lamp" shone brightly in the life of Derbyshire? More...