Thursday 30th April 2015

Hot on the heels of Casa Hotel being voted 5th best hotel in the UK, in Trip Advisor's 2015 Travellers Choice Awards, Steve Perez has unveiled a Spanish influenced cookbook, 'Mi Casa: Spanish-Inspired Recipes from the Heart of Derbyshire'.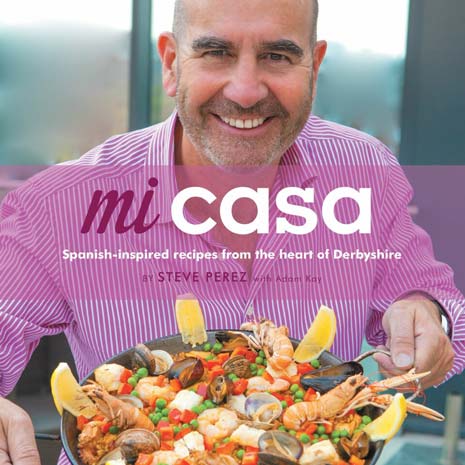 The book not only shares some of the hotel's favourite recipes, but also tells the story of Casa and is an autobiographical recount of Steve's entrepreneurial journey.

Drawing influences from Steve's Spanish roots - and his passion for high quality local produce - Mi Casa offers insights into dishes inspired by his Derbyshire upbringing as well as showcasing the skills of the two AA rosette kitchen team and Head Chef Andrew Wilson.

Central to Casa Hotel's achievements is the quality of the ingredients and produce used in its menus. Walton Lodge Farm, which is part of Steve's Walton Lodge Estate, supplies meat and eggs to Casa Hotel.

Mi Casa features a behind the scenes look at the workings of the farm and its unique connection to the hotel.

It also introduces other local key Derbyshire suppliers, Highfield House Farm and John Hattersley Wines, as well Yorkshire-based Grey's Fine Foods, which brings the authentic Spanish tastes and ingredients to Casa.

For Steve Perez, (pictured below right at the launch night), this book marks the latest venture into the food, drink and hospitality industry.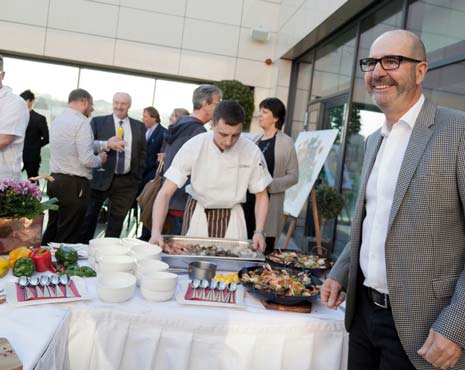 Commenting on the book he said: "I'm delighted to have a platform to celebrate my love of food in 'Mi Casa'. Not only is it a great way to recognise some of the fantastic local food produce available in Chesterfield and surrounding areas, it's also an opportunity to inspire readers to add a taste of Spain to their dishes too.

"My late father Santiago, originally from Barcelona, inspired me throughout my career. I grew up in the Derbyshire countryside with him cooking Spanish dishes in the home. When it came to building Casa, I wanted something which would reflect my Mediterranean roots and the same is true about the Mi Casa cook book."
Listen to an interview with Steve in full here...
Throughout the last 40 years, Steve has successfully carved a career for himself in the hospitality industry. From his humble beginnings working in the kitchen of his father's restaurant, moving from managing pubs to developing the hugely successful international drinks business.

Featuring more than 30 dishes ranging from simple Tapas to 'Something Special' Cocina restaurant inspired recipes, Mi Casa has been written to suit the skills of the novice and adventurous home cooks alike with easy to follow recipes.

'Mi Casa: Spanish-Inspired Recipes from the Heart of Derbyshire' is available to purchase directly from Casa Hotel or through Amazon and is priced at £14.95. To order a copy, please email micasa@casahotel.co.uk
OTHER STORIES
STAVELEY CLUB HOUSE AVAILABLE FOR PARTIES AND FUNCTIONS -
The beautifully appointed Club House at Staveley MWFC's Inkersall Road Football Ground is now available to book as the perfect venue for your Party or Function More...
CHESTERFIELD McDONALDS GOES DIGITAL AFTER REVAMP -
Chesterfield is set to be given a significant investment boost with the bold transformation of the McDonald's restaurant, creating up to 10 new jobs. More & Audio...
NANDO'S BRINGS PERI-PERI CHICKEN
TO CHESTERFIELD -
Chesterfield residents and visitors are in for a tasty treat as Nando's, home of legendary Portuguese flame-grilled PERi-PERi chicken, opened to the public More & Audio...
FANCY THE CHANCE TO BUILD YOUR OWN DREAM BURGER? -
Ever wanted to make your mark on the menu at your local pub? Well now's your chance with Chesterfield's Donkey Derby Pub. More...
A NEW CHEF, NEW MENU AND NEW AWARD FOR THE DEVONSHIRE ARMS -
There's not just a new chef and a new approach to dining at The Devonshire Arms, Middle Handley, but now there's another new award too. More...
HISTORIC PUB IN WINGERWORTH IS REBORN! -
The Wingerworth Pub & Kitchen (formerly known as the Hunloke Arms) is to re-open tomorrow - Friday November 8th - following a £500,000 refurbishment. More...
A MICHELIN LISTING FOR THE DEVONSHIRE ARMS -
The award-winning Devonshire Arms at Middle Handley has been given a place in the prestigious Michelin Hotel and Restaurant Guide for Great Britain and Ireland 2014. More...
MERRY CHRISTMAS FROM DEVONSHIRE ARMS OR MAYBE HOLA! INSTEAD... -
Is it ever too soon to wish everybody a Happy Christmas? Not according to the team at The Devonshire Arms! More...
BURGERS FOR INDEPENDENCE DAY AT THE DEVONSHIRE ARMS -
Celebrate American Independence Day with the food that made (another) nation great, at The Devonshire Arms at Middle Handley More...
ARMED FORCES GET A FREE CROWN ON ARMED FORCES DAY -
Crown Carveries in Chesterfield are celebrating Armed Forces Day 2013 by treating all Army, Navy and Air Force men and women, past and present, to a free meal. More...
JOIN ST GEORGE FOR A FULL ENGLISH AT THE DEVONSHIRE ARMS -
What better way to celebrate St George's Day than with that great culinary tradition, the Full English Breakfast? More...
LOCAL CHEFS COMPETE FOR RED NOSE DAY HONOURS -
The team at the Devonshire Arms in Middle Handley are aiming to put a smile on costumers' faces with their own Comic Relief version of the 'Great British Menu' competition! More...
BATTLE OF THE RELISHES AT GREAT BRITISH PIE NIGHT -
Henderson's and Worcestershire Sauce battle it out for the title of top tastebud tickler at Devonshire Arms Great British Pie Night, Middle Handley More...
IT ALL COMES BACK TO FOOD! - NONNAS' GIAN BOHAN TALKS ITALY -
The passion of the Italian way of life is passed on by Gian Bohan, co- owner of Nonnas, and he does it through good food and company - with an enthusiasm that very quickly becomes infectious. More...
LET IT BEAN! -
The Highwayman Beefeater Grill In Chesterfield has recreated the iconic image of The Beatles crossing Abbey Road - using items from the great British breakfast! More...
DELHI 41 CELEBRATES SUCCESSFUL FIRST YEAR -
Delhi 41 on Whittington Moor has now been open for 12 months and is fast gaining a reputation as one of the best Indian Restaurants in Chesterfield. More...
CASA ACHIEVES 2nd AA ROSETTE FOR COCINA -
Chesterfield's Casa Hotel has scooped yet another accolade having been awarded a prestigious 2nd Rosette for Cocina restaurant. More...

RESTAURANT REVIEWS -
Reviews, and updates for local restaurants in and around Chesterfield. More...