Friday 8th February 2013
Review by Sarah Wilmot


"I'll just do this once, OK? Now, pay attention"... this fantastic, jam-packed movie takes action to a whole new level, leaving the audience enticed and thriving for more.

Andrew Knauer almost gave action a new meaning when he wrote this storyline as there was not a moment during the film that I was left feeling unsatisfied!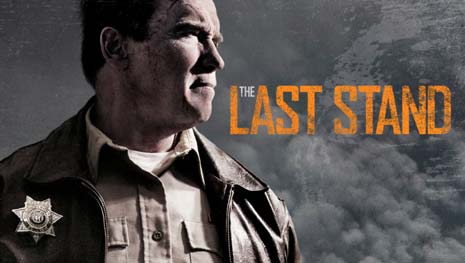 The Last Stand brings Arnold Schwarzenegger back into recognition and makes the movie as good as it can get.

The film is based on the escape of a very determined, wanted, drug baron who's held in FBI custody and is going to be transported. He manages to escape and makes his way to the border at Arizona. Many agents are on the mission to make sure that the drug baron does not leave the border, but are they successful?

The film ends with a standoff between the drug baron and the Sheriff (Arnold Schwarzenegger), but who wins?

The events which occur on his journey are intriguing and exciting, leaving you fulfilled and thirsty for more, such as the car chase for example. "It should be a quiet weekend" Arnie suggests, yet his intolerance of the foreshadowing is yet to be undiscovered…

I genuinely think that this incredibly well written movie is one that I would watch many times again in the future. Its fast paced, eventful story line is dramatic yet humorous, leaving you on edge with chills down your spine at the graphic effects. I would recommend that you watch The Last Stand so that you can endure the action only for yourself.

"Now go, before I change my mind" but "First, clean that chunk of beef off your hat."
VERDICT:



4 spires out of 5.
A very successful movie which is well written and acted. Extremely hard to lose concentration from!

RELEASED: 24th January 2013
CERTIFICATE: 15
CAST:
Arnold Schwarzenegger (Ray Owens), Forest Whitaker ( Agent John Bannister), Eduardo Noriega (Gabriel Cortez), Luis Guzmán (Mike Figuerola), Jaimie Alexander (Sarah Torrance), Johnny Knoxville (Lewis Dinkum), Genesis Rodriguez (Ellen Richards), Rodrigo Santoro (Frank Martinez)
DIRECTED BY: Jee-woon Kim
RUNNING TIME: 107 mins
GENRE: Action/Thriller

RECENT STORIES
DIRECTOR JOE WRIGHT SEEKS
PETER FOR UPCOMING FILM 'PAN' -
One aspiring young actor will have the opportunity to portray one of the most iconic characters ever created, in an all-new big screen adventure based on J.M. Barrie's beloved character Peter Pan More...
MAN OF STEEL -
John Morgan reviews the just released Superman Story remake. More...
SPRING BREAKERS -
John Morgan reviews Harmony Korine's latest film. More...
WELCOME TO THE PUNCH -
John Morgan reviews this British action thriller. More...
KEITH LEMON: THE FILM -
Leah Stafford reviews the film debut for the bad taste TV king himself - Keith Lemon More...
AMERICAN PIE: THE REUNION -
Leah Stafford reviews the 4th and latest outing for the outrageous 'school gang' comedy. More...
'HUNGER GAMES' & 'HEADHUNTERS' -
James Mahon reviews 2 films that are creating waves in different ways. More...
'FISHING UNDER THE ICE' SENSATION HOOKS THE WORLD -
James Mahon reviews the YouTube Hit that has garnered over 2 million hits in 6 days. He has also spoken exclusively with the makers of the film. More...
'THE INBETWEENERS MOVIE'
Review by Leah Stafford.
More...
'GREEN HORNET' Review by Jack Grasby. More...
'127 HOURS' Review by Jordan Lee. More...
'BURKE AND HARE' Review by Ben Mapletoft. More...
'RED' Review by Aaron Price. More...
'Eclipse' Review by
Millie Jepson. More...