Monday 24th June 2013
Review by John Morgan - Film Fans on FB and Twitter @JohnnyM1981




"There's only one way this ends Cal, either you die... or I do!"

A curious exclamation which probably sums up Man of Steel altogether.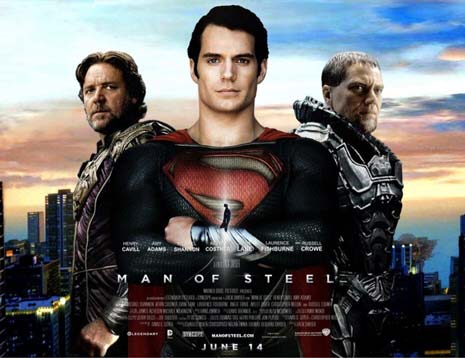 This epic retelling of arguably the most famous super hero story boasts a plethora of talent; from love-him-or-hate-him director Zach Snyder to Christopher Nolan on the producer credits, and the writer of the Dark Knight trilogy David S Goyer beind the screenplay.

Then there are the acting talents, including Laurence Fishburne, Diane Lane, Kevin Costner, Amy Adams, Russell Crowe and one of my favourite actors, Michael Shannon.

Sadly, every single one of them in front of - and behind - the camera was wasted and played second fiddle to the excruciatingly non stop, relentless and over the top CGI.

This isn't to say that there was a problem with the visuals themselves, in fact they were actually quite stunning and supremely well done. But, in a movie running at nearly two and a half hours long, I for one was craving a break from the never ending crashing, smashing, banging and thumping as our alien rivals destroyed every building in their vicinity.

I wanted to learn more about the characters, about Clarke Kent and his upbringing, his parents, and about Lois Lane and her drive and ambition.

Whilst these characters touched upon being quite interesting, certainly at the beginning and particularly Henry Cavill's brooding Clarke Kent, it was frustrating that as the film developed, they didn't - and by the end, I couldn't help but wonder how so many characters could prove to be ultimately so vacuous in a film so long.

The screenplay was simply awful (see above) and the plot was so ludicrous, that it only served to set up the CGI, which rendered any semblance of logic or reason irrelevant. 

It's frankly a mess! All style and no substance. The precedent was set from the very beginning with Snyder's intriguing and very odd recreation of the planet Krypton where we are first introduced to Shannon's General Zod, who even at this early stage, looked worryingly uncomfortable with his task at hand.

However, as strange as the recreation of Krypton was, there were actually some very cool and clever nods to the Superman back story and also to previous incarnations, which did work well.

Beyond this though, I struggle to find many positives. I've not really mentioned Cavill, he was fine - but only fine, 'acting by numbers', as seems to be the maximum requirement for this role.

Ultimately, Man of Steel is a huge let down, lost in its own ambition of being a visual master class and in doing so losing all sight of story or character. For something so loud and over the top, it was just incredibly boring. I was beginning to wonder if this was a Michael Bay effort, I had to double check the credits. 


VERDICT:

2 out of 5

RECENT STORIES
DIRECTOR JOE WRIGHT SEEKS
PETER FOR UPCOMING FILM 'PAN' -
One aspiring young actor will have the opportunity to portray one of the most iconic characters ever created, in an all-new big screen adventure based on J.M. Barrie's beloved character Peter Pan More...
SPRING BREAKERS -
John Morgan reviews Harmony Korine's latest film. More...
WELCOME TO THE PUNCH -
John Morgan reviews this British action thriller. More...
THE LAST STAND -
Sarah Wilmot reviews king of the action movie, Arnold Schwarzenegger's return to form More...
KEITH LEMON: THE FILM -
Leah Stafford reviews the film debut for the bad taste TV king himself - Keith Lemon More...
AMERICAN PIE: THE REUNION -
Leah Stafford reviews the 4th and latest outing for the outrageous 'school gang' comedy. More...
'HUNGER GAMES' & 'HEADHUNTERS' -
James Mahon reviews 2 films that are creating waves in different ways. More...
'FISHING UNDER THE ICE' SENSATION HOOKS THE WORLD -
James Mahon reviews the YouTube Hit that has garnered over 2 million hits in 6 days. He has also spoken exclusively with the makers of the film. More...
'THE INBETWEENERS MOVIE'
Review by Leah Stafford.
More...
'GREEN HORNET' Review by Jack Grasby. More...
'127 HOURS' Review by Jordan Lee. More...
'BURKE AND HARE' Review by Ben Mapletoft. More...
'RED' Review by Aaron Price. More...
'Eclipse' Review by
Millie Jepson. More...