Monday 7th February 2011
Anyone who has lived in Chesterfield for a long period of time will remember Arkwright, and the re building of a whole new village to replace the old which was rendered dangerous by the effects of methane emissions from ex mining works.

Now, the unique history of this North East Derbyshire village has been brought to life as part of a community art and drama project.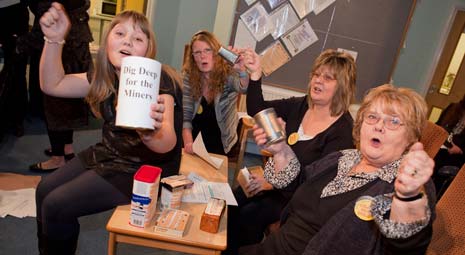 'Coal Not Dole!' (L-R): Arkwright resident Shannon Payton, playwright Lynn Ludditt, and local residents Carole Payne and Norma Dolby, pictured during final rehearsals.

Members of local community group, 'The ArkWriters', made up of residents of all ages and abilities, have spent a year researching the community and then working with a local playwright to re-create the story.

The project was funded by North East Derbyshire District Council Arts Development, Derbyshire County Council's Small Arts Grant and County Cllr David Chapman, with support from Rykneld Homes and Spirita Nottingham.

Cllr Graham Baxter MBE, Council Leader, said: "The story of Arkwright Town has a fascinating history which residents are enjoying exploring and bringing to life through this innovative project.

"The group is made up of all ages, abilities and interests who - through this project - have enjoyed developing their creative writing, arts and drama skills."

The group staged excerpts from the play for the local community at the Arkwright Miner's Welfare Club, alongside performances by the touring Pomegranate Playwrights and a fun 'pub quiz' testing people's knowledge of the town.

The group is continuing to collect and collate memories about the history of their town - if anyone would like to get involved, please contact Helena Davenport, Arts Development Officer, on (01246) 217510 or email helena.davenport@ne-derbyshire.gov.uk
RECENT STORIES
GROUNDFORCE FAIRY CHARLIE TO TACKLE FLESHCREEP -
There'll be a 'ground force' to be reckoned with on stage this Christmas when the nation's favourite gardener swaps her spade for a magical wand More...
JOSEPH DREAMS IN CHESTERFIELD -
In what's seen as a huge coup for Chesterfield, Keith and his company will be the first West End production show to perform at the town's Winding Wheel More...
CHOIR WARMS UP FOR CHESTERFIELD'S BIG PRODUCTION -
The final choir has now been selected for the hit show Joseph, which comes to the Winding Wheel in Chesterfield in May. More...
TRIBUTE TO POMEGRANATE THEATRE DIRECTOR -
A tribute to one of Chesterfield's most well known and loved artistic producers and directors, Colin McIntyre, took place on 9th March at the Pomegranate Theatre in Chesterfield. More...
CHESTERFIELD VEHICLE FIRM GIVES LYCEUM A THEATRE ON THE GO -
A mini mobile theatre project may soon be a star turn in Sheffield thanks to a local firm. More...
TICKET SALES BOOST FOR WEST END'S JOSEPH -
It's been announced that The West End production of Joseph, due to come to Chesterfield in May, is already proving popular - and that there is now local interest in the production too. More...
JOSEPH TRAVELS TO THE WINDING WHEEL -
The West End production of Joseph and the Amazing Technicolour Dreamcoat is coming to Chesterfield in May 2012 More...
PRICE INCREASE FOR CHESTERFIELD VENUES -
We've been informed that Chesterfield Borough Council has agreed to a small increase in ticket prices at the Pomegranate Theatre and the Winding Wheel. More...