Friday 23rd March 2012



The final choir has now been selected for the hit show Joseph, which comes to the Winding Wheel in Chesterfield in a couple of months.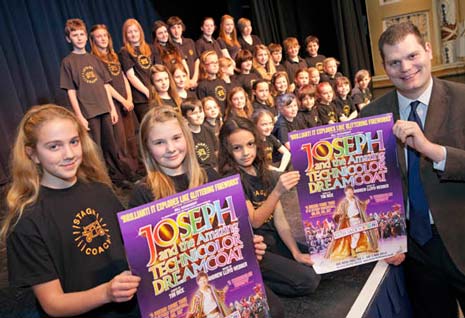 The 'Joseph' Choir warms up, pictured with Cllr Nick Stringer

The 56 students, aged between 7 and 14 years old, are all from the Stagecoach Theatre of Arts in Sheffield and Chesterfield.  Rehearsals are being held once a week and will continue until the final rehearsal on Sunday 29th April.

Shelia Chapman who runs the Stagecoach Theatre of Arts said: "We have some very talented young people in the choir who have previous experience of the show, as we've been providing the choir for the touring production of Joseph for about 12 years now.

"Our first choir's appearance with 'Joseph' was at the Leeds Grand Theatre and since then we have appeared at the Sheffield Lyceum, Buxton Opera House and now the Winding Wheel."

Councillor Nick Stringer, Executive Member for Leisure, Culture and Tourism at Chesterfield Borough Council said: "Having local young people involved in the biggest production of its kind to visit Chesterfield is fantastic. I hope they will learn from appearing alongside some of the best in the business, and gain some experience which will stay with them for years to come.

"We're all looking forward to seeing the show and I'd encourage anyone who hasn't yet got a ticket to get in quick so they don't miss out."

Joseph will be performed at the Winding Wheel in Chesterfield from 1st - 5th May 2012.

Tickets can be booked at www.chesterfieldvenues.co.uk or call 01246 345777.
RECENT STORIES
CHESTERFIELD'S POMEGRANATE THEATRE WINS TRIPADVISOR AWARD-
Chesterfield's Pomegranate Theatre has won a prestigious award from the online review site, TripAdvisor. More...
GET WED AT THE WINDING WHEEL! -
One of Chesterfield's premier venues is now licensed to hold wedding and civil partnership ceremonies. More...
ARE YOU A YOUNG DANCING HOPEFUL? READ ON... -
Derby-based Déda has teamed up with Chesterfield Borough Council and Dance4's (CAT), to launch a 2nd auditioned youth dance company - giving local young people the chance to develop their talents. More...
CHESTERFIELD'S YOUNG DANCERS SOUGHT FOR DANCE PROGRAMME -
Talented young dancers in Derby and Derbyshire are being urged to come forward for a chance to perform in a professional venue in front of 100s of people. More...
'BOUNCERS' AT THE POMEGRANATE - A NIGHT OUT, BUT NOT AS YOU KNOW IT!
We were promised laughter from start to finish on opening night - and we were not disappointed. More...
WIN 2 TICKETS FOR THE VAGINA MONOLOGUES -
A great, free competition to win 2 tickets to see the world famous show 'The Vagina Monologues', by Eve Ensler - at the Pomegranate Theatre on Friday 28th September More...
STARS OF SCREEN COME TO TOWN WITH RENOWNED SHOW -
The Vagina Monologues - Britain's funniest and sexiest show - comes to The Pomegranate, Chesterfield on 28th September at 7.30pm for ONE night only! More...
GROUNDFORCE FAIRY CHARLIE TO TACKLE FLESHCREEP -
There'll be a 'ground force' to be reckoned with on stage this Christmas when the nation's favourite gardener swaps her spade for a magical wand More...
JOSEPH DREAMS IN CHESTERFIELD -
In what's seen as a huge coup for Chesterfield, Keith and his company will be the first West End production show to perform at the town's Winding Wheel More...
TRIBUTE TO POMEGRANATE THEATRE DIRECTOR -
A tribute to one of Chesterfield's most well known and loved artistic producers and directors, Colin McIntyre, took place on 9th March at the Pomegranate Theatre in Chesterfield. More...
CHESTERFIELD VEHICLE FIRM GIVES LYCEUM A THEATRE ON THE GO -
A mini mobile theatre project may soon be a star turn in Sheffield thanks to a local firm. More...
TICKET SALES BOOST FOR WEST END'S JOSEPH -
It's been announced that The West End production of Joseph, due to come to Chesterfield in May, is already proving popular - and that there is now local interest in the production too. More...
JOSEPH TRAVELS TO THE WINDING WHEEL -
The West End production of Joseph and the Amazing Technicolour Dreamcoat is coming to Chesterfield in May 2012 More...
PRICE INCREASE FOR CHESTERFIELD VENUES -
We've been informed that Chesterfield Borough Council has agreed to a small increase in ticket prices at the Pomegranate Theatre and the Winding Wheel. More...
ARKWRIGHT'S STORY RELIVED -
The unique history of this North East Derbyshire village has been brought to life as part of a community art and drama project. More...