Tuesday 13th March 2012



A tribute to one of Chesterfield's most well known and loved artistic producers and directors, Colin McIntyre, took place on Friday 9th March at the Pomegranate Theatre in Chesterfield.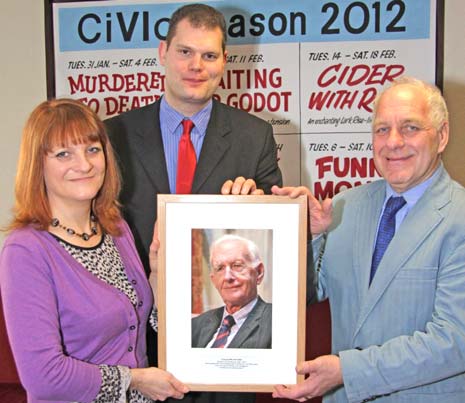 (l-r): Karen Henson - Director Tabs Productions, Cllr Nick Stringer - Executive Member for Leisure, Culture and Tourism, Chesterfield Borough Council and Mike Spriggs - Chairman Chesterfield Theatre Friends

Actor-producers from theatre production companies and Friends of the Theatre gathered with councillors and staff from Chesterfield Borough Council, which owns and runs the theatre, to celebrate the contribution made by Colin, who died last year.

A photograph with tribute was presented to the theatre by Karen Henson, a Director of Tabs Productions, and a cheque given to the Friends of the Theatre to continue their work in support of the Pomegranate.

Councillor Nick Stringer, Executive Member for Leisure, Culture and Tourism at the Council said: "Chesterfield owes much to people like Colin McIntyre, who dedicated so much of their lives to improving our town and pursuing their life-long passion for theatre.

"The presentation of a plaque in memory of Mr McIntyre was a moving occasion, but the enjoyment and knowledge which so many people gained from watching his shows will continue to be recalled for decades to come."

Colin's association with the Civic began in September 1959 when he joined the 1959/60 repertory company as Company Stage Manager/ Associate Producer. He stayed with the company under varying titles until the end of the 1967/68 season when he resigned as Director of Productions to become an Associate Director at the National Theatre. Two years later, at the start of the 1970/71 season, he was back as Artistic Director of the Civic Theatre, Chesterfield.

His association with the theatre continued after it became a receiving house when he brought productions to the Pomegranate as a director for Newpalm Productions and then under his own name. Between 1985 and 1989 he produced repertory seasons of between 6 and 10 weeks through July and August.

When it was decided that the summer runs were no longer viable he brought plays in singly, or in pairs, either as stand alone productions, as part of tours, or latterly, following on from his Nottingham thriller season.

When the Pomegranate celebrated 60 years of civic theatre in 2009, his 50 year association with the theatre was marked with a public reminiscences session as part of the Chesterfield Theatre Friends Oral History project.

Although he visited less regularly in recent years he was due to bring his play Sleeping with a Stranger to the Pomegranate in September 2011.

In the event, following his death, the production was mounted by Tabs Productions.
RECENT STORIES
CHESTERFIELD'S POMEGRANATE THEATRE WINS TRIPADVISOR AWARD-
Chesterfield's Pomegranate Theatre has won a prestigious award from the online review site, TripAdvisor. More...
ARE YOU A YOUNG DANCING HOPEFUL? READ ON... -
Derby-based Déda has teamed up with Chesterfield Borough Council and Dance4's (CAT), to launch a 2nd auditioned youth dance company - giving local young people the chance to develop their talents. More...
CHESTERFIELD'S YOUNG DANCERS SOUGHT FOR DANCE PROGRAMME -
Talented young dancers in Derby and Derbyshire are being urged to come forward for a chance to perform in a professional venue in front of 100s of people. More...
'BOUNCERS' AT THE POMEGRANATE - A NIGHT OUT, BUT NOT AS YOU KNOW IT!
We were promised laughter from start to finish on opening night - and we were not disappointed. More...
WIN 2 TICKETS FOR THE VAGINA MONOLOGUES -
A great, free competition to win 2 tickets to see the world famous show 'The Vagina Monologues', by Eve Ensler - at the Pomegranate Theatre on Friday 28th September More...
STARS OF SCREEN COME TO TOWN WITH RENOWNED SHOW -
The Vagina Monologues - Britain's funniest and sexiest show - comes to The Pomegranate, Chesterfield on 28th September at 7.30pm for ONE night only! More...
GROUNDFORCE FAIRY CHARLIE TO TACKLE FLESHCREEP -
There'll be a 'ground force' to be reckoned with on stage this Christmas when the nation's favourite gardener swaps her spade for a magical wand More...
JOSEPH DREAMS IN CHESTERFIELD -
In what's seen as a huge coup for Chesterfield, Keith and his company will be the first West End production show to perform at the town's Winding Wheel More...
CHOIR WARMS UP FOR CHESTERFIELD'S BIG PRODUCTION -
The final choir has now been selected for the hit show Joseph, which comes to the Winding Wheel in Chesterfield in May. More...
CHESTERFIELD VEHICLE FIRM GIVES LYCEUM A THEATRE ON THE GO -
A mini mobile theatre project may soon be a star turn in Sheffield thanks to a local firm. More...
TICKET SALES BOOST FOR WEST END'S JOSEPH -
It's been announced that The West End production of Joseph, due to come to Chesterfield in May, is already proving popular - and that there is now local interest in the production too. More...
JOSEPH TRAVELS TO THE WINDING WHEEL -
The West End production of Joseph and the Amazing Technicolour Dreamcoat is coming to Chesterfield in May 2012 More...
PRICE INCREASE FOR CHESTERFIELD VENUES -
We've been informed that Chesterfield Borough Council has agreed to a small increase in ticket prices at the Pomegranate Theatre and the Winding Wheel. More...
ARKWRIGHT'S STORY RELIVED -
The unique history of this North East Derbyshire village has been brought to life as part of a community art and drama project. More...