Wednesday 1st September 2010
A new face has just been appointed to a key position within the 20 million pound Casa Hotel Development in Chesterfield. Shaun McGachan will become Operations Manager at the new Hotel joining the group after being General Manager for the Borrego Ranch Resort & Spa Hotel in Borrego Springs, California.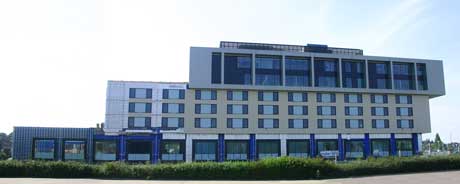 Shaun has a very forward thinking approach to his position and his experience in both European and American styles of hospitality has influenced his management approach. Shaun spent over five years in Borrego Springs - first as Assistant General Manager when the property was La Casa del Zorro, and then, through the change in ownership and re-launch, as General Manager of Borrego Ranch Resort & Spa.

Shaun said: "It is fantastic to be back in Chesterfield and working for such a thriving development as Casa. The hotel is a great investment for the town and will reflect a true sense of Derbyshire as well as bringing in that subtle sense of Spanish flair. The hotel is progressing at a very fast pace and the whole team is excited about it's opening later this year."

Educated in travel and tourism at New College Nottingham, England and then in hotel management at Cornell University in New York, Shaun has gained experience at various high end resorts including the historic Harbor View Hotel on Martha's Vineyard, Massachusetts.

Stuart Downham, Operations Director at Casa, said: "It is fantastic to have Shaun on board as he brings such a wealth of knowledge and experience with him from across the globe. Casa is now being driven by a very experienced team and we hope this will be evident when the hotel opens in November."

The Casa development, which will open in late 2010, will be complete with state of the art facilities; 4 stylish suites, 2 with balcony hot tubs; a 100-cover restaurant which will serve top-class traditional Spanish tapas, the latest leisure facilities in the Boost Gym, open terraces and landscaped gardens.
OTHER STORIES
HELP SHAPE THE FUTURE OF STAVELEY - Residents of Staveley are being asked by Chesterfield Borough Council to make comments and give their views of a draft appraisal on the Staveley Conservation Area. More...
MEADOWHALL CELEBRATES 7,000 OPENINGS -
Thousands of well-wishers crowded into Meadowhall shopping centre on Saturday to celebrate it's 20th birthday. More...
JOBS AND TOURISM BOOST - Work has begun today on a new multi million pound hotel development that will bring investment and jobs to NE Derbyshire. More...
ASDA PRICE? - Chesterfield may have to wait a while before it finds out whether an ASDA will be placed on the site of the Netto supermarket on Sheffield Road. More...
STAVELEY MAN
JAILED FOR DRUGS OFFENCES - A man from Staveley has been jailed for more than two years after admitting possession of heroin with intent to supply. More...
EVERY 'ONE' HELPS - Members of the public will be given an opportunity to sign up to volunteer for charity work when a local superstore holds it's Community Day on Sunday the 19th Sept. between 11am and 4.30 pm More...
HAPPY BIRTHDAY MEADOWHALL! -
One of the region's most famous shopping centres (and one familiar to most of us in Chesterfield) celebrates it's 20th birthday... More...
CHESTERFIELD WOMAN ROBBED IN HER OWN HOME - Police are appealing for information after a robbery at a house on Vincent Crescent, Chesterfield on Saturday August 28. More...
DAVID MILIBAND VISITS CHESTERFIELD - Part 2. Questions from the Market Hall Meeting with Labour supporters and Members. More...
DAVID MILIBAND VISITS CHESTERFIELD David Miliband, MP, has spent today (Monday 23rd August) visiting Chesterfield to talk to Labour and Trade Union Members at a meeting in Market Hall during his campaign for the Labour Party Leadership... More...
CHESTFEST
Despite the mixed weather hundreds of young people gathered in Chesterfield's Queen's Park at the weekend for Chestfest.The music and arts event... More...
CAN YOU HELP A FUTURE STAR TO SHINE? A brave Chesterfield schoolgirl, born with a life threatening heart defect requiring surgery, is now seen as one of the most promising football talents in the UK... More...

Related Tags