Tuesday 7th September 2010
Work has begun today on a new multi million pound hotel development that will bring investment and jobs to NE Derbyshire. The 27 bedroom Boutique Hotel, situated on the site of the Red Lion Pub and Bistro at Stone Edge will open in March 2011.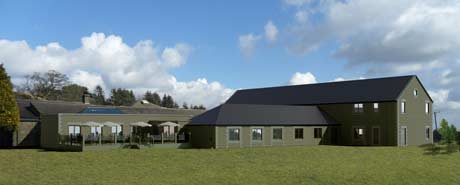 Owners of the hotel have been awarded £430, 000 as part of a LEADER funding grant aimed at helping rural businesses promote tourism. It's the largest grant awarded in NE Derbyshire by the scheme and it's been crucial in making sure the development could go ahead. Representatives from NE Derbyshire District Council and the Leader Programme were there to see the first turf dug out by
NEDDC Chief Executive Mike Goodwin (below).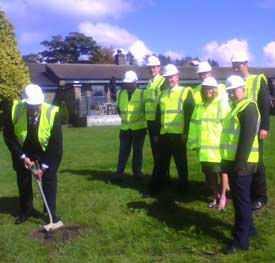 20 jobs will be created in the first instance and local suppliers will be used as much as possible as owner Damien Dugdale explained,
"It's a beautiful location - the gateway to the Peak District. I'm very keen on using local companies - local subcontractors Roe Construction are building the hotel and local tradesman and suppliers will be used for the produce".

It will also be one of the few hotels in the area to grow it's own produce, with poly-tunnels placed in a 2 acre plot in the grounds. "It is," said Damien, "the modern good life."

Leader Programme Officer Richard Madin told the Chesterfield Post they were delighted to be involved in funding the project as, "one of our aims is funding the building of tourism which will benefit the local economy, and will also generate jobs. This will do that and so it's good news for the area. Particularly as many of these jobs will be permanent."

It's situated in what is believed to be the Geographical centre of the UK and Jim Oribine from Visit Peak District is sure that the area will have loads to offer visitors,"It will add to the visitor experience in the area... It's on the edge of the Peak District and Chesterfield - it's the right place, and the right time. It's a unique hotel here, modern and something you might expect in a city location... it's also a great combination of financial input from the public and private sector."

It's hoped the Dining facilities will be opened by Christmas and wedding bookings are already being taken for next year.
RECENT STORIES
UK OLDER PEOPLE"S DAY 2010 -
'Getting and Staying active in later life' - that's the theme for this
Year's Older People's Day 2010. More...
21st CENTURY DESIGN COMES TO CHESTERFIELD -
"We simply wanted a good quality hotel for Chesterfield which would also benefit the local people in the town." More...
DON'T MESS AROUND -
Chesterfield Borough Council has launched a new campaign aimed at tackling dog owners who don't clean up their dog mess. More...
EVERY VOLUNTEER HELPS -
Despite the murky weather, hundreds of people visited Tesco's Community Fair. More...
WELL DRESSED CHESTERFIELD -
Reviving a tradition
dating back to 1864, Chesterfield this week celebrates Well Dressing. More...
HOTEL BUILD BRINGS CASH TO CHESTERFIELD - As Chesterfield continues to battle these recession-hit times, one new Hotel complex that's under construction is already bringing a much needed jobs and cash boost to the town. More...
HELP SHAPE THE FUTURE OF STAVELEY - Residents of Staveley are being asked by Chesterfield Borough Council to make comments and give their views of a draft appraisal on the Staveley Conservation Area. More...
MEADOWHALL CELEBRATES 7,000 OPENINGS -
Thousands of well-wishers crowded into Meadowhall shopping centre on Saturday to celebrate it's 20th birthday. More...
CHESTERFIELD WOMAN ROBBED IN HER OWN HOME - Police are appealing for information after a robbery at a house on Vincent Crescent, Chesterfield on Saturday August 28. More...
FROM THE U.S.A. TO US - A new face has just been appointed to a key position within the 20 million pound Casa Hotel Development in Chesterfield. More...
DAVID MILIBAND VISITS CHESTERFIELD - Part 2. Questions from the Market Hall Meeting with Labour supporters and Members. More...
DAVID MILIBAND VISITS CHESTERFIELD David Miliband, MP, has spent today (Monday 23rd August) visiting Chesterfield to talk to Labour and Trade Union Members at a meeting in Market Hall during his campaign for the Labour Party Leadership... More...
CHESTFEST
Despite the mixed weather hundreds of young people gathered in Chesterfield's Queen's Park at the weekend for Chestfest.The music and arts event... More...
CAN YOU HELP A FUTURE STAR TO SHINE? A brave Chesterfield schoolgirl, born with a life threatening heart defect requiring surgery, is now seen as one of the most promising football talents in the UK... More...

Related Tags