Monday 22nd October 2012



Despite the continued grim economic forecast, Chesterfield is still seen as a vibrant and viable centre for retail outlets.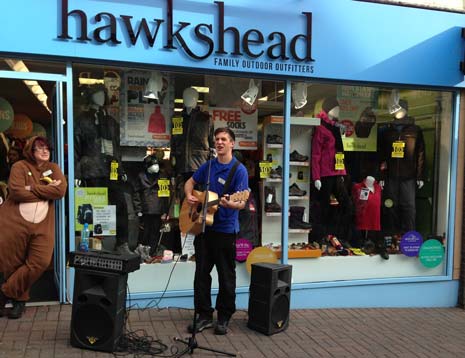 Hawkshead's Store Manager Andy Carr entertains outside the store on it's official opening this weekend.

That's the verdict of one nationwide outdoor clothing chain that opened its doors to the Chesterfield shoppers recently - and had its official launch at the weekend.

Hawkshead have 17 outlets throughout the country and say that they are delighted to be in the town, and to be opening one of the first two stores in 5 years in the area.

Melanie Verby, Retail Support Manager for the chain, told The Chesterfield Post that they felt Chesterfield was the right place to be for them and research had cemented that, "It's an important time. We bought it as a company 4 years ago and this is a whole new concept for Hawkshead, the stores in Chesterfield and Buxton are a whole new look and have brought all brands under one roof, so we're offering a great range of quality for the whole family.

"Chesterfield is an ideal place, situated near the Peak District - just looking out and seeing how many people are around today - and driving here from Buxton, it's such a beautiful place! Chesterfield is a gorgeous traditional place, English, and everything that we are as a company. Being here wants you to get out and about as it's so beautiful here - you're so motivated, we're really happy to be here."

She added that the market research had, "indicated that Chesterfield was somewhere we wanted to be. Yes, we have competition, but we're fresher and we knew it would work. When the 'powers that be came' here to do a recce, we knew it was somewhere we needed to be. We had to fight for it but we did it! This and Buxton are the first shops we've opened in 5 years and in this climate we're in, it's good."

Andy Carr is the Manager of the store and also performed outside for customers (pictured above). He is thrilled with the response they've had so far and hoped that the store will support and encourage the local economy too, "It's a brilliant day today, we're really excited about it. There are lots of customers and lots of good feedback. People like the store and think it's good for Chesterfield. Weire hoping that our trade will help the market too - we have a good rapport with them already.

"We have created 5 jobs and have a really good team. It's the right place to be, whichever way you go, you're surrounded by lovely countryside."

Given the change in weather. unsurprisingly he says that, "So far, winter coats and the micro fleeces have been the best sellers."

Prior to the launch, the store had run a competition and the winner of that was on hand to collect his prize - the chance to fill a rucksack with goods from the store in one minute.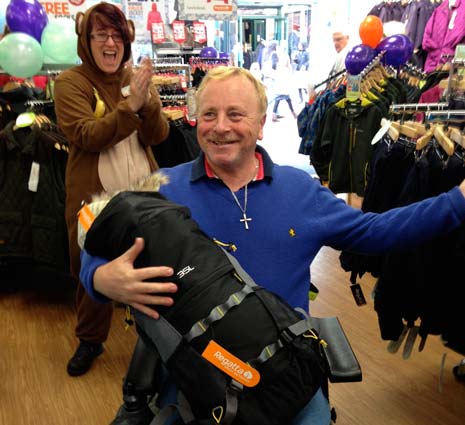 Timothy Kay, from Bolsover, (above) was the lucky winner and he was excited and overwhelmed by the experience, "I have a huge task ahead of me, it's exciting but it doesn't feel right getting something for nothing as I'm not used to it!

"Andy (Carr) phoned me up at home and I thought it was a wind up! I really thought it was a prank. I don't know how possible it is to fill a rucksack in a minute, so we'll see what happens.

"I haven't won anything since I was 5 and I'm 61 now! I won a tin of toffees when I was 5 at school for a wining a dance competition. I took them to school and gave them my girlfriend!"

A Chesterfield lad, Mr Kay agreed that the store would be a welcome addition to the town's High Street, "It's brilliant here. We had a similar thing in Yeomans here, but that's gone now, so it's nice - and with the Derbyshire moors, there's everything you need here."
OTHER STORIES
A DAY TO REMEMBER-
Chesterfield's Civic Remembrance Service will take place on Sunday, 11th November, at the Parish Church, starting at 2.30pm followed by a parade to the War Memorial on Rose Hill More...
EAST MIDLANDS TRAINS SUPPORT 2012 POPPY APPEAL -
As the country gears up to remember those that have made the ultimate sacrifice in war, East Midlands Trains will also be helping to support the 2012 Poppy Appeal. More...
BUY A POPPY POEM -
In 1984, a local man wrote an inspiring poem encouraging people to think about the horrors of war and of buying a poppy. With Remembrance Day approaching, we publish it in full here More...
YOUNG BUSINESSMEN DRIVE CHESTERFIELD FORWARD -
There has been a sharp increase in young director appointments during the first half of the year in Chesterfield, according to the latest Duport Report. More...
WHAT HAS DERBYSHIRE EVER DONE FOR THE WORLD? -
Hear the word 'Derbyshire' and most think of the beautiful Peak District, but one particular river valley has contributed far more to the history of the world than you might think. More...
NEW JOBS AT NEW ALDI IN KILLAMARSH -
Jobseekers are invited to a recruitment open day to find out more about job opportunities being created at the new Aldi store in Killamarsh. More...
WEIGHT LOSS IS A FAMILY AFFAIR FOR CHESTERFIELD MUM AND SON -
A mother and son from Chesterfield are celebrating after losing 5 and a half stone between them. More...
A FALCON AND A PUPPY TAKE UP RESIDENCE IN CHESTERFIELD -
The Yards shopping area in Chesterfield's town centre is now home to a falcon and a puppy More...
UP TO 90 DAYS GROSS PAY FOR FORMER WAVERLEY TBS EMPLOYEES -
Local residents who lost their jobs after the sudden closure of a Chesterfield company are being urged to make sure they have the correct information on their rights. More...
WINGFIELD VICTORIAN RAIL STATION ON UK ENDANGERED LIST -
Wingfield Railway Station in Derbyshire, has been included on the Victorian Society's list of the ten most endangered buildings in England and Wales. More...
AVERAGE OF 35,000 CHILD ABUSE IMAGES FOUND EVERY DAY -
The NSPCC is calling for urgent action to stamp out the illegal trade in child abuse images, after figures revealed that nearly 26 million have been confiscated in the last two years. More...
DO YOU OWN A TOYOTA? -
You may want to read on after the company issued a statement earlier today regarding the recall of some of their vehicles. More...
GOING UNDERGROUND WITH PUBSTOPS IN CHESTERFIELD -
As part of what is an innovative and creative project Chesterfield now has its own 'tube style' map of its pubs and drinking holes. More...
CHESTERFIELD IS BLOOMING! AWARDS NIGHT AT RINGWOOD HALL -
Various schools, organisations and keen gardeners have done the town proud by scooping awards in a prestigious nationwide competition. More...
DRONFIELD FUND RAISERS HIT THE HIGH NOTES FOR CHARITY -
Talented musicians took centre stage recently for the council's 54th annual Brass Band Festival, which raised over £1,000 for charity. More...
WEATHER DISRUPTS TRAIN AND TRANSPORT -
Heavy rain and flooding is causing disruption in northern England. Details of current issues here. More...
FLOODS HIT CHESTERFIELD AGAIN AS MORE RAIN IS FORECAST -
There are more flood alerts and warnings in Chesterfield tonight after heavy and prolonged rain. More...
PINTS MEAN PRIZES AND DERBYSHIRE BREWERS FORGE A-HEAD! -
A County success is preparing to show itself to a wider audience, and no other County can match it! More...
TWIGGS PLAY KEY PART IN SIR RANULPH FIENNES' ANTARCTICA EXPEDITION -
When veteran explorer Sir Ranulph Fiennes attempts the first ever winter crossing of Antarctica, success will hinge on William Twigg Matlock Ltd. More...
NEW TV SHOW COOKS UP A STORM IN CHESTERFIELD -
ITV's TV crews were in Chesterfield town centre yesterday, filming for a new ITV cooking show, due to air on our screens in the New Year. More...
TASTE THE WORLD AT THE CHATSWORTH ROAD FESTIVAL -
Food lovers will experience a mouth-watering selection of food and drink events at this year's Chatsworth Road Festival. More...
ITVs NEW SHOW, 'COOK ME THE MONEY' HEATS UP TOWN TODAY -
In Chesterfield's Market Place this afternoon, this new cookery game show has 3 teams from around the country competing to cook and sell as much grub as possible to a hungry hoard of townsfolk! More...
SEVERN TRENT WATER LTD PLEAD GUILTY OF MULTIPLE WATER SUPPLY OFFENCES -
Severn Trent Water Limited pleaded guilty yesterday, to charges brought in relation to three events affecting the Local area. More...
LOCAL DESIGN STAR TO OPEN NEW DEBENHAMS STORE -
The eagerly awaited new Debenhams Chesterfield store opens on Thursday, 20th September and it's a local young lady who will be on ribbon cutting duty. More...
EAST MIDLANDS IN BLOOM SUCCESS -
It's been announced today that Chesterfield has picked up various awards at the East Midlands In Bloom 2012 ceremony, taking place today More...
HOT TO TROT ON DAY OF DANCE IN SUNNY CHESTERFIELD -
It is one of the most anticipated events in Chesterfield, and Saturday proved to be another successful day as Chesterfield held it's 12th annual 'Day of Dance'. More...
C4'S 'COME DINE WITH ME' IS IN TOWN LOOKING FOR LOCAL STARS -
The hugely successful C4 show 'Come Dine With Me' is returning for a new, prime-time series and they are looking for people over 18 years of age in the Chesterfield area More...