Tuesday 23rd October 2012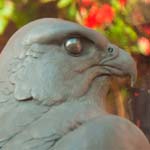 The Yards shopping area in Chesterfield's town centre is now home to a falcon and a puppy.

The two artworks are the latest instalments of the Chesterfield Cultural Renaissance project which has delivered several pieces of unique artworks in the area over the past few months.

The project, which is funded by the European Regional Development Fund and managed by Chesterfield Borough Council, was set up to improve The Yards to promote local businesses and attract more shoppers.

The latest artworks, a puppy sculpture in Theatre Yard (once known as 'the kennels') and a falcon sculpture in Falcon Yard were designed by Geoff Woods from Working pArts.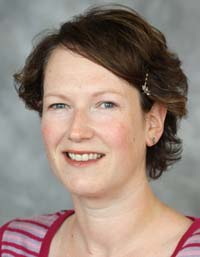 Councillor Amanda Serjeant, Executive Member for Leisure, Culture and Tourism at Chesterfield Borough Council (left) said: "I think all the sculptures look fantastic. The Yards area is an important feature of the town centre with some great independent shops.

"We want to attract more shoppers and visitors to help the businesses thrive and the artworks are just one way of adding a new dimension to the area."

Lisa Swift from Altered Chic in The Yards said: "There are lots of different creative businesses in The Yards so it's quite fitting that some artwork has been used to make the area more inviting.  We often see visitors taking photographs of the buildings, so this will be another added attraction to help pull people into the area."

Geoff Wood who led the design team said: "There's a lot of history to The Yards and we've used this in the design of each piece.  Glove manufacturing was once a feature of the small industries in The Yards, so we've used the symbol of the glove hand as a motif to beckon people into the Yards. We're really pleased with the final sculptures and hope they become a much loved feature."

The Mayor of Chesterfield, Councillor Donald Parsons and the Leader of the Council, Councillor John Burrows, will host an event to celebrate the completion of The Yard's improvement works and to launch a "Name the Puppy Competition" on Friday 2nd November at 11am.
The Falcon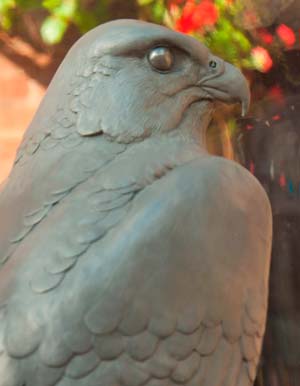 Sitting inside a clear dome is a sculpture of a peregrine falcon sitting on an ice rock (left).

The neighbouring Barnsley Building Society was originally built as the Falcon Inn in the 16th Century and survived in that form for over 200 years.

The Falcon Sculpture was cast by Peter Turnock of CMA Moldform for lead artist Geoff Wood.

The small marble set on the rock was made by Glenn Godden of Steam Punk Glass.

The glass is a vortex and has dual meaning, referring both to the universe and to the twisted spire of the Parish Church.

The siting of the Falcon, on its gold plinth, is at the intersection of several viewpoints into the Yards, enabling it to be seen from Beetwell St, South Street and Low Pavement.

The Ice Rock is underlit to add to its visibility and to encourage people to venture into the Yards to see what this all about.


The Puppy
Designed by Geoff Wood and Chris Cornish, the puppy was made by Peter Turnock and his team at CMA Moldform in Birmingham.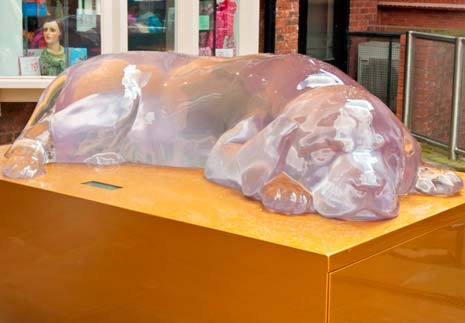 Scaled up form a sleeping eight week old Labrador, the concept for the puppy is based around the History of the Yards.

In the past this area was known as the Dog Kennels because everyone was so crammed together. There are also reports that a dogs' home was sited here in Victorian times.

So the Puppy Sculpture turns those rather depressing thoughts into something new, positive and happy - an image of regeneration, a new life coming to the Yards.

The Puppy sits on a simple gold box, and is underlit to give a soft glow at dusk.

Weighing 700 kilos, the sculpture is 200 times heavier than the original dog and is made from water-clear acrylic resin. It was deliberately made smooth and shiny to be inviting to the touch.

All the artworks in the Yards have been heavily inspired by the history of the area.

There was once a concentration of small manufacturing workshops in the Yards and one of the historic industries was glove-making.

Lead designer, Geoff Wood, took the symbol of the gloved hand as a motif to beckon people into the Yards and so you see three large Golden Gloved hands pointing out the entrances at South Street, Low Pavement and Library Square.

Further into the alleys, are groups of smaller hands holding artefacts that indicate past and current uses of the premises. So a series of tea and coffee pots indicate the welcome available from the many cafes in the Yards. Fruit and vegetables emerging from the walls are a light hearted reminder of what else you can buy locally.

In another alley you see a light bulb in a magician's gloved hand, referring to the fact that Chesterfield was one of the first towns in England to have electric light, powered by transformers housed in nearby Theatre Yard. The bulb refers directly to an early design for an incandescent light bulb designed by Joseph Swan of the Company Brush Swan who provided that early lighting equipment for Chesterfield. The jewelled hand refers to the availability of jewellery in the yards.

Elsewhere, a magnifying glass inspects a small pile of gold dust, and a red hand holds a falconry glove.
OTHER STORIES
CHESTERFIELD YOUNGSTER UP FOR AWARD -
Scott Smith, 16, from Chesterfield, who has turned his life around with help from youth charity The Prince's Trust, has been nominated for a prestigious royal award. More...
A DAY TO REMEMBER-
Chesterfield's Civic Remembrance Service will take place on Sunday, 11th November, at the Parish Church, starting at 2.30pm followed by a parade to the War Memorial on Rose Hill More...
EAST MIDLANDS TRAINS SUPPORT 2012 POPPY APPEAL -
As the country gears up to remember those that have made the ultimate sacrifice in war, East Midlands Trains will also be helping to support the 2012 Poppy Appeal. More...
BUY A POPPY POEM -
In 1984, a local man wrote an inspiring poem encouraging people to think about the horrors of war and of buying a poppy. With Remembrance Day approaching, we publish it in full here More...
YOUNG BUSINESSMEN DRIVE CHESTERFIELD FORWARD -
There has been a sharp increase in young director appointments during the first half of the year in Chesterfield, according to the latest Duport Report. More...
WHAT HAS DERBYSHIRE EVER DONE FOR THE WORLD? -
Hear the word 'Derbyshire' and most think of the beautiful Peak District, but one particular river valley has contributed far more to the history of the world than you might think. More...
NEW JOBS AT NEW ALDI IN KILLAMARSH -
Jobseekers are invited to a recruitment open day to find out more about job opportunities being created at the new Aldi store in Killamarsh. More...
WEIGHT LOSS IS A FAMILY AFFAIR FOR CHESTERFIELD MUM AND SON -
A mother and son from Chesterfield are celebrating after losing 5 and a half stone between them. More...
NEW 'VENTURE FOR ADVENTURE' LAUNCHES IN CHESTERFIELD -
Despite the continued grim economic forecast, Chesterfield is still seen as a vibrant and viable centre for retail outlets. More...
UP TO 90 DAYS GROSS PAY FOR FORMER WAVERLEY TBS EMPLOYEES -
Local residents who lost their jobs after the sudden closure of a Chesterfield company are being urged to make sure they have the correct information on their rights. More...
WINGFIELD VICTORIAN RAIL STATION ON UK ENDANGERED LIST -
Wingfield Railway Station in Derbyshire, has been included on the Victorian Society's list of the ten most endangered buildings in England and Wales. More...
AVERAGE OF 35,000 CHILD ABUSE IMAGES FOUND EVERY DAY -
The NSPCC is calling for urgent action to stamp out the illegal trade in child abuse images, after figures revealed that nearly 26 million have been confiscated in the last two years. More...
DO YOU OWN A TOYOTA? -
You may want to read on after the company issued a statement earlier today regarding the recall of some of their vehicles. More...
GOING UNDERGROUND WITH PUBSTOPS IN CHESTERFIELD -
As part of what is an innovative and creative project Chesterfield now has its own 'tube style' map of its pubs and drinking holes. More...
CHESTERFIELD IS BLOOMING! AWARDS NIGHT AT RINGWOOD HALL -
Various schools, organisations and keen gardeners have done the town proud by scooping awards in a prestigious nationwide competition. More...
DRONFIELD FUND RAISERS HIT THE HIGH NOTES FOR CHARITY -
Talented musicians took centre stage recently for the council's 54th annual Brass Band Festival, which raised over £1,000 for charity. More...
WEATHER DISRUPTS TRAIN AND TRANSPORT -
Heavy rain and flooding is causing disruption in northern England. Details of current issues here. More...
FLOODS HIT CHESTERFIELD AGAIN AS MORE RAIN IS FORECAST -
There are more flood alerts and warnings in Chesterfield tonight after heavy and prolonged rain. More...
PINTS MEAN PRIZES AND DERBYSHIRE BREWERS FORGE A-HEAD! -
A County success is preparing to show itself to a wider audience, and no other County can match it! More...
TWIGGS PLAY KEY PART IN SIR RANULPH FIENNES' ANTARCTICA EXPEDITION -
When veteran explorer Sir Ranulph Fiennes attempts the first ever winter crossing of Antarctica, success will hinge on William Twigg Matlock Ltd. More...
NEW TV SHOW COOKS UP A STORM IN CHESTERFIELD -
ITV's TV crews were in Chesterfield town centre yesterday, filming for a new ITV cooking show, due to air on our screens in the New Year. More...
TASTE THE WORLD AT THE CHATSWORTH ROAD FESTIVAL -
Food lovers will experience a mouth-watering selection of food and drink events at this year's Chatsworth Road Festival. More...
ITVs NEW SHOW, 'COOK ME THE MONEY' HEATS UP TOWN TODAY -
In Chesterfield's Market Place this afternoon, this new cookery game show has 3 teams from around the country competing to cook and sell as much grub as possible to a hungry hoard of townsfolk! More...
SEVERN TRENT WATER LTD PLEAD GUILTY OF MULTIPLE WATER SUPPLY OFFENCES -
Severn Trent Water Limited pleaded guilty yesterday, to charges brought in relation to three events affecting the Local area. More...
LOCAL DESIGN STAR TO OPEN NEW DEBENHAMS STORE -
The eagerly awaited new Debenhams Chesterfield store opens on Thursday, 20th September and it's a local young lady who will be on ribbon cutting duty. More...
EAST MIDLANDS IN BLOOM SUCCESS -
It's been announced today that Chesterfield has picked up various awards at the East Midlands In Bloom 2012 ceremony, taking place today More...
HOT TO TROT ON DAY OF DANCE IN SUNNY CHESTERFIELD -
It is one of the most anticipated events in Chesterfield, and Saturday proved to be another successful day as Chesterfield held it's 12th annual 'Day of Dance'. More...
C4'S 'COME DINE WITH ME' IS IN TOWN LOOKING FOR LOCAL STARS -
The hugely successful C4 show 'Come Dine With Me' is returning for a new, prime-time series and they are looking for people over 18 years of age in the Chesterfield area More...