Friday 26th August 2011
It was a proud but nervous moment for 16 new recruits to The Army this morning as they swore an Oath Of Allegiance to The Queen in front of the Deputy Mayor of Chesterfield at the Town Hall.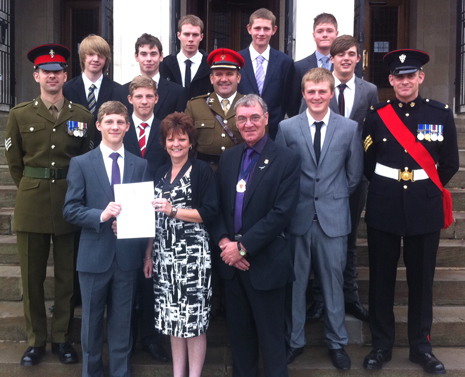 Some of the 16 cadets after taking their Oath with Deputy Mayor Donald Parsons and Dep Mayoress Diane Parsons and Commanding Officers

The young soldiers, including twins, were officially becoming part of several regiments including The Mercian, The 9/12 Lancers, The Royal Artillery and The Mechanical Engineers. One young man was going on to become a member of The Household Cavalry.

The boys swore their Oath in the Mayoral Parlour where Deputy Mayor, Donald Parsons spoke of his pride at seeing the lads make their Oath and passed on words of advice given to him, "Learn to take an order and you'll grow to be able to give one".

Afterwards we spoke with the twins and their parents to find out why a career in the Army beckoned and just how their parents felt about the life ahead.

Ben and Sam Cawley are both 16 and from Chesterfield. They have both served in The Cadets, having been interested in a career in the Forces from an early age. Their Granddad was previously a Captain in the Army but their dad doesn't think that was a factor in their decision to join up, saying that they had been interested in the Services since they were very small.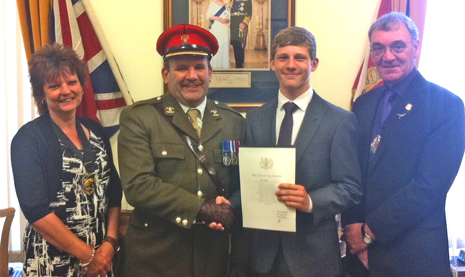 Next month Sam (pictured above) will be joining the 9/12 Lancers and Ben, The Royal Artillery.

Firstly we asked why the Army, and Sam said that for him there was no contest, "It's an ambition, something I've always wanted to do - it's been in the family".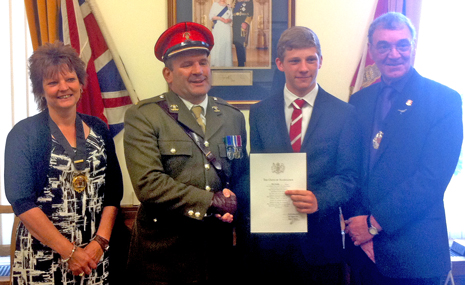 Ben (pictured above) agreed wholeheartedly, "I've always wanted to do it, and am really happy we've got in - It's something we've both always wanted to do".

Both the boys and their parents were full of praise for the Cadet service, saying that it's a great start for anyone considering a military career - as Sam told us "We've been Cadets for four years, and are now Corporals. We've taken part in our fourth camp and love it - it's brilliant, it gives you a head start."

Dad agreed saying, "It gives you a knowledge, they're not recruited - it's not a recruitment thing, it is just a youth service but it will give you a good taste of what it's like."

The boys will both go to Harrogate for 42 weeks in September and then will separate for the first time in their lives, with Sam going to Bovington and Ben to Larkhill on Salisbury Plain for Phase Two training. They admit they're daunted by the possibility, "It'll be a shock, it's going to be hard", says Ben, "We're not thinking about it now, about when we leave each other - but, we'll work through it."

They are though, despite any difficulties that may be part of the journey, committed fully to army life and see themselves having long careers ahead, with Ben saying, "I want to make sure I last and have a good career in the forces."

And their advice for anyone wanting to join up at their age?

"Go for it, work for it, especially the selection time - it's a brilliant feeling when you've done it. Whilst your mates are in 6th form, you'll have a job and be at Harrogate - it's brilliant."

They also advise getting help and support from the Army Careers Service who they say have been great, "They'll make sure you're comfortable in the trade - we had wanted to be Engineers but they felt that may not be right for us, so they talked to us and supported us going into our Regiments."

It was also a big day today for Mum and Dad who watched proudly as the twins took their Oaths. They of course are losing both sons to the Army at once and mum admitted she was apprehensive, "I'm not looking forward to September 11th when we take them to Harrogate, but I'm very proud of them both. We have concerns but it's a good career. They've always been interested and it's a good opportunity for them both."

Dad is fully behind his sons too, "It's a good ambition for them. They've always said that's what they're going to do. They've done their exams, and a lot of preparation. It's been a long trudge for them all here today - they should all be really proud of themselves, and their families too."

But he added, "In a couple of weeks time, the house will be very quiet!"
RECENT STORIES
TALENT ON TOUR IN CHESTERFIELD -
The Mayor's Charity held another successful evening with the Talent on Tour night at the Phoenix Suite, Chester Street, Chesterfield on Friday 10th February. More...
CHESTERFIELD APPRENTICES GAIN EMPLOYMENT -
Chesterfield Borough Council's apprenticeship programme has been a major success, with nearly half of those taking part ending up in employment More...
A HEROES WELCOME IN CHESTERFIELD -
The Mayor and Mayoress of Chesterfield, with the support of Chesterfield Borough Council, are introducing the Heroes Welcome Scheme to Chesterfield on Monday Nov 7th More...
THE MAYOR HARPS ON FOR CHARITY -
Despite the dismal weather people turned out in their hundreds to take part in Day One of Chesterfield's Annual Arts and Market Festival. More...
THE TALENT ON SHOW IS A CREDIT TO CHESTERFIELD -
Hundreds packed out Chesterfield's Winding Wheel on Saturday in order to watch 14 acts compete to become the winner of 'Chesterfield's Got Talent 2011' More...
MEETING OF THE MAYORS -
The Mayor of Chesterfield welcomed the Mayor of Kunshan, one of the fastest growing and highly successful areas of China, to the Town Hall this week. More...
MAYOR AND MAYORESS VISIT BIBLE EXHIBITION -
The Mayor and Mayoress of Chesterfield recently visited an exhibition put on by the Chesterfield Christadelphians. More...
MAYOR AND MAYORESS ENJOY A BEAUTY-FUL EVENING-The Mayor and Mayoress recently paid a visit to the Therapy Lounge, Hasland Road, to officially present them with Collin Resultime 5 Star Salon of Distinction Award. More...
FORMER MAYOR THANKS CHESTERFIELD FOR KINDNESS AND CASH -
It was a busy year for The Mayoral Couple of 2010/11, Cllr Keith Morgan and wife Pat, as they undertook many duties to raise the profile of the town and it's people. More...
REMEMBERING WHAT'S GONE
BEFORE -
This year marks the centenary of the 9th Duke of Devonshire being Mayor of Chesterfield, and to celebrate the occasion, the current Duke attended a ceremony at the Town Hall. More...
HASLAND ALLOTMENT GOES GREEN BY SPENDING PENNIES -
The Mayor has officially unveiled a new facility on an allotment site in Hasland, believed to be the first of it's kind in the area. More...
SURPRISE FOR CIVIC SECRETARY -
Chesterfield Mayor's civic secretary Vivien Miller has been presented with an award from the Parachute Regimental Association for her work with the Shoebox appeal More...
FORCES SHARE LIFE WITH CHESTERFIELD -
Once again Chesterfield today took part in a week aimed at supporting and honouring Armed Forces connected with the town, past and present. More...
MAYOR FLIES THE FLAG ABROAD -
Last week, His Worship The Mayor, Peter Barr had just returned from a trip to Darmstadt as we spoke with him. More...
TOWN PAYS ITS RESPECTS TO FORMER MAYOR -
Over 100 councillors and council employees lined the steps of the Town Hall today to pay their respects to former Mayor, Cllr Nicky Qazi More...
CHESTERFIELD ARMED FORCES DAY 2011 -
Chesterfield is to honour once again the Armed Forces Community, from current serving troops to veterans. More...
FORMER CHESTERFIELD MAYOR AND COUNCILLOR DIES -
It's been announced that Nicky Qazi, a much respected and admired former Mayor and Councillor of Chesterfield Borough Council has died, aged 81 years. More...
CROWDS TURN OUT FOR CHURCHES -
Despite heavy rain, hundreds lined the streets to watch the Annual Procession of Witness (the 'Whit Walk') through the town centre More...
MICK BAGSHAW, CIVIC THANKS -
We have today received the following Letter from Mick and his partner Ruth asking us to convey the message of thanks to residents of the Borough. More...
THE START OF THINGS TO COME -
Unsurprisingly it's been a quiet but pivotal week for Chesterfield's new Mayor Cllr Peter Barr. More...
NEW MAYOR'S PARADE BRINGS TOWN TO A STANDSTILL -
Today, in a Civic Service, the Mayor was introduced to the town and his Mayoralty celebrated with a service More...
SO WHO IS THE NEW MAYOR OF CHESTERFIELD? -
Peter Barr was born in Chesterfield in 1940 and as a young boy watched the craftsmen working in his Grandfather's coach building business, Metcalf's on Saltergate. More...
THE OUTGOING MAYORS SPEECH -
Cllr Keith Morgan responded to the New Mayor at the swearing in ceremony today with his outgoing speech More...
NEW MAYOR TAKES THE OATH -
Chesterfield has a new Mayor tonight after Cllr Peter Barr was sworn in as the 371st Mayor of Chestefield. More...
ON PARADE FOR THE MAYOR -
It was a case of 'all change' this week as this year's Mayoral Cadets were sworn in at the Town Hall by the Mayor and Mayoress of Chesterfield. More...
THE MAYOR DRAWS AT THE B2NET -
The Mayor's Appeal 'Football Raffle' was drawn during half time of the game against Bury on Easter Monday at the B2net. More...
PASTORS, POTATOES AND POPPIES -
It's been another busy week for the Mayor, beginning with the visit of Camilla to the Royal hospital to officially open the new wards.More...
THE MAYORAL WEEK -
The Mayoral week began with the Complimentary Dinner, a 'thank you' to all the councillors and council workers who've been part of the Mayoral year. More...
PASTORS, POTATOES AND POPPIES -
It's been another busy week for the Mayor, beginning with the visit of Camilla to the Royal hospital to officially open the new wards.More...
THE MAYORAL WEEK -
Last week was a relatively quiet one for the Mayor, as events pick back up after Christmas but, as ever, a productive one. More...
A DAY TO REMEMBER AND RESPECT -
The Mayor and Mayoress of pay tribute to those who suffered in the Holocaust, signing the Commemoration Book in the Town Hall More...
FESTIVE FUNDRAISING WITH THE MAYOR AND MAYORESS -
It's been a quiet Christmas for the Mayor and Mayoress - but, though there weren't many engagements over the Festive period, it was still a profitable one for their charities More...
PRIDE OF CHESTERFIELD -
Ten young soldiers, after undergoing a gruelling selection process, today swore their Oath of Allegiance to the Queen during an emotional ceremony at the Mayor's Parlour. More...
IN THE COURSE OF ANOTHER BUSY
WEEK -
The Mayor and Mayoress of Chesterfield had attended Pathways AGM. This Charity, situated on Sheffield Road,... More...
A BUSY WEEK -
Invitations are coming in to the Town hall all the time, unbelievably some already for Carol Concerts, and the Mayor expressed his gratitude to the Deputy Mayor. More...
TABLE TOP SALE AND FAYRE -
The event is part of the Mayors Charity Appeal and is in aid of Fairplay and the Samaritans. More...
CHESTERFIELD DOING WELL - Our Discussion with His Worship the Mayor of Chesterfield this week began on the subject of the Development of Chesterfield. More...
COUNTING CUPPAS- So, just HOW many cups of tea will the Mayor drink during official engagements in his year of office? More...
THE MAYOR AND THE ARMED FORCES. Chesterfield has very close links with all the Armed Forces and those ties remain something which the Town is immensely proud of.
More...
THE MAYOR'S FIRST COLUMN -
The Mayoral Parlour is a real paradox ... steeped in tradition with souvenirs from visiting dignitaries lining the cupboards and robes of office in the corner. More...