Wednesday 17th October 2012


Alfreton Town have appointed a former record-breaking player as their new commercial director.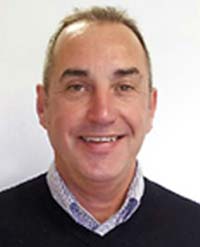 Tony Henson, (left) played for the Reds back in the late 1970's, scoring 31 goals in 92 appearances before moving up the road to Chesterfield in 1981 for a then club record transfer fee of £1,500.

He played with the Spireites professionally for two seasons until a knee injury cut short his career at the tender age of 24.

Local businessman Henson, 52, who lives in Alfreton, has been a regular visitor to the Impact Arena over the last few seasons.

He has recently opened a new business venture in Riddings, a shop opposite the Red Lion public house which doubles up as a tattooists and gents and boys hairdressers called 'Tatts and Trims'.

He now faces a very different challenge to aid Alfreton's bid to become established in the Conference Premier Division, but has years of experience in retail sales to call on having worked for DFS, and Alfreton and Shirland Golf Clubs.

"I love Alfreton Town Football Club and have done for years and years, always following the club's results. I have become a regular home and away supporter for the last four years" said Tony.

"I had been away from the club for around 30 years, but when I started visiting again, I was introduced to the people there and invited into the director's box and that meant a lot to me.

"After a few chats with Chairman Wayne Bradley, I sent him my CV and he must have seen something in there he liked because I was set on!

"I will be dealing with advertising and sponsorship for the club and I can't wait to get started" he ended.

Any local individuals or businesses interested in sponsoring the Reds, can contact Tony direct on 07961 670368.


FA Cup Home Tie News
This Saturday, Alfreton turn their attentions to the FA Cup and a fourth qualifying round home tie against fellow Blue Square Bet Premier Division rivals Gateshead.

It will be a first ever FA Cup tie against the Tynesiders for the Reds and Nicky Law's side will be looking to reach the first round proper for the third time in the last five seasons.

As well as a place in the draw for the first round proper, there is also £12,500 prize money for the winners of the tie.

The game will not be segregated but supporters should note that the tie is an all-pay game under FA rules and regulations and the usual Early Bird Match Ticket scheme will not be operated for this fixture.

Should a replay be necessary, this will take place at the International Stadium in Gateshead on Tuesday, October 23rd with a 7.45pm kick-off.

The Reds extended their unbeaten away run in the league to four games after a goalless draw at Ebbsfleet United last Saturday.
For more information, please click to visit Alfreton Town FC's Website
RECENT STORIES
REDS GO FOR
DOUBLE -
Alfreton Town have the chance of a first league double of the season on Saturday when they travel to fifth-placed Luton Town. More...
REDS SET FOR SUNDAY TV TEST -
All roads lead to the Impact Arena on Sunday when the Reds face npower League One side Leyton Orient in an FA Cup with Budweiser second round tie in front of live ESPN television cameras. More...
REDS GET TWO IN ON DEADLINE DAY -
Alfreton Town manager Nicky Law has strengthened his squad by landing two players on loan deadline day. More...
REDS RECEIVE £35k GRANT FOR OUTSTANDING WORK IN THE COMMUNITY -
Alfreton Town's Community Development Scheme have had their outstanding work in the community recognised with a £35k grant awarded by The Football Conference Trust More...
ALFRETON LIVE AND KICKING ON TV TONIGHT -
Alfreton Town welcome both Premier Sports TV and Newport County to the Impact Arena for what promises to be a big live game of football tonight, ko at 7:45pm. More...
COMING TO A SCREEN NEAR YOU - REDS MAKE TV DEBUT AND OTHER NEWS -
Alfreton Town make their live TV debut on Friday night with their Blue Square Bet Premier Division home game against league leaders Newport County being screened on Premier Sports. More...
REDS HAVE 'NOTHING TO FEAR' - BOSS NICKY LAW ON FA CUP TIE AT WREXHAM -
Alfreton Town manager Nicky Law says his side have nothing to fear when they go to Wrexham to contest a tough FA Cup with Budweiser first round proper tie this Saturday. More...
REDS TAKE ON TELFORD, FIXTURE CHANGE AND OTHER NEWS -
Alfreton Town boss Nicky Law will be spoilt for choice for this Saturday's home league game against high-flying AFC Telford United. More...
REDS BOSS LOOKS TO BOUNCE BACK -
Alfreton Town manager Nicky Law will be looking for his side to bounce straight back against Ebbsfleet after their 2-0 midweek home defeat against Grimsby Town More...
LAW ISSUES CHALLENGE TO REDS -
After seeing his side's six-match unbeaten run ending v Grimsby Town, Reds' boss Nicky Law challenged them to embark on another run. More...
REDS DRAW NEW BLOOD AHEAD OF MACCLESFIELD TRIP -
Alfreton Town say they've signed young central defender Ross Killock on a month's youth loan from Championship club Leeds United. More...
LAW LOOKS FOR LOANS -
Alfreton Town boss Nicky Law is hopeful of boosting his injury-hit squad with at least one loan signing ahead of 2 big League games for the Reds in 4 days. More...
CHAIRMAN BRADLEY PRAISES BARNES -
Alfreton Town goalkeeper Phil Barnes has been lauded for his professionalism by club chairman Wayne Bradley. More...
REDS HOPE TO HUNT DOWN THE HARRIERS -
Alfreton Town go into Saturday's game against Kidderminster Harriers with a warning from boss Nicky Law to expect a tough game. More...
REDS HONOUR LONGEST SERVING SUPPORTER, 93 -
Alfreton Town honoured their longest serving stalwart and favourite son last weekend. More...
REDS BOSS PRAISES PLAYERS AFTER WIN -
Alfreton Town manager Nicky Law was in a far happier frame of mind after seeing his side respond to criticism and a shake-up with a 2-1 victory at Lincoln City on Tuesday night. More...
REDS SIGN BURNLEY KEEPER STEWART ON LOAN -
Deadline day action saw Reds' boss Nicky Law bring keeper Jon Stewart back to the club for a second loan spell, from npower Championship club Burnley. More...
REDS HIT THE ROAD AGAIN -
For the 2nd Saturday in succession, Alfreton Town face a long away trip and boss Nicky Law hopes it is as productive as last weekend's sojourn to Barrow More...
REDS PREPARE FOR BATTLE WITH FOYLE'S HEREFORD -
Alfreton Town face Hereford Utd for the first time ever in league action tomorrow when Martin Foyle's side visit the Impact Arena. More...
REDS BOSS ADMITS HIS SIDE ARE A WORK IN PROGRESS -
Alfreton Town manager Nicky Law feels his side should have more points on the board after seeing his team emerge with just one from the first two games. More...
REDS AT HOME TONIGHT -
Alfreton Town have their first home league game of the new season this evening when Southport are the visitors More...
REDS SQUAD FIND NUMBERS UP -
Alfreton Town has today announced its squad numbers for the 2012/2013 season and are listed in full More...
REDS COMPLETE HAT TRICK OF STRIKER SIGNINGS -
Alfreton Town have signed striker Ben Tomlinson on a two-year deal from Blue Square Bet Premier Division rivals Macclesfield Town for an undisclosed fee. More...
REDS SIGN THREE MORE BEFORE SEASON OPENER -
Alfreton Town have signed three players ahead of the big 2012/13 season kick-off at Stockport County on Saturday. More...