Friday 13th May 2016




With two signings already made in the shape of Jon Nolan and Kristian Dennis, both non league stalwarts, preparations for the 2016/17 campaign are beginning to take shape at Chesterfield FC.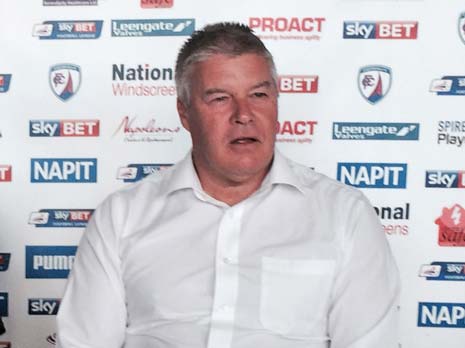 Chesterfield CEO Chris Turner (above), told The Chesterfield Post and local PA journalist Sean Taylor, that more incomings are expected - and that two offers have been rejected for one player. With Manager Danny Wilson expected back in the office today (Thursday), more business may be imminent.

Turner also told us of his views on the new Football League and loan arrangements, alongside the future of PFA Chairman Ritchie Humphreys. We also talked arrangements of bonuses for former players. With Burnley promoted (Darikwa) and Hull facing Sheffield Wednesday in the Championship play offs (Clucas) - would that mean a windfall for the club?

Firstly the CEO discussed last season, "It was a traumatic season if you look back on the 10/12 months. It all started when we played Preston in the play offs and Portsmouth came for our manager the week before - from then on it went downhill as Paul made it clear he was leaving to go to Portsmouth, which was a big disappointment.

"Then Dean (Saunders) came and he wasn't really accepted by the fans from day one, so it was a battle for Dean and the team after a good start. Then we lost our way and got a few injuries and hit a bad run of form. Mark Smith came in for four of five games and found it tough. Danny (Wilson) came in and he found it tough early doors, but we managed to get enough points to get over the line comfortably in the end.

"If we'd have had Jones, Martinez, Evatt, O'Neill available for the last few months of the season, we wouldn't have been looked at as a relegation team.

"We'd had the usual injuries in the two or three seasons previously, but last season we had three to four traumatic injuries that kept key players out for months. We'd had two or three years of success, players came, left at the start of last season and so now we have to rebuild and we are starting that now."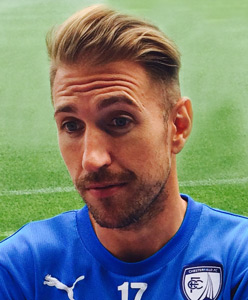 Turner then confirmed, "Angel Martinez (left), will be 100 per cent fit for the start of pre-season and we are all looking forward to seeing him next season. We saw the start of him last year and then a freak injury in training robbed him of last season.

"I've got to say, he's been so professional and looked after himself and been working very hard with the fitness coach - and by the time pre-season comes, he will be raring to go.

"It will be like a new signing. He only played three games! He's a quality player, a real quality player and we are all looking forward to it."

"I don't think it's a big job - we've got a good squad of players. Those four players weren't playing for the last four months of the season. Martinez, Evatt, Jones and O'Neill will be back into the team and we just need a number of players just to bring the squad up to what we feel will be comfortable in League one.

"Those players would have left whether Paul had stayed or not. That board was full of the squad and Paul Cook sat there and he said 'that needs changing' going into the season that's just gone. He felt that was the best opportunity to do it last year, all the players had been together for a long time. He knew Sam Morsy wanted to leave and that clubs would come in for Clucas. The better we do the more chances clubs would come in for your players and Paul knew that."

"Budget wise, Danny is like every manager at every football club, we'll see who he wants to bring in and if we can afford them. We know what we need to operate around. Last season we operated high because we put 30% back into the player budget from sales - that's how we could afford to bring Novak and Martinez in.

"Danny has got 10/20 targets - he showed me the list that he's looking at and it's eliminating each players for each position, if we can afford them, if they want to come. We have interest in one of our players. He's been chased for the last two weeks. There have been two offers for this player - but we have knocked them back - but it's not a Championship club!

"We have players that will emerge and be our icon players. We can't keep the same players for the next four years, if they're good. If they're good, other clubs higher up will come and get them. In terms of the players, it'll be up to Danny, it's his decision. We haven't sold any players at this club without the manager knowing. It doesn't matter how many went as many weren't featuring in the first team. There's a bit of 'wheeler-dealing' to be done. We've highlighted a number of players that we can loan for a season - we are exploring all those angles for this season. Tom Anderson is on that list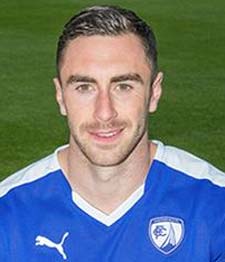 "We would love to keep Lee Novak (left), but he was on such a wage at Birmingham, and we were able to pay Birmingham a few quid for him last year. Now he's out of contract, he can play for whoever he wants.

"His agent's job is to find him a club and get the most money he can get and that's what the situation is. He brought something to the club and scored some vital goals for the club. Can we find someone else like that? I'm sure we can if we're not able to bring Novak in this summer."

With the announcement of a new catering manager, Turner said the new guy had, "A lot of experience, a lot of excellent work in his previous positions. Paul Watts wants to move on, he's done a great job for us, I get on well with Paul and am disappointed to see him leave. We had a number of applications for the position and we've gone for the person that will bring a lot to this position and bring in new ideas and a fresh pair of eyes into the business.

"We're always looking at trying to get the best results commercially and this year will be the best results for Conference and Banqueting since we opened here. All the money goes into the same pot at the end of the year, it's just making it a separate department. Dave (Allen) just wants to simplify the situation, between football and Conference and Banqueting.

"Mitch wanted to move on, he's now working in the industry he was before he came here whilst he makes a decision. There will be a new Chief Scout appointed in due course.

"We have all the clauses and sell on clauses - they're all in there! The players who left, Darikwa, Clucas and Morsy all have some incentive. That's my job! To get the best amount of money for each individual player that leaves, and get clauses in that if they are successful or move on again, that we get our share of the player!

"There is a deal for Cook, play offs, promotion, allsorts - whilst ever he's at Portsmouth, it's all good!

"'You prefer to have your business done before pre-season but last season, we went in with Darikwa and Clucas. All the time there's movement - it's evolving all the time.

"The new loan arrangements will have an impact on all clubs - it's a new change to the game and we have to be prepared for it. I hope it gives younger players within a club the opportunity when it arises."

When asked what the cut-off point for players leaving (not too late in the transfer window) would be, Turner explained, "Not just at our club, but every club, someone might come in on the last few days of the deadline for the transfer window and offer silly money for somebody. It upsets the squad and that's why managers don't like transfer windows because while it's open, anything can happen."

Turner then spoke about upcoming pre-season friendlies, "When Danny is back, we'll sit down and finalise our plans - but we have things lined up and they will probably be announced next week."
 
Would there be any 'glamorous' games? Turner said, "There's always a glamorous one! " and as far as any fixtures with Premier League sides, "There might be two! Might be Leicester - that will be announced in due course.

Asked about the Football League's recent proposals, Turner said, "Football club chairmen weren't even consulted, nobody knew the plans. There's a conference in about three weeks time and I presume this will be on the agenda - there will be a lot of talk about it because it just came out of the blue.

"There are things to be taken out and added in - but I'm sceptical, as I think this is all coming from the Premier League. I think there are a lot of clubs against it but come next year when the vote comes round, there will be some sweeteners from the Premier League that will get people to vote for it.

"I think 65 clubs out of the 72 Football League clubs have to pass it for it to go through, so it's fairly difficult.
 
On the eight sides to be added, Turner said, "It depends where they are coming from. If you're getting them from the National League, then I'm all for that."

And what about Rangers, Celtic or Premier League 'B' teams, Turner replied, "Rangers and Celtic? I think that would decimate Scottish football, so I wouldn't want to see that and I don't want to see Premier League B sides either, because for a club like ourselves, they would be replacing us. If you look at League One, you have your big clubs - Bradford, Coventry, Sheffield United. Bolton next season and then you'd get five or six B teams, so that's seven or eight sides bigger than us, with more money than us, which limits our chances even more.

"And do fans want to go and watch Man United B team versus Chesterfield, when Man United turn up with the youth team and beat us! So from a supporters angle, I don't think there's much from that side but I'd have the eight best teams from the National League come up to reorganise it, yes.

Talking about the prospect of less home games and no midweek matches, Turner said, "I like Tuesday night games and midweek football, but financially it's a disaster because you'll have one home game prior or after the game, so people pick between the games and if they've come Tuesday night and it was rubbish, then they won't bother on the Saturday - so one of the gates suffers. And if you've done well on the Saturday then perhaps people then can't come Tuesday.

"Also when you get the likes of Southend or Gillingham or someone here on a Tuesday night, the away support is about a third of what it would've been for a Saturday match.

"The problem for midweek is because it's illegal - against FIFA rules -  to play competitive football when Champions League games are on. But in this country, we have ignored that, so I bet this is another step away to stop it from clashing with it as regards FIFA.

"To lose four home games, it's around £120,000 taken out of the budget and trying to balance it out with four less away games doesn't even come close - for example if it's an overnight stay it costs about £3,000. It doesn't even come close to £120,000.

"I'm all for change - change for the better. I don't want it to be change for the Premier League. But what they'll do is throw some money at it and say your club will get X, Y, Z and people will look at that and vote for it and it'll probably go through next summer. I would be surprised if it didn't.

"They did it with the PPP and it doesn't benefit clubs of our size, it costs us a fortune. But that was all put through on the promise of £50,000 a year for the next five years - and then people sit there saying 'I can't believe we signed up for that, why did we do that?' "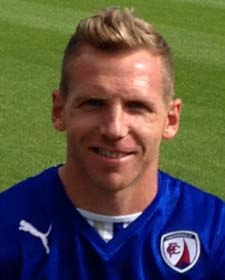 Ritchie Humphreys' (left), PFA role is dependent on him playing to keep it, Turner said "That is what we'll do. Danny is back tomorrow (Thursday) and it will be announced Thursday or Friday.

"It's just PR. It's good to have a person in such a high held position in football. Ritchie is a fully qualified coach and if going into December, you have an injury crisis, you have someone there who can play in three or four positions.

"He's been good with the reserves and it's good to have someone like Ritchie around to help the young players and to help them go down the right path. He's invaluable to us."

Turner has been linked with other roles and was asked if he was staying. He said, "I love it here. I love the job here. Chesterfield is a great little club and I think we are working to our maximum to get where we'd like to go."

And the target for the 2016/17 season? "Promotion! We want promotion! We always want to get promotion. I know some fans can't and don't understand what happens but, without going over old ground, it's football. If people know of a way we can keep players happy on four times less wages than they can get somewhere else, please tell me. It's impossible.

"Our goal for this season is to be in the top half of the division challenging for promotion, like some other smaller clubs have - like Walsall.

"I mean this season has showed, with the likes of Burton in our division, Accrington in the division below and Leicester winning the Premier League, that you don't have to throw a lot of money at it - but you do need to have good players and be organised.

Asked if Burton's success puts more pressure on Chesterfield, Turner said, "Take Accrington. They have two good young players, (Josh) Windass and that Crooks lad (Matt). They go to Accrington, who have a small squad. So no matter how bad they've played the week before, they play the next game - and they play the next game and the next game - and they learn on the job.

"Then suddenly, in time, it all clicks. Now, that same young player plays for Chesterfield - he's bad on Saturday. he's bad on Tuesday - the fans won't have him in the team next Saturday. They're booing him. We've seen it!

"The club's like Accrington, on the low budgets, have to keep playing the same players. They make mistakes but they learn and [Stanley's boss] John Coleman has done a fantastic job with them. He gets them over those hurdles. At other clubs, those same young players would have been back in the reserves - but at Accrington they get the opportunity.

"Now, if a player is going to Burton to sign a contract. No disrespect to Burton, but it's the last chance saloon for that player because his next club is in the Conference. And he'd probably get paid more in the Conference than he would at Burton - but you want to stay in the Football League as a player.

"But here at Chesterfield we can't sign that same player on those wages because his agent knows what we pay our players and he wants more money. So they go to Burton.

"You take four or five players out of that Burton team - like what happened to us last season - then Burton wouldn't be going up. Burton have just had one of those seasons. Yeovil did it and now look at them, they nearly ended up in the Conference.

And finally, on the player who's had two offers rejected by Chesterfield, "Danny is back tomorrow (Thursday) and we'll have a discussion. We don't want the player to leave the club but it's hard to say. I'll put the ball in Danny's court, he's the manager. If Danny says the player wants to go, he's been offered 'X' and it's a great deal, then he'll go - if Danny says he doesn't want him to go then he stays, it's as simple as that!

"But the problem becomes when the player knows what he's going to get paid at the next club and I don't know how you stop that, it happens everywhere."
Listen to the interview with Chris Turner in full here...

For more information and other CFC news, go to www.chesterfield-fc.co.uk
RECENT STORIES
CHESTERFIELD EFL CUP RUN STARTS AND ENDS AT ROCHDALE. MATCH REPORT -
Danny Wilson's side had to face an early knockout fixture at the newly named - but very familiar - Crown Oil Arena. More...
THE DANNY WILSON INTERVIEW - "EVERYONE WANTS A GOOD CUP RUN!" -
Danny Wilson will take his Chesterfield side to familiar turf on Tuesday night as the EFL cup competition begins.
More & Audio...
'GOOD EVANS!' -
CHED EARNS CHESTERFIELD A POINT ON HIS DEBUT -
This was always going to be a difficult fixture. A promoted team on a roll and playing host to a much changed Spireites line-up who needed to learn how to gel into an effective unit. More...
THE DANNY WILSON INTERVIEW - "THE BIG STAGE IS ON SATURDAY!" -
Spireites' boss Danny Wilson has told The Chesterfield Post that although he is no fan of pre-season, he learns a lot during the games played.
More & Audio...
'SHINNER' NOW "OFFICIALLY RETIRED" AFTER TESTIMONIAL AGAINST DERBY -
Shane Nicholson said he was now 'officially retired' after his testimonial game at the Proact stadium last Tuesday night.
More & Audio...
CHESTERFIELD FC STATEMENT REGARDING BOROUGH COUNCIL LOAN -
In relation to the loan made by Chesterfield Borough Council to Chesterfield Football Club, Director & Company Secretary, Ashley Carson has issued the following statement... More...
CHESTERFIELD SIGN LIVERPOOL KEEPER FULTON ON A SEASON LONG LOAN -
Chesterfield have moved to ease their goalkeeper shortage by signing Liverpool's Ryan Fulton on a season-long loan deal. More...
KRISTIAN DENNIS INTERVIEW - "I CAN'T WAIT TO GET STARTED!" -
Signed just two days after the close of the Spireites 2016/17 SkyBet League One campaign, striker Kristian Dennis told The Chesterfield Post that he can't wait to get started
More & Audio...
CHRIS TURNER'S CLUB STATEMENT ON BEHALF OF CHESTERFIELD FC -
Following reports relating to the Chesterfield FC Player Progression Pathway (PPP) and Chesterfield FC International Academy, Chesterfield FC CEO Chris Turner issued the following statement
More...
CHESTERFIELD MAKE STRIKER DENNIS FIRST NEW SIGNING OF THE SUMMER -
Chesterfield have made their first signing of the summer, securing the signature of Kristian Dennis, who has been a prolific striker at National League level. More...
SPIREITES ACADEMY PAIR ARE OFFERED CONTRACTS -
Chesterfield academy pair Curtis Morrison and Derek Daly have both been offered professional contracts. More...
THREE'S THE MAGIC NUMBER AS SPIREITES ACHIEVE LEAGUE ONE SAFETY-
Jubilant Chesterfield fans celebrated the final whistle and retention of their League One status for another season at their final home game of the 2015/16 campaign More & Audio...
THE DANNY WILSON INTERVIEW - "WE KNOW WHAT WE
HAVE TO DO!" -
Chesterfield face the penultimate game of the league one campaign tomorrow as old foes Bury travel to the Proact.
More & Audio...
ROBINS SING AS SPIREITES RETURN FROM SWINDON EMPTY-HANDED -
The Spireites arrived at the County Ground knowing that they couldn't yet feel that they had done enough to be safe from relegation. More...
THE DANNY WILSON INTERVIEW - "POINTS ARE VITAL!" SWINDON PREVIEW -
Just 3 games left of the 2015/16 campaign and with League One safety now in touching distance, gaffer Danny Wilson was philosophical ahead of the long trip to Swindon for the penultimate away clash More & Audio...
A VALUABLE POINT FOR WILSON'S BATTLERS AGAINST DONCASTER -
Chesterfield moved a point closer to securing League 1 survival with a 1-1 draw against Doncaster Rovers at the Proact Stadium on Tuesday evening More...
THE DANNY WILSON INTERVIEW - "WE HAVE TO GET OVER IT QUICKLY!" -
After seeing his side suffer a 0-3 home defeat to local rivals Sheffield United on Saturday, Chesterfield Manager Danny Wilson was in reflective mood as he spoke to the press on Monday.
More & Audio...
THE CHRIS MORGAN INTERVIEW - "IT'LL BE A GREAT GAME!" BLADES PREVIEW -
It's the fixture every Chesterfield supporter has been waiting for as local rivals Sheffield United visit the Proact on Saturday.
More & Audio...
CHESTERFIELD FC ANNOUNCE MAJOR NEW SHIRT SPONSORSHIP DEAL -
A major new sponsorship deal has been announced which will see the logo of construction firm G F Tomlinson appear on Chesterfield's shirts from next season.
More & Audio...
SHEFFIELD UNITED FANS ADVISED CHESTERFIELD
GAME IS SELL OUT -
Saturday's fixture, with a 1pm kick off, between Chesterfield and Sheffield United is a sell out for Blades fans, so match police are advising fans without tickets to stay away. More...
THE DANNY WILSON INTERVIEW -
"NOTHING WILL DERAIL OUR FOCUS!" -
It's back to familiar territory for Danny Wilson on Saturday as he takes his side to Oakwell stadium to face Barnsley. More & Audio...
THE DANNY WILSON INTERVIEW - "WE'RE KEEPING THE PLAYERS POSITIVE!" -
Just 7 games to go until the end of the season and, with a visit from Port Vale this afternoon, Danny Wilson admitted he was 'frustrated' with the haul of points over the Easter weekend. More & Audio...
TOO LITTLE TOO LATE FOR THE SPIREITES
AT OLDHAM.
MATCH REPORT -
It was all 'too little too late' as the Spireites lost a crucial six-pointer at Boundary Park on Easter Monday to bring the spectre of relegation back into focus. More...
A SCRAPPY GOAL LESS DRAW FOR THE SPIREITES AT HOME TO FLEETWOOD -
Relegation strugglers Chesterfield and Fleetwood Town played out a scrappy goalless draw at the Proact Stadium on Saturday as the two sides looked to move closer to League 1 survival. More...
THE DANNY WILSON INTERVIEW - "THEY'LL HAVE A GO AT US!" FLEETWOOD -
With a quick turnaround of fixtures over the Easter Bank Holiday weekend, Chesterfield manager Danny Wilson admits it will be a pivotal period for the Spireites, particularly if they can pick up 6 points from the two games.
More & Audio...
CAMPBELL-RYCE RETURNS TO MAKE A DREAM DEBUT AT GLANFORD PARK -
Jamal Campbell-Ryce scored on his returning debut to earn Chesterfield a valuable point against an in-form Scunthorpe United at Glanford Park. More...
THE DANNY WILSON INTERVIEW - SCUNTHORPE UNITED AWAY PREVIEW -
Chesterfield look to bounce back from last weekend's disappointment and move a step closer to safety when they travel to in-form Scunthorpe United this weekend.
More & Audio...
A LOAN AND A LOAN EXTENSION FOR TWO CHESTERFIELD PLAYERS -
Chesterfield striker Byron Harrison has had his loan spell at Stevenage extended until the end of the season. More...
SADDLERS 'RIDE AWAY' WITH THREE POINTS AFTER PROACT CLASH -
Chesterfield's unbeaten run was brought to end by Walsall on a miserable afternoon for the Spireites at the Proact Stadium. More...
THE DANNY WILSON INTERVIEW - "WE'LL RISE UP THE TABLE!" WALSALL PREVIEW -
Chesterfield are hoping to stretch their unbeaten run to six this weekend as manager Danny Wilson prepares to welcome SkyBet League One high flyers, Walsall, to the Proact on Saturday
More & Audio...
THE CHRIS MORGAN INTERVIEW - A LOOK AHEAD TO THE SHRIMPERS AWAY -
It was assistant gaffer Chris Morgan who faced the press ahead of this Saturday's game away at Southend.
More & Audio...
SPIREITES MAKE A POINT AGAINST THE SEASIDERS. MATCH REPORT -
Jay O'Shea's wonder strike earned Chesterfield a point against fellow relegation strugglers Blackpool on Tuesday evening. More...
SPIREITES BAG VITAL THREE POINTS WITH VICTORY OVER GILLINGHAM -
Danny Wilson took his side to the Priestfield Stadium buoyed by the vital win over Crewe but knowing that the high flying Gills, who sneaked a 1-0 win at the Proact earlier in the season, would be an even harder nut to crack. More...
THE DANNY WILSON INTERVIEW - LOOKING FOR AN AWAY WIN AT THE GILLS -
"You never know what can happen in a game!" - that's Danny Wilson, Chesterfield Manager, as he spoke to The Chesterfield Post ahead of this weekend's game against Gillingham.
More & Audio...
DREAM DEBUT FOR DIMAIO IN HOME WIN OVER CREWE.
MATCH REPORT -
Chesterfield-born Connor Dimaio scored on his Spireites home debut to help Chesterfield to a 3-1 victory over fellow strugglers Crewe Alexandra. More...
THE DANNY WILSON INTERVIEW - "EXCITING RATHER THAN TERRIFYING!" -
Crewe Alexandra visit the Proact Stadium this weekend for an all-important relegation 'six-pointer' against Chesterfield.
More & Audio...
THE DANNY WILSON INTERVIEW - "WE'RE UNDER NO ILLUSIONS" COLCHESTER VIEW -
After another disappointing defeat against Burton Albion on Friday evening, it's back on the road for Chesterfield on Tuesday night as they face bottom of the league Colchester United at their Community Stadium.
More & Audio...
SPIREITES SEE
THREE POINTS 'GONE FOR A BURTON'! MATCH REPORT -
The Spireites went down bravely at table-toppers Burton Albion, losing to a single strike in first half added time. More...
THE DANNY WILSON INTERVIEW - "BURTON WILL BE A STERN TEST!" -
A rare Saturday off ahead for the Spireites as they take on top of the league Burton Albion on Friday evening on police advice. More & Audio...
THE DANNY WILSON INTERVIEW. PREPARED FOR POSH GAME AT PROACT -
After a two-week break from competitive football, Chesterfield return to action this Saturday looking to bounce back from two consecutive defeats when they host Peterborough United at the Proact Stadium.
More & Audio...
A HAT TRICK OF SPIREITE SIGNINGS ON DEADLINE DAY -
The signing of Tom Anderson on loan from Burnley, Gary Liddle and Connor Dimaio made for a trio of transfer deadline day deals for the Spireites. More...
BACK TO BACK DEFEATS FOR THE BLUES. MILLWALL MATCH REPORT -
Chesterfield suffered a second consecutive defeat as Millwall ran out 2-1 winners on their first ever visit to the Proact Stadium. More...
THE DANNY WILSON INTERVIEW, ANYBODY CAN BEAT ANYBODY! MILLWALL PREVIEW -
Millwall make their first ever visit to the Proact Stadium on Saturday and Danny Wilson is hoping that his Chesterfield side can bounce back against the 2004 FA Cup finalists after defeat to Wigan Athletic last weekend. More & Audio...
WIGAN PICK UP POINTS AS DANNY WILSON SUFFERS FIRST DEFEAT -
Danny Wilson's unbeaten run as Chesterfield manager came to an end on Saturday at the DW Stadium as Wigan Athletic defeated the Spireites 3-1. More...
THE DANNY WILSON INTERVIEW - "WE'LL TURN UP AND PUT ON A GOOD SHOW!" -
Just three games into the job and currently unbeaten Chesterfield gaffer Danny Wilson is taking nothing for granted as he faces high flying Wigan Athletic at the DW Stadium this Saturday. More & Audio...
CHESTERFIELD HOPING FOR THREE POINTS AT WIGAN. MATCH PREVIEW -
Chesterfield travel to the DW Stadium this Saturday to face Wigan Athletic as they attempt to climb up the Sky Bet League One table. More...
A 'TOPSY TURVY' THREE POINTS FOR THE SPIREITES AT SPOTLAND -
What a topsy turvy game! The Spireites made it back to back wins after they returned home from Lancashire with three huge points after clinching a 3-2 win over Rochdale. More...
DANNY WILSON INTERVIEW - "LET'S HOPE IT'S THE START OF THINGS!" -
With confidence - and spirits - high after a commanding 7-1 home win against Shrewsbury Town, Spireites' boss Danny Wilson says it was "unexpected" but welcome.
More & Audio...
CHESTERFIELD'S MAGNIFICIENT SEVEN TAMES THE SHREWS. MATCH REPORT -
Chesterfield kicked off the new year in style with an incredible 7-1 demolition of fellow SkyBet League One strugglers, Shrewsbury Town. More...
THE DANNY WILSON INTERVIEW - "THE ATMOSPHERE WAS TERRIFIC!" -
In his first full pre-match press conference since taking up the post, new Chesterfield gaffer Danny Wilson said he had been generally happy with what he'd seen on Monday as his side faced Coventry. More & Audio...
"EVERYTHING TO PLAY FOR!" - TURNER, ALLEN AND WILSON TALK DANNY WILSON -
Danny Wilson yesterday oversaw his first match in charge at the Proact - engineering his new side to a draw against Coventry City.
More & Audio...
SPIREITES GO POSH FOR BOXING DAY AS DANNY WILSON MADE NEW BOSS -
The day after Mark Smith's Press Conference, Danny Wilson was named as the new manager of Chesterfield, replacing Dean Saunders, who departed at the end of last month.
More & Audio...