Wednesday 10th August 2016
Match Report by Howard Borrell




EFL Cup First Round
Rochdale 3-1 Chesterfield
Crown Oil Arena, Tuesday 9th August 2016, 7:45pm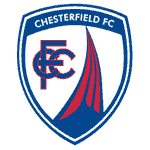 Just three days after a tough season opener at Oxford that saw the Spireites bounce back from a half-time deficit to claim a hard earned point, Danny Wilson had to face an early knockout fixture at the newly named - but very familiar - Crown Oil Arena.

It was the third season in four that the two sides had met in cup competition - with recent honours even. Last season, Dale edged the cup tie but lost the home league fixture. However Dale weree determined to ensure they didn't suffer a second successive home defeat after Peterborough's last minute winner at the weekend proved decisive.

The Spireites welcomed back Sam Hird from suspension but were unable to similarly greet Dan Jones, whose ankle injury needs further examination. Conor Dimaio and Reece Mitchell also started as Jon Nolan, Charlie Raglan and Dan Gardner stood aside.

The Spireites started strongly and gained the first flag kick of the game; that came to nothing but within seconds, Ian Evatt's close range downward header from a pin-point free kick forced a hasty clearance.

Great linkage across the area between debutant Reece, Evans and Ariyibi showed the Spireites' attacking intention.

Dion Donohue robbed Dale captain Ian Henderson in the area just as he was looking for an opening.

Ched Evans burst into the box on the right and tried a dipping shot that needed the alert Josh Lillis to tip away.

It was end-to-end stuff and Dale's turn came next as Calvin Andrew headed weakly wide of the left upright.

Within a minute ex-Spireite Donal McDermott received a gem of ball from Andrew only to fluff his lines and waste a clear opening. New home signing Samni Odelusi rose well but powered a great ball high over the cross bar. He wasted an even better chance shortly after when Andrew set him up in front of goal only to see him spoon the ball over from six yards.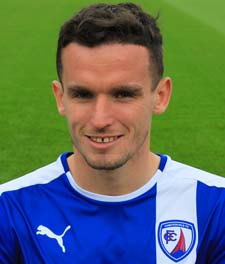 It was the Spireites who took the lead however with an absolute screamer. Paul McGinn (left), picked up on the right and let fly with an angled drive from fully 30 yards into the top corner to Lillis' right.

The goal came after a sustained period of home pressure
0-1
Ian Henderson had a great chance for a leveller after Odelusi laid off well; but his mis-hit shot proved no threat.

The Spireites would have been pleased with their interval lead after Dale had failed to put away from a series of good openings; instead they were punished by an unstoppable dream strike.

Calvin Andrew headed goalwards just before the break and Donal McDermott blasted wide of the upright but his their wayward efforts epitomised Dale's sluggishness in front of goal.
HT: 0-1
Almost from the re-start the home side equalised. Jamie Allen floated over a free kick from the right and Ian Henderson made goal scoring look easy as he headed comfortably home to Ryan Fulton's left.

1-1

They continued to press and added a second when Andy Cannon poked home from close range after Donal McDermott had set up from the left.

All of a sudden a team that appeared to not know where the goal was in the first half now looked like scoring every time they pushed forward.

2-1
All of a sudden nothing was going right for the Spireites. Dale continued to dominate. Ian Evatt took a knock and was replaced by Charlie Raglan and shortly after Curtis Morrison took over from Reece Mitchell, followed by Rai Simons taking over from Jay O'Shea.

With just under 20 minutes remaining, Evans hit a half volley that forced another finger tip save from Lillis. Ariyibi cut in from the right and had a blast that lacked power allowing Lillis to collect calmly.

Moments later it looked all over for the Spireites as Andrew laid a pass across the face of the goal from the right and substitute Nathaniel Menez-Laing touched home.
3-1
Ryan Fulton continued to be kept busy - first tipping Andrew's header onto the bar and then getting down well to deny Mendez-Laing.

Possibly the biggest cheer of the night was reserved for Calvin Andrew's substitution in time added on; he'd worked tirelessly throughout and was at the heart of a great second half performance that brought the home side the result their endeavour deserved.
FT: 3-1
What a crazy game! So the Spireites make another early cup exit despite being ahead at the interval thanks to a wonder strike from full back Paul McGinn.

Rochdale will have found the scoreline hard to understand as they had squandered several great openings in the first forty five but there was no sign of those profligate tendencies in the second period as they grabbed two early goals from Henderson and Cannon with substitute Mendez-Laing wrapping it all up - the Spireites offering little resistance to a rampant Dale attack.

Danny Wilson will be looking for answers as Swindon are the first visitors to the Proact this weekend.
CHESTERFIELD:
Fulton, McGinn, Hird, Evatt (Raglan, 60), Donohue, Ariyibi, Liddle, Dimaio, Mitchell (Morrison 64), O'Shea (Simons, 71), Evans
Subs not used: Dennis, Allinson, Daley, Graham
REFEREE: Nigel Miller
ATTENDANCE: 1,436

For more information and other CFC news, go to www.chesterfield-fc.co.uk
RECENT STORIES
DANNY WILSON INTERVIEW - "WE NEED TO MAKE SURE WE PERFORM WELL!" -
Chesterfield FC boss Danny Wilson faced the media ahead of Saturday's clash against Oldham saying preparations were going well and we spoke with new signing Conor Wilkinson.
More & Audio...
"GLAD TO BE BACK!" TOM ANDERSON INTERVIEW AND WIMBLEDON PREVIEW-
New signing Tom Anderson spoke to the media just one day after completing his loan move to Chesterfield from Burnley and said he was delighted to be back at the club after a summer hiatus. Plus Wimbledon preview. More & Audio...
TWO IN, THREE OUT! FIVE DEADLINE DAY DEALS FOR THE SPIREITES -
Chesterfield were involved in five deals on transfer deadline day signing two players on loan and allowing three to go out on a temporary basis. More...
LIONS CAPTURE VICTORY AT THE PROACT. MATCH REPORT -
Chesterfield suffered a first home defeat of the season as Steve Morison's first-half brace helped Millwall to a 3-1 victory in North Derbyshire. More...
WILSON INTERVIEW "PROBABLY THE BIGGEST GAME OF SEASON SO FAR" -
Having suffered their first defeat away at Shrewsbury last weekend, Chesterfield gaffer Danny Wilson looks forward to returning to home territory later as Millwall visit the Proact and also spoke with Spireites' Captain, Gary Liddle. More & Audio...
SPIREITES ARE TAMED BY THE SHREWS. MATCH REPORT -
It was a reality check in Shropshire as the Spireites lost their first League fixture of the campaign. More...
SPIREITES PREVIEW AND PAUL MCGINN TALKS AHEAD OF SHREWS AWAY -
Ahead of travelling to New Meadow stadium to see his side take on Shrewsbury Town, Chesterfield Manager Danny Wilson says he has no real new injury concerns, before adding a note of caution.
More & Audio...
SPIREITES HOME SEASON KICKS OFF AS THE ROBINS VISIT THE PROACT -
The first SkyBet League One game of the season will see Swindon Town visit the Proact later today - and Chesterfield boss Danny Wilson insists that his side is more than ready to play in front of a home crowd. More...
THE DANNY WILSON INTERVIEW - "EVERYONE WANTS A GOOD CUP RUN!" -
Danny Wilson will take his Chesterfield side to familiar turf on Tuesday night as the EFL cup competition begins.
More & Audio...
'GOOD EVANS!' -
CHED EARNS CHESTERFIELD A POINT ON HIS DEBUT -
This was always going to be a difficult fixture. A promoted team on a roll and playing host to a much changed Spireites line-up who needed to learn how to gel into an effective unit. More...
THE DANNY WILSON INTERVIEW - "THE BIG STAGE IS ON SATURDAY!" -
Spireites' boss Danny Wilson has told The Chesterfield Post that although he is no fan of pre-season, he learns a lot during the games played.
More & Audio...
'SHINNER' NOW "OFFICIALLY RETIRED" AFTER TESTIMONIAL AGAINST DERBY -
Shane Nicholson said he was now 'officially retired' after his testimonial game at the Proact stadium last Tuesday night.
More & Audio...
CHESTERFIELD FC STATEMENT REGARDING BOROUGH COUNCIL LOAN -
In relation to the loan made by Chesterfield Borough Council to Chesterfield Football Club, Director & Company Secretary, Ashley Carson has issued the following statement... More...
CHESTERFIELD SIGN LIVERPOOL KEEPER FULTON ON A SEASON LONG LOAN -
Chesterfield have moved to ease their goalkeeper shortage by signing Liverpool's Ryan Fulton on a season-long loan deal. More...
KRISTIAN DENNIS INTERVIEW - "I CAN'T WAIT TO GET STARTED!" -
Signed just two days after the close of the Spireites 2016/17 SkyBet League One campaign, striker Kristian Dennis told The Chesterfield Post that he can't wait to get started
More & Audio...
CHRIS TURNER - TRANSFERS, PLAYERS AND PLANS FOR THE NEW SEASON -
With two signings already made in the shape of Jon Nolan and Kristian Dennis, both non league stalwarts, preparations for the 2016/17 campaign are beginning to take shape at Chesterfield FC.
More & Audio...
CHRIS TURNER'S CLUB STATEMENT ON BEHALF OF CHESTERFIELD FC -
Following reports relating to the Chesterfield FC Player Progression Pathway (PPP) and Chesterfield FC International Academy, Chesterfield FC CEO Chris Turner issued the following statement
More...
CHESTERFIELD MAKE STRIKER DENNIS FIRST NEW SIGNING OF THE SUMMER -
Chesterfield have made their first signing of the summer, securing the signature of Kristian Dennis, who has been a prolific striker at National League level. More...
SPIREITES ACADEMY PAIR ARE OFFERED CONTRACTS -
Chesterfield academy pair Curtis Morrison and Derek Daly have both been offered professional contracts. More...
THREE'S THE MAGIC NUMBER AS SPIREITES ACHIEVE LEAGUE ONE SAFETY-
Jubilant Chesterfield fans celebrated the final whistle and retention of their League One status for another season at their final home game of the 2015/16 campaign More & Audio...
THE DANNY WILSON INTERVIEW - "WE KNOW WHAT WE
HAVE TO DO!" -
Chesterfield face the penultimate game of the league one campaign tomorrow as old foes Bury travel to the Proact.
More & Audio...
ROBINS SING AS SPIREITES RETURN FROM SWINDON EMPTY-HANDED -
The Spireites arrived at the County Ground knowing that they couldn't yet feel that they had done enough to be safe from relegation. More...
THE DANNY WILSON INTERVIEW - "POINTS ARE VITAL!" SWINDON PREVIEW -
Just 3 games left of the 2015/16 campaign and with League One safety now in touching distance, gaffer Danny Wilson was philosophical ahead of the long trip to Swindon for the penultimate away clash More & Audio...
A VALUABLE POINT FOR WILSON'S BATTLERS AGAINST DONCASTER -
Chesterfield moved a point closer to securing League 1 survival with a 1-1 draw against Doncaster Rovers at the Proact Stadium on Tuesday evening More...
THE DANNY WILSON INTERVIEW - "WE HAVE TO GET OVER IT QUICKLY!" -
After seeing his side suffer a 0-3 home defeat to local rivals Sheffield United on Saturday, Chesterfield Manager Danny Wilson was in reflective mood as he spoke to the press on Monday.
More & Audio...
THE CHRIS MORGAN INTERVIEW - "IT'LL BE A GREAT GAME!" BLADES PREVIEW -
It's the fixture every Chesterfield supporter has been waiting for as local rivals Sheffield United visit the Proact on Saturday.
More & Audio...
CHESTERFIELD FC ANNOUNCE MAJOR NEW SHIRT SPONSORSHIP DEAL -
A major new sponsorship deal has been announced which will see the logo of construction firm G F Tomlinson appear on Chesterfield's shirts from next season.
More & Audio...
SHEFFIELD UNITED FANS ADVISED CHESTERFIELD
GAME IS SELL OUT -
Saturday's fixture, with a 1pm kick off, between Chesterfield and Sheffield United is a sell out for Blades fans, so match police are advising fans without tickets to stay away. More...
THE DANNY WILSON INTERVIEW -
"NOTHING WILL DERAIL OUR FOCUS!" -
It's back to familiar territory for Danny Wilson on Saturday as he takes his side to Oakwell stadium to face Barnsley. More & Audio...
THE DANNY WILSON INTERVIEW - "WE'RE KEEPING THE PLAYERS POSITIVE!" -
Just 7 games to go until the end of the season and, with a visit from Port Vale this afternoon, Danny Wilson admitted he was 'frustrated' with the haul of points over the Easter weekend. More & Audio...
TOO LITTLE TOO LATE FOR THE SPIREITES
AT OLDHAM.
MATCH REPORT -
It was all 'too little too late' as the Spireites lost a crucial six-pointer at Boundary Park on Easter Monday to bring the spectre of relegation back into focus. More...
A SCRAPPY GOAL LESS DRAW FOR THE SPIREITES AT HOME TO FLEETWOOD -
Relegation strugglers Chesterfield and Fleetwood Town played out a scrappy goalless draw at the Proact Stadium on Saturday as the two sides looked to move closer to League 1 survival. More...
THE DANNY WILSON INTERVIEW - "THEY'LL HAVE A GO AT US!" FLEETWOOD -
With a quick turnaround of fixtures over the Easter Bank Holiday weekend, Chesterfield manager Danny Wilson admits it will be a pivotal period for the Spireites, particularly if they can pick up 6 points from the two games.
More & Audio...
CAMPBELL-RYCE RETURNS TO MAKE A DREAM DEBUT AT GLANFORD PARK -
Jamal Campbell-Ryce scored on his returning debut to earn Chesterfield a valuable point against an in-form Scunthorpe United at Glanford Park. More...
THE DANNY WILSON INTERVIEW - SCUNTHORPE UNITED AWAY PREVIEW -
Chesterfield look to bounce back from last weekend's disappointment and move a step closer to safety when they travel to in-form Scunthorpe United this weekend.
More & Audio...
A LOAN AND A LOAN EXTENSION FOR TWO CHESTERFIELD PLAYERS -
Chesterfield striker Byron Harrison has had his loan spell at Stevenage extended until the end of the season. More...
SADDLERS 'RIDE AWAY' WITH THREE POINTS AFTER PROACT CLASH -
Chesterfield's unbeaten run was brought to end by Walsall on a miserable afternoon for the Spireites at the Proact Stadium. More...
THE DANNY WILSON INTERVIEW - "WE'LL RISE UP THE TABLE!" WALSALL PREVIEW -
Chesterfield are hoping to stretch their unbeaten run to six this weekend as manager Danny Wilson prepares to welcome SkyBet League One high flyers, Walsall, to the Proact on Saturday
More & Audio...
THE CHRIS MORGAN INTERVIEW - A LOOK AHEAD TO THE SHRIMPERS AWAY -
It was assistant gaffer Chris Morgan who faced the press ahead of this Saturday's game away at Southend.
More & Audio...
SPIREITES MAKE A POINT AGAINST THE SEASIDERS. MATCH REPORT -
Jay O'Shea's wonder strike earned Chesterfield a point against fellow relegation strugglers Blackpool on Tuesday evening. More...
SPIREITES BAG VITAL THREE POINTS WITH VICTORY OVER GILLINGHAM -
Danny Wilson took his side to the Priestfield Stadium buoyed by the vital win over Crewe but knowing that the high flying Gills, who sneaked a 1-0 win at the Proact earlier in the season, would be an even harder nut to crack. More...
THE DANNY WILSON INTERVIEW - LOOKING FOR AN AWAY WIN AT THE GILLS -
"You never know what can happen in a game!" - that's Danny Wilson, Chesterfield Manager, as he spoke to The Chesterfield Post ahead of this weekend's game against Gillingham.
More & Audio...
DREAM DEBUT FOR DIMAIO IN HOME WIN OVER CREWE.
MATCH REPORT -
Chesterfield-born Connor Dimaio scored on his Spireites home debut to help Chesterfield to a 3-1 victory over fellow strugglers Crewe Alexandra. More...
THE DANNY WILSON INTERVIEW - "EXCITING RATHER THAN TERRIFYING!" -
Crewe Alexandra visit the Proact Stadium this weekend for an all-important relegation 'six-pointer' against Chesterfield.
More & Audio...
THE DANNY WILSON INTERVIEW - "WE'RE UNDER NO ILLUSIONS" COLCHESTER VIEW -
After another disappointing defeat against Burton Albion on Friday evening, it's back on the road for Chesterfield on Tuesday night as they face bottom of the league Colchester United at their Community Stadium.
More & Audio...
SPIREITES SEE
THREE POINTS 'GONE FOR A BURTON'! MATCH REPORT -
The Spireites went down bravely at table-toppers Burton Albion, losing to a single strike in first half added time. More...
THE DANNY WILSON INTERVIEW - "BURTON WILL BE A STERN TEST!" -
A rare Saturday off ahead for the Spireites as they take on top of the league Burton Albion on Friday evening on police advice. More & Audio...
THE DANNY WILSON INTERVIEW. PREPARED FOR POSH GAME AT PROACT -
After a two-week break from competitive football, Chesterfield return to action this Saturday looking to bounce back from two consecutive defeats when they host Peterborough United at the Proact Stadium.
More & Audio...
A HAT TRICK OF SPIREITE SIGNINGS ON DEADLINE DAY -
The signing of Tom Anderson on loan from Burnley, Gary Liddle and Connor Dimaio made for a trio of transfer deadline day deals for the Spireites. More...
BACK TO BACK DEFEATS FOR THE BLUES. MILLWALL MATCH REPORT -
Chesterfield suffered a second consecutive defeat as Millwall ran out 2-1 winners on their first ever visit to the Proact Stadium. More...
THE DANNY WILSON INTERVIEW, ANYBODY CAN BEAT ANYBODY! MILLWALL PREVIEW -
Millwall make their first ever visit to the Proact Stadium on Saturday and Danny Wilson is hoping that his Chesterfield side can bounce back against the 2004 FA Cup finalists after defeat to Wigan Athletic last weekend. More & Audio...
WIGAN PICK UP POINTS AS DANNY WILSON SUFFERS FIRST DEFEAT -
Danny Wilson's unbeaten run as Chesterfield manager came to an end on Saturday at the DW Stadium as Wigan Athletic defeated the Spireites 3-1. More...
THE DANNY WILSON INTERVIEW - "WE'LL TURN UP AND PUT ON A GOOD SHOW!" -
Just three games into the job and currently unbeaten Chesterfield gaffer Danny Wilson is taking nothing for granted as he faces high flying Wigan Athletic at the DW Stadium this Saturday. More & Audio...
CHESTERFIELD HOPING FOR THREE POINTS AT WIGAN. MATCH PREVIEW -
Chesterfield travel to the DW Stadium this Saturday to face Wigan Athletic as they attempt to climb up the Sky Bet League One table. More...
A 'TOPSY TURVY' THREE POINTS FOR THE SPIREITES AT SPOTLAND -
What a topsy turvy game! The Spireites made it back to back wins after they returned home from Lancashire with three huge points after clinching a 3-2 win over Rochdale. More...
DANNY WILSON INTERVIEW - "LET'S HOPE IT'S THE START OF THINGS!" -
With confidence - and spirits - high after a commanding 7-1 home win against Shrewsbury Town, Spireites' boss Danny Wilson says it was "unexpected" but welcome.
More & Audio...
CHESTERFIELD'S MAGNIFICIENT SEVEN TAMES THE SHREWS. MATCH REPORT -
Chesterfield kicked off the new year in style with an incredible 7-1 demolition of fellow SkyBet League One strugglers, Shrewsbury Town. More...
THE DANNY WILSON INTERVIEW - "THE ATMOSPHERE WAS TERRIFIC!" -
In his first full pre-match press conference since taking up the post, new Chesterfield gaffer Danny Wilson said he had been generally happy with what he'd seen on Monday as his side faced Coventry. More & Audio...
"EVERYTHING TO PLAY FOR!" - TURNER, ALLEN AND WILSON TALK DANNY WILSON -
Danny Wilson yesterday oversaw his first match in charge at the Proact - engineering his new side to a draw against Coventry City.
More & Audio...
SPIREITES GO POSH FOR BOXING DAY AS DANNY WILSON MADE NEW BOSS -
The day after Mark Smith's Press Conference, Danny Wilson was named as the new manager of Chesterfield, replacing Dean Saunders, who departed at the end of last month.
More & Audio...