Friday 29th October 2010

There was everything to pay for as the Mayor and Mayoress took part in a charity Bargain Hunt on Chesterfield's very own flea market on Thursday,
Divided into two teams with representatives from their office and their chosen charities, Fairplay and The Samaritans, they were sent with £100 to buy what they could from the stalls.

BBC Antiques expert Jonty Hearnden was on hand to then value the 'buys' and award a prize to the team who'd bought items that would add most to the original sum.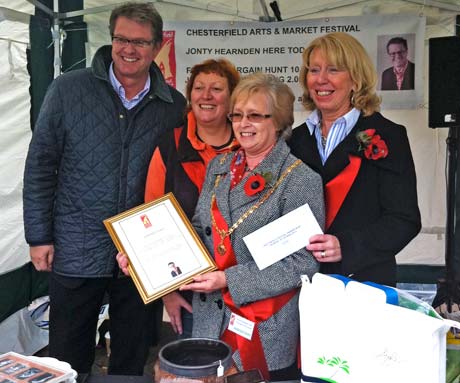 BBC's Jonty Hearnden with the winning team of Shirley Niblock (the Samaritans), Lady Mayoress Mrs Pat Morgan and the Mayor's Secretary Vivien Miller

A varied selection of goods was brought back to the table by both teams, gathered from the stallholders, including pottery, cigarette cards and Beatles records.

The Mayor's team had also purchased some rather ... 'arty nude pictures' which caused much hilarity amongst both teams and shoppers .

Jonty began to value the items in front of a large crowd in the Market Place. Praising the Market, he said there was "a fascinating range of goods available and what an asset it is to the town. I'm impressed", he said, "with what they'd bought, and an interesting exercise."

After examining the goods that both teams had picked seen below, (the Mayor's Fairplay team's selection on the left, the Mayoress's Samaritans selections on the right), he declared the Mayoress's team worthy winners - having picked the biggest range of goods which would have recouped and added to the original sum.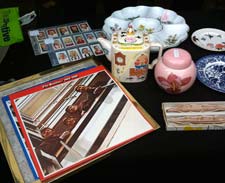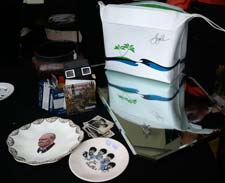 Buys of note from both sides, he said, were the Beatles records, and the brooch that had been bought from one of the jewellery stalls.

The Mayor and Mayoress will sell all items at a future date.
RECENT STORIES
WILL YOU SHINE A LIGHT OF LOVE THIS CHRISTMAS THIS YEAR -
Will you be remembering someone special this Christmas? It was that time of year again, another summer had flown by and there was more than a nip in the air. More...
CAN YOU OFFER THESE HENS AN
EGG-CITING NEW
LIFE? -
The RSPCA in Chesterfield is urging people to consider buying Free range eggs after accepting 60 ex-battery hens into their kennels at Spital. More...
"BACK OF THE NET!" KICKING CASH FOR CHARITY -
Students from Chesterfield College gave a local charity a boost as they took part in a penalty shoot out to raise cash for Ashgate Hospice.More...
BEING CRUEL TO BE KIND? -
Chesterfield RSPCA are investigating the circumstances behind one of the most bizarre they've seen in 10 years at the Charity. More...
WIRKSWORTH ROTARY 5k SANTA FUN RUN -
The Rotary Club Of Wirksworth are staging a 5k 'Santa' fun-Run for the Rainbows and Ashgate Hospice Charities on Sunday 5th December 2010 at Carsington Water More...
PUPPY LOVE UPDATE -
The RSPCA in Chesterfield confirms that a woman claiming to be the owner of the pups has contacted them and after checks, they have been reunited. More...
A LONELY GOAT
HERD -
If you're an experienced goat owner (or a Military Regiment looking for your Regimental Mascot), with land to spare, then Chesterfield RSPCA is asking you to consider helping them. More...
PUPPY LOVE -
RSPCA bosses are appealing for help in tracing the people who dumped Barnaby and Benji last week in a Chesterfield field. More...
REMEMBER THEM -
The Chesterfield branch of the Royal British Legion is asking residents to do just that and buy a poppy as the town launched it's annual Poppy Appeal Saturday. More...
WHY YOU REALLY SHOULD "GO TO SPECSAVERS" THIS WEEKEND -
Have you ever looked at the 'Mr Men' characters and thought, what about one called Mr ??? More...
ASHGATE WINTER BALL, 27/11/10 -
Ashgate Hospice are holding their 'WINTER BALL' on Saturday 27th November, 7pm for 7:30 until 1am at The Winding Wheel in Chesterfield. More...
MARIE CURIE CANCER CARE LOOKING FOR SUPPORTERS HELP -
Derbyshire Fundraiser, Laura Read is inviting anyone who is interested to come along to an informal meeting. More...
DROP IN CENTRE OPENS IT'S DOORS -
The Nenna Kind centre is situated in Room 5 on the 2nd floor of the Market Hall and offers support and advice in a welcoming environment for anyone affected by cancer. More...
HOPE FOR AFRICA -
As children in Chesterfield prepare to return to school this week one charity is promoting the message that 'In Africa, education is a privilege not a right'. More...