To all of us living in Chesterfield Donald Hollingwood is a familiar face and voice. Ayres fruit stall would simply not be the same place without him. We caught up with him as he served customers on the Friday Market.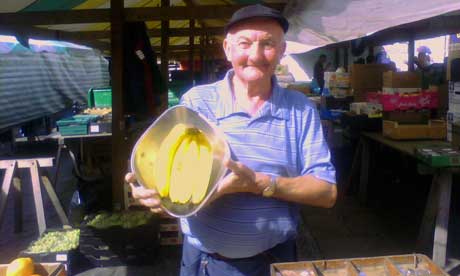 Donald started work as a small boy of seven collecting wood (he won't mind me telling you this) in 1946. This led to his job on the fruit stall where he distinctly remembers being told to "stand there and don't move" on his first day. No one can accuse him of not listening to that advice as he's still there all these years later!
He's seen many changes on the market - notably the loss of transport through the centre of the town and the bus station at the bottom of the Market Place. This is one of the things which Donald reckons has had an impact on the market trade over the years. It's certainly declined, with over 100 people on a waiting list for casual stalls at one point. Now many regularly stand empty.

He remembers the price of oranges being a shilling a dozen when he started - that's 5p for 12 in today's money - he concedes they've gone up a bit since!

He'd be lost without the market life and fears his mind would go if he didn't come to work - the people he meets are the best bit of the job. On the stall in all weathers, it's a great life he says, and one which he thoroughly enjoys.

As one of the most recognisable and visible faces of the town long may he continue to do so.
RECENT STORIES
SUPPORT LOCAL RETAILERS THIS CHRISTMAS -
Christmas shoppers in Chesterfield are being asked to shop locally and support market and local retail traders with news that we can all enjoy additional markets throughout December. More...
NE DERBYS SETS IT'S STALL OUT FOR CHRISTMAS -
Shoppers are invited to join in some festive fun while supporting local businesses, at a series of Christmas Markets being held in NE Derbyshire this year. More...
ARTS & CRAFTS MARKET ADDS BRIGHTNESS TO SWITCH ON -
A new Arts and Craft market is setting up for this year's Christmas lights switch-on event in Chesterfield. More...
LAST DAY FOR 'COTTON FOR COTTON' AT CHESTERFIELD MARKET -
Look out any old items of clothing which you no longer want and take them along to the market to be swapped for a cotton bag to encourage recycling and shopping locally and raise funds for Ashgate Hospice. More...
COUNTDOWN TO ARTS AND MARKET FESTIVAL -
Chesterfield is preparing to stage its biggest and best ever Arts and Market Festival. More...
"IT'S THE HEART OF THE TOWN!" -
That's Markets Manager Andy Bond on the Market held in Chesterfield four days a week. More...
FOOTBALL FEVER -
Chesterfield Market Traders donned their football boots for charity and raised £250 for CLIC Sargent Cancer Charity. More...
DAY OF DANCE -
A Day Of Dance descended on Chesterfield Market on Saturday 11th September, and we have some pictures for you. More...
One of the more fun events the Mayor and Mayoress have taken part in recently was the Medieval Market. The weather was great and the Town was filled with not only... More...
The open air market is at the heart of Chesterfield town centre. Taking place every Monday, Thursday, Friday and Saturday, it's one of the biggest in the UK with over 200 stalls to fill. More...

Related Tags