Monday 11th October 2010

"It's the heart of the town!" That's Markets Manager Andy Bond on the Market held in Chesterfield four days a week.

Andy has fond memories of the Market Place, having worked there himself as a teenager. After spending some time working in retail away from the town, he saw the job for Manager advertised and jumped at the chance to return to work there again.

Talk to Andy for any length of time and it's clear how proud of the stalls he is, and how protective of the stallholders. "It's a huge asset to the town, where else", he asks, "can you get everything you might need in one place?" He is certain of the fact that most days you could get anything within the varied stalls. It's also customer service in its purest sense, with good and personalised advice about the goods on sale. The holders, particularly the regulars, are like a family, they help and support each other, particularly in these more financially difficult times.

Whilst he admits the numbers wanting stalls have declined slightly due in part to stalls no longer being family businesses as younger generations explore University and other careers, it's balanced by the fact that the market is proving to be a hit with new businesses. They see stalls as a cost effective way of operating. Andy points to the diverse nature of the stalls these days; cupcakes are a particular favourite at the moment alongside the more traditional, bags, clothes and fruit.

Andy's not just a regular here either; part of his job involves travelling to other facilities to trade ideas and advice. Our market, Andy reports, is one of the only ones in the centre of a town, well placed to serve the people who use it and sees a higher number of visitors and stall take up than most others in the region. It's thriving and still going strong. Initiatives such as the Farmer's and Continental Markets have also strengthened its appeal to visitors whilst a programme of events, which includes the Day of Dance and the Well Dressings, draw in visitors from all over the UK.

Each Market day has it's own vibe and energy - but by far the most popular is the Thursday Flea Market. That's a real treat for bargain hunters and usually at full complement. (Incidentally - does anyone know why it's called a Flea Market? ... If you do, please email the Chesterfield Post).

Andy was keen to praise the workers behind the scenes too. A small army of workers is employed to set up and clean up before and after each day. Stalls are allocated, with the correct number of boards placed for each stallholder the night before. It's a long day - with set up often beginning at 6am and the clear up finishing well after 6pm. They work hard to make sure that all rubbish from the stalls is gone overnight, and return early next morning to begin all over again.
It's a good life out there says Andy, a great way to meet people, with friendships made on the market which last a lifetime. The weather is a drawback sometimes, with the harsh winter last year affecting trade, but that was hopefully a one off.

Chesterfield's Market continues to thrive and continues to remain at the centre of the town. "At it's heart", as Andy says.

Though constantly evolving and changing, it retains the values it's always had - people come and go but the ethos - good, knowledgeable service in a friendly environment - remain. Andy is determined that this will continue to be the case for many years to come.

There's investment coming along too - the Indoor Market will shortly see a multi million pound revamp, we'll have more on that as it happens.

We also had a tour of the Market with Andy and chatted to some of the regular stallholders, to get their take on life on the Market...

NEIL and JENNY BARGH have been regulars for 15 years.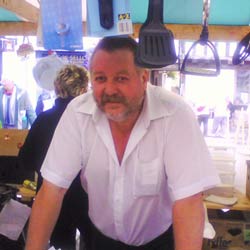 They sell just about everything you'll need around the house - cloths, diaries and even colouring stuff for the kids. They came to the market after Neil lost his job, and invested his redundancy money in the stall. They've never looked back. He can thoroughly recommend life on the stalls - the people are fantastic he says, the best thing about the job. It's full time even though they only stand for the three days, other days are taken sourcing stock. There's a great camaraderie amongst the stallholders - banter every day. He encourages people to give it a try, saying that there's always someone on the market who'll help you.

ANDY JOHNSON is also a stallholder of 20 years. His speciality is tools. There's nothing you can't get on there he says, and if there is then he can get it for you. A big bonus for him is the advice he's able to give to customers about his products - they're the best part of the job each day. He too stands for three days, and loves the life.

MICHAEL DEVINE is the face of DEVINE'S CARPETS stall. It's one of the longest standing stalls with over 25 years of customer service to the people of Chesterfield, and he's the latest of generations in the family to do this. Like the other stallholders he is emphatic that the people are the thing that keeps it all going. They come back time and time again, becoming friends. He's proud of the fact that, after he's sourced and laid carpets for customers, they'll return again and again, sometimes years later with their family to use him. It's that bespoke service that makes all the difference.

MAUREEN FRANCIS is another long serving stallholder, a market regular for 20 years.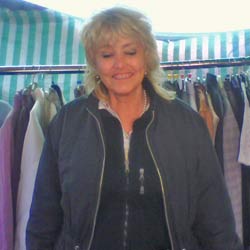 She sells clothes and jewellery and is a recognisable friendly, ever smiling face. It's the best life she says, like being with family.

She encourages anyone to have a go at it. The people of the town make it what it is, thy always stop and have a chat.

The holders are like a family too, helping each other physically (lugging boxes and stock) but also support each other emotionally. "There's always someone to pick you up when you're down." she says.

ROY PEPPERDINE travels from BOSTON every day for his FLOWER stall. It's a family business that has had it's place on the market for 25 years. He is one of the Market's characters, with banter flowing from the stall to customers. He wouldn't be anywhere else - once again the people make it what it is. Anyone walking past his stall gets banter and fun, his is one of the liveliest stalls on the market for sure. Though it's a long day, he wouldn't swap it for the world.



RECENT STORIES
MARKET FUN DAY A SUCCESS -
A family fun day took place at Clay Cross, one of a series of events aimed at getting local residents to love their local market. More...
LOVE YOUR LOCAL MARKET -
"They're Valuable Assets", says Cllr Pat Kerry from NE Derbyshire District Council as she encourages local people to shop at local markets in the region. More...
THE 'M' FACTOR -
Chesterfield residents are being asked to support Chesterfield in trying to prove it has the 'M' factor and in giving a boost to local traders and shoppers too More...
SUPPORT LOCAL RETAILERS THIS CHRISTMAS -
Christmas shoppers in Chesterfield are being asked to shop locally and support market and local retail traders with news that we can all enjoy additional markets throughout December. More...
NE DERBYS SETS IT'S STALL OUT FOR CHRISTMAS -
Shoppers are invited to join in some festive fun while supporting local businesses, at a series of Christmas Markets being held in NE Derbyshire this year. More...
ARTS & CRAFTS MARKET ADDS BRIGHTNESS TO SWITCH ON -
A new Arts and Craft market is setting up for this year's Christmas lights switch-on event in Chesterfield. More...
LAST DAY FOR 'COTTON FOR COTTON' AT CHESTERFIELD MARKET -
Look out any old items of clothing which you no longer want and take them along to the market to be swapped for a cotton bag to encourage recycling and shopping locally and raise funds for Ashgate Hospice. More...
COUNTDOWN TO ARTS AND MARKET FESTIVAL -
Chesterfield is preparing to stage its biggest and best ever Arts and Market Festival. More...
DAY OF DANCE -
A Day Of Dance descended on Chesterfield Market on Saturday 11th September, and we have some pictures for you. More...
FOOTBALL FEVER -
Chesterfield Market Traders donned their football boots for charity and raised £250 for CLIC Sargent Cancer Charity. More...
MARKET FACES, DON HOLLINGWORTH -
To all of us living in Chesterfield Donald Hollingwood is a familiar face and voice. Ayres fruit stall would simply not be the same place without him. More...
One of the more fun events the Mayor and Mayoress have taken part in recently was the Medieval Market. The weather was great and the Town was filled with not only... More...
The open air market is at the heart of Chesterfield town centre. Taking place every Monday, Thursday, Friday and Saturday, it's one of the biggest in the UK with over 200 stalls to fill. More...