Sunday 14th November 2010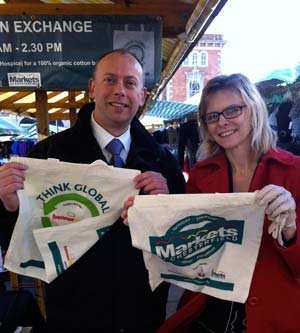 UPDATE!
The Cotton for Cotton exchange, which aimed to encourage recycling and shopping locally has been deemed a huge success despite the weather this week.

We popped along on Saturday morning where Markets Manager Andy Bond and Markets Assistant Jenny Salt were manning the stall and they told us that they were worried they may not have enough given the demand so far that morning.

5,000 bags were to be given away in total, in return for a piece of unwanted piece of good quality clothing, which would be donated to Ashgate Hospice to raise much needed funds

Saturday 13th November 2010

Today is the last day of the Cotton for cotton exchange which has been in Chesterfield this week - so look out any old items of clothing which you no longer want and take them along to the market where they'll be swapped for a cotton bag to encourage recycling and shopping locally.

All you need to do is simply bring along an unwanted piece of good quality clothing and in return you will receive a free 100% organic cotton shopping bag and your clothing donation will go towards raising funds for Ashgate Hospice.

The exchange campaign, which takes place during November, hopes to give away 5,000 cotton bags. Supporters of the campaign include Chesterfield Market, Banner Jones Solicitors and Chesterfield Borough Council.

Councillor Ray Russell, Leader of the Council said: "The aim of the project is to get shoppers thinking about their global environment whilst encouraging them to shop locally on the market. Following the success of last year's cotton bag exchange where shoppers swapped plastic bags for a reusable cotton bag, we thought about how we can repeat the project and raise some money for charity at the same time."

Ann-Marie Lowe, Marketing Manager for Banner Jones said: "Everyone has got something in their wardrobe that they bought and have never worn, or something that simply doesn't fit anymore. All of the clothes exchanged during the week will be collected and given to Ashgate Hospice for resale. We are hoping to literally turn rags into riches for charity."

Graham Richardson from Ashgate Hospice added: "We're always looking for good quality donations of clothes for women, men and children and we're delighted to have the support of this event. It's really easy to make a difference, so please bring your clothes along and show your support."

Market traders and staff from Banner Jones Solicitors will also be on hand to encourage shoppers to 'Think Global' and 'Shop Local'.

The stall will be located on the edge of the main market square (opposite Britannia Bank) between 10.30 am and 2.30 pm.


RECENT STORIES
YOUNG PEOPLE SHOW THEIR ENTERPRISE SKILLS AT MARKET -
Despite the current financial climate, young people in Chesterfield proved that the spirit of enterprise is alive and well... More...
YOUNG ENTERPRISE TRADE FAIR AT CHESTERFIELD MARKET -
Students from local schools are preparing to take part in the North Derbyshire Young Enterprise Trade Fair on Thursday 3rd March. More...
MARKET FUN DAY A SUCCESS -
A family fun day took place at Clay Cross, one of a series of events aimed at getting local residents to love their local market. More...
LOVE YOUR LOCAL MARKET -
"They're Valuable Assets", says Cllr Pat Kerry from NE Derbyshire District Council as she encourages local people to shop at local markets in the region. More...
THE 'M' FACTOR -
Chesterfield residents are being asked to support Chesterfield in trying to prove it has the 'M' factor and in giving a boost to local traders and shoppers too More...
SUPPORT LOCAL RETAILERS THIS CHRISTMAS -
Christmas shoppers in Chesterfield are being asked to shop locally and support market and local retail traders with news that we can all enjoy additional markets throughout December. More...
NE DERBYS SETS IT'S STALL OUT FOR CHRISTMAS -
Shoppers are invited to join in some festive fun while supporting local businesses, at a series of Christmas Markets being held in NE Derbyshire this year. More...
ARTS & CRAFTS MARKET ADDS BRIGHTNESS TO SWITCH ON -
A new Arts and Craft market is setting up for this year's Christmas lights switch-on event in Chesterfield. More...
COUNTDOWN TO ARTS AND MARKET FESTIVAL -
Chesterfield is preparing to stage its biggest and best ever Arts and Market Festival. More...
"IT'S THE HEART OF THE TOWN!" -
That's Markets Manager Andy Bond on the Market held in Chesterfield four days a week. More...
DAY OF DANCE -
A Day Of Dance descended on Chesterfield Market on Saturday 11th September, and we have some pictures for you. More...
FOOTBALL FEVER -
Chesterfield Market Traders donned their football boots for charity and raised £250 for CLIC Sargent Cancer Charity. More...
MARKET FACES, DON HOLLINGWORTH -
To all of us living in Chesterfield Donald Hollingwood is a familiar face and voice. Ayres fruit stall would simply not be the same place without him. More...
One of the more fun events the Mayor and Mayoress have taken part in recently was the Medieval Market. The weather was great and the Town was filled with not only... More...
The open air market is at the heart of Chesterfield town centre. Taking place every Monday, Thursday, Friday and Saturday, it's one of the biggest in the UK with over 200 stalls to fill. More...