Friday 28th November 2014

"People don't realise until these places are gone what a big difference they make! Can we manage without another convenience store? Yes. Can we manage without the Wellington? No!"

That was New Whittington resident Dave Tagg speaking at a public meeting attended by over 200 people last night (Thursday 27th November), set up to discuss plans to turn what they say is a 'much needed' community pub into a convenience store - believed to be a Co-op.




Marston's Brewery are responsible for the day to day management of the pub - although it was recently revealed that the pub is owned by a company called NewRiver Retail.

The Wellington Hotel at New Whittington (above), has been a pub for over 150 years and never closed in all that time, say campaigners. They stress that, far from being a failing business it is a thriving 'community hub' and one which needs to remain in order maintain the lives of people and groups in the village.

A campaign set up three weeks ago has seen over 1,000 signatures on petitions - both online and in paper form - with organisers saying they have been overwhelmed by the strength of feeling in the village to the plans and the attendance at the event yesterday.

In attendance at the meeting were North East Derbyshire MP, Natascha Engel and local councillors from the Borough who all pledged their help to keep the pub as a pub, and along with practical help, all mounted vocal offers of support.

Organiser Dave Sas opened the meeting by telling the floor what the pub meant to the community. In a passionate speech, he described the pub as a "Viable business and one which helps and supports all facets of the community - not just as a pub but as a community hub." He described how the pub, "Provides hot meals to the homes of pensioners who cannot get out, hosts meetings from schools and community groups - alongside the regular local sporting teams it supports. It has close links with the church and has recently provided nearly £200 to the local school to buy play equipment for the playground."

Dave added that the pub, "Buys it's produce for the meals from surrounding shops - the village butcher and grocery stores all benefit from the business it provides - and if it gets removed, the loss of the pub will decimate the village as we know it!

"I don't want it to go - the village doesn't want it to go. We need to fight it but it will be a difficult battle!"
Listen to an interview with Dave Sas here...
Having thanked the organisers for their hard work and diligence over the last 3 weeks, Councillor David Stone added, "This is not about politics, we want to save this pub. I got drunk in here at 16 and then had to walk home to Brampton where I lived at the time!"

Councillor Paul Stone agreed saying, "We have to push the online petition, get everyone to share it and spread it around, don't just come here tonight - please get involved."

Councillor Barry Bingham spoke next, saying, "I have been part of this village since school and the dice are stacked against us - breweries are selling to different companies - but there are ways forward and we need to do what we can to keep this for the community."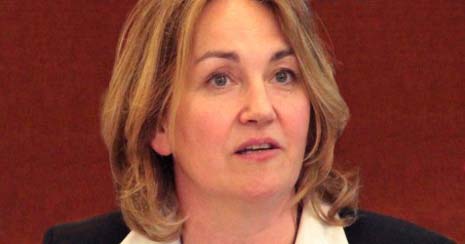 MP for North East Derbyshire Natascha Engel (above), also thanked the people behind the campaign and talked of her involvement with campaigns like this in the past, "We have been involved in a couple of pubs and usually breweries pick pubs that are on the way down. This is not the case here - you are the heart of the community.

"I will work with Viky (organiser Viky Muddiman) to see how we can do something like we did at Spinkhill - that pub is now working for the local community.

"Last week in Parliament, Toby (Toby Perkins Chesterfield MP), got the tie broken between pubs and the beer they had to sell! 'People Power' is beginning to win the day!"

She then had tongue-in-cheek advice for residents, "In the run up to Christmas, drink hard and drink more here at The Wellington! I will do anything I can to help you."
Listen to an interview with Natashca Engel MP here...
The meeting was then opened to the floor, with several residents voicing their anger and concerns. Ken White gave an emotional speech in which he said, "It would be fantastic to get some momentum rolling. I've been coming here since I was 14 - though I'm not sure I should have said that - everyone relies on it! We all enjoy a good time here and I'm emotional about it as that's how I feel about it. Let's give Viky as much help as we can."
Listen to an interview with Ken White here...
John Hewitt, also a resident of the village, added, "I don't see the point of another convenience store. I didn't realise how much this pub does for the community!"

Finally Dawn Probert from the Bookmakers next door to The Wellington spoke and said, "This is an excellent community pub and it's good for the children. It's about bringing them out for meals and family time - they see pubs aren't just about alocohol."

Dave Tagg runs the local bowls club who no longer have a pitch in New Whittington but meet regularly at the pub and he told the room that he had experience of the community in action - pulling together to try to save the bowling green. Ultimately, he said, "It failed - but everyone was accommodating. People don't realise until these places die what a loss they are!"

A spokesman for NewRiver Retail said, "We wanted to ensure that the licensee of The Wellington was given as much notice as possible about the future of the pub, long before we submitted any planning application. We are also working with Marston's who are responsible for the operational management. We will also be notifying the local community in due course about our intended plans for a new convenience store - and these will be subject to the normal planning decision-making process where local people can express their views."
OTHER STORIES
CHEERS! LOCAL PUB CELEBRATES VICTORY OVER DEVELOPMENT GIANTS -
Local campaigners are celebrating today after winning their battle to keep a local pub open amid plans to turn it into a convenience store. More...
BARLEY MOW HOPES FOR ENTERPRISE COMMUNITY HEROES AWARD SUCCESS -
A Chesterfield pub is in line to win a national award after being recognised for its commitment to helping the local community. More...
THE BURLINGTON
PUB OPENS IN CHESTERFIELD AFTER £300k INVESTMENT -
A brand new pub has opened in Chesterfield following a £300k investment of the building. The Burlington, which has been named after the street on which it resides, opened its doors on Friday 22nd May
More & Audio...
RECOGNISED PUB - THE WELLINGTON - IS 'OF VALUE' SAYS MP NATASCHA ENGEL -
Beer lovers and their MP are raising a glass as councillors have agreed to grant a popular local pub protected status. More...
CHANDLERS BAR
ARE THE 'ULTIMATE GEEKS' FIVE YEARS RUNNING! -
Chesterfield's very own cocktail bar have recently celebrated their fifth year of running their pub quiz with a twist! More...
COUNCIL DEBATE OVER SUPPORT FOR THE 'WELLY' PACKS PUBLIC GALLERIES -
Andy Bell addressed Chesterfield Borough Council last night in the chambers - during an impassioned and often emotional evening, when local councillors debated the petition to designate the pub an Asset of Community Value, and issue an Article 4 direction preventing development. More...
SHOW YOUR SUPPORT FOR THE WELLY SAYS N E DERBYSHIRE MP NATASCHA ENGEL -
A campaign to save a New Whittington pub has stepped up a gear, with the support of North East Derbyshire's MP. More...
MP DISMAYED OVER GOVERNMENT'S 'FAILURE TO PROTECT PUBS' -
NE Derbyshire MP Natascha Engel has spoken of her frustration over the government's scuppering of a measure that would help protect community pubs More...
CAMPAIGN TO SAVE POPULAR LOCAL BEGINS IN NEW WHITTINGTON -
A campaign has been mounted in a Chesterfield village by residents who hope to save one of their popular locals from being closed - and being re-opened as a convenience store. More...
GET YOUR GLAD RAGS ON AND PLATFORM SHOES OUT... -
New Whittington social club are organising a 70's / 80's Fancy Dress Disco on Saturday, 21st December 2013 from 7.30pm till late - and would like to invite everyone along to join in the fun, and dance the night away! More...
THE PUB PEOPLE COMPANY JOINS SUPPORT FOR FOOD BANK CHARITY -
Christmas is a time for giving and giving to those less fortunate than ourselves, and several pubs in Chesterfield have entered into the spirit of that this festive season.
More...
GRADE II LISTED CHESTERFIELD PUB UNDERGOS MAJOR REFURBISHMENT -
It's a pub familiar to many of us in Chesterfield and it's been announced that The Hunloke Arms, a Grade II listed historical public house - is currently undergoing a £0.5m refurbishment. More...
COMMUNITY PUB RE-OPENS -
The Holme Hall Inn (formerly, the Holmebrook Tavern) is set to have its grand re-opening More...
NEW INN, NEW TUPTON, NEEDS NEW TENANTS! -
A great opportunity as the New Inn pub, in New Tupton, is looking for a new tenant! More...
NEW WHITTINGTON PUB DEDICATES AWARD TO STAFF & CUSTOMERS -
A New Whittington pub that has just been named as a runner up in the regional Community Pub of the Year awards, has dedicated the honour to its customers. More...

CALLING TIME ON A RETAIL CAREER -
A Chesterfield couple is to star in a recruitment campaign by Punch Taverns, aimed at stressing the benefits of a career in the pub trade. More...
THE MAYOR 'CHEERS' ON LOCAL BUSINESS -
The Mayor and Mayoress of Chesterfield have officially opened the refurbished Gardeners Arms pub on Glumangate. More...
THE WELLINGTON PUB CHRISTMAS FAYRE 2011 -
The 'Welly' is a traditional, family run pub in the village of New Whittington, Chesterfield on the main bus route from Chesterfield Town to Eckington. More...