Sunday 26th June 2011
All images © The Chesterfield Post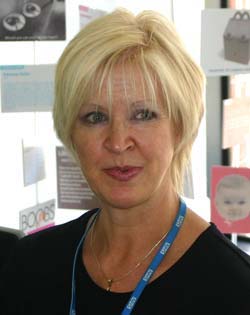 The Chesterfield Post has just left a press conference where it was confirmed by Sarah Turner-Saint, (left) Head of Communications, that the Estates team are now on site completing a Risk Assessment of the premises.

Reading from a prepared statement, she told the assembled press that, "It's fair to say the damage is substantial, with structural problems to parts of the roof above fracture and orthopaedic clinics.

"What we're looking at the minute is to relocate some services soon and are hopeful that some parts of the A&E will be open today from 2pm for emergency ambulance patients only."

She went on, "The minor injuries unit is still at Ashgate Ambulance unit at the moment but we are looking to relocate back to site, maybe in the car park area and security will direct you where you need to be. We're mindful that it's a nice day and we will become busy, so we would ask people however to really think about whether A&E is the right place to be - there are walk in centres in Derby and Sheffield and an out of hours Doctor's service. Please dial 999 in an emergency. but be aware that there is a lot of damage and water to clean up."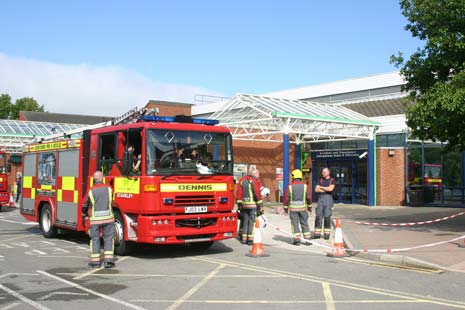 Fire Services were still at the scene this morning making final checks that all was secure before leaving

She added that the hospital will, "Be in a better position later today to see how much we can reopen. In some areas communications have been knocked out, part of which involves the pharmacy, so that will present major difficulties.

"The main entrance will be closed for a substantial time - we have no idea when that will be up and running. We appreciate there will be some inconvenience to patients, but we intend to keep that to a minimum and people will be on hand to help you get to where you need to be. Services may be at different parts of the site but we aim to keep things as close as possible."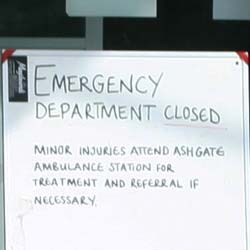 She also confirmed the impact on patients at the hospital last night saying, 10 patients were transferred to Kingsmill and 3 to a Sheffield Hospital but "We are trying to repatriate them to wards here and staff are working with families."

The Chesterfield Post asked about how the fire had begun and Sarah confirmed it was a fridge fire revealing that, "There is good news, the fire service has completed their investigation which began in the early hours and have pinpointed through CCTV that the fire began as a result of a fridge in the newsagents and transferred through.

"The construction of the entrance did it's job and restricted the damage caused- it could have been a lot worse."

Their Major incident Plan had worked well, "Everyone was fantastic and the team worked well. The Fire and Rescue Service did a sterling job, working extremely hard for 4 hours to make sure the fire was out."
Watch video of the full interview below or via our YouTube Channel. We apologise for the sound quality in this video.
RECENT STORIES
DERBYSHIRE FIRE & RESCUE SERVICE ONE OF THE BEST! -
Derbyshire Fire & Rescue Service has been awarded 'Excellence' - the highest level of achievement More...
"WE FEARED THE WORST" DERBYSHIRE FIRE & RESCUE -
Derbyshire Fire and Rescue Service has this morning confirmed that the fire at Mitchell Way, New Whittington is not being treated as suspicious. More...
NEW WHITTINGTON HOUSE FIRE UPDATE -
Fire Investigations continue this morning into a blaze at a house in New Whittington. More...
ICE IS NOT NICE! FIRE OFFICER WARNS OF FROZEN DANGERS -
For one group of emergency personnel, the recent icy cold weather was a blessing in disguise. More...
THINK SPRINKLER CAMPAIGN LAUNCHED BY DERBYSHIRE FIRE SERVICE -
A seminar to highlight the benefits of having sprinklers fitted in domestic dwellings was held at the Old fire Station Sheffield Road, and the b2net More...
FIRESERVICE ADVICE ON KEEPING SAFE THIS CHRISTMAS -
Derbyshire Fire & Rescue Service is launching a campaign to remind local residents to keep safe at Christmas. More...
'FATAL ACCIDENT' ON INFIRMARY ROAD -
3 young people, including a motorcyclist, were killed in the grim weather conditions, outside Chesterfield College this morning. More...
CHIEF FIRE OFFICER SPEAKS TO THE CHESTERFIELD POST -
Bob Currie is the Group Manager of Derbyshire Fire and Rescue and he was present at the incident the whole time. More...
HOSPITAL FIRE UPDATE -
Chesterfield Royal Hospital is this morning assessing damage to it's A&E, Fracture Clinic and Main Entrance after fire ripped through the departments last night. More...
HOSPITAL FIRE STATEMENT -
This is the statement issued by Chesterfield Royal Hospital at 23.36 pm tonight: More...
MAJOR FIRE AT CALOW HOSPITAL TONIGHT -
There is a major incident at Chesterfield Royal Hospital tonight with 10 fire engines in attendance. More...
NUISANCE FIRES IN MASTIN MOOR -
Police are appealing for information after Derbyshire Fire service was called to a burning cabin on Worksop Road More...
NO SMOKE AT CHESTERFIELD'S FIRE STATION -
Over a hundred people attended Chesterfield's fire station ahead of today's 'Stop Smoking Day' to take part in fun activities and learn about the dangers of smoking and how to quit. More...
FIRE KILLS... -
After 4 young children lost their lives in a tragic house fire in Derbyshire earlier this week, the Derbyshire Fire Service has issued safety advice to residents in the area. More...
WINTER DRIVING SAFETY TIPS -
DERBYSHIRE Fire & Rescue Service has given us some advice to help with driving in the hazardous snowy and icy conditions. More...
SNOW WARNING FOR BOILER FLUES -
DERBYSHIRE Fire & Rescue Service is warning people to make sure the flues of their gas boilers are kept clear of snow More...
STAY SAFE IN THE SNOW -
WITH snow covering Chesterfield, Derbyshire Fire & Rescue Service are urging people to take extra care both in the home and when they are out and about. More...