Tuesday 22nd November 2011



Three young people, including a motorcyclist, were killed in the grim weather conditions, outside Chesterfield College this morning.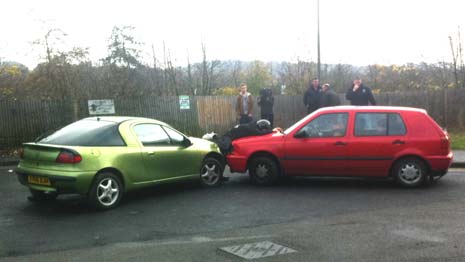 The 'collision' involved a Vauxhall Tigra, a VW Golf and a motorbike.

One lad suffered brain damage and 2 more suffered injuries. It came after a collision involving a Vauxhall Tigra, a VW Golf and a motorbike.

Actually, there WAS an accident on Infirmary Road just after 11am this morning, but it was an exercise staged by the Fire Service, in conjunction with other emergency service personnel to highlight the need to make safer choices when driving.

The Dying2Drive campaign is run each year and warns teens of the dangers of driving with distractions...
in bad weather conditions
without seatbelts
under the influence of alcohol
at an unsafe speed
This morning saw 6 students and members of the Emergency Services staff play the part of accident victims whilst real Emergency Services attended the scene and dealt with what they found in the exact way they would if it were a real life accident.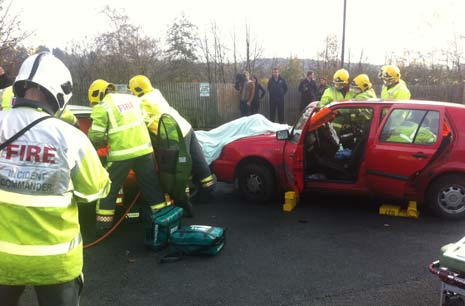 The victims were cut from the wreckage and treated at the roadside, with the 'dead' placed in body bags

The victims were cut from the wreckage and treated at the roadside, with the 'dead' placed in body bags, all to illustrate graphically the cost of driving recklessly to more than three hundred students who gathered to watch the thought-provoking incident. Students who filmed the demonstration also relayed it onto screens within the college.

Afterwards, Victoria Sparkes, the Fire Officer who had organised the day told The Chesterfield Post just why these are so valuable to young people, "Today is about making young people aware of the risk they take when they're on the road. They are the age group most likely to have car crashes, that's largely down to inexperience, I know a lot of people think it's do with arrogance, but also they don't know what can cause accidents.

"For example one of the biggest thing this has addressed is about driving with passengers, as you are 5 times more likely to be involved in a serious or fatal car crash collision if you have more than 2 passengers and that's for any age group.

"The other thing at this time of year is Drink driving. I don't mean going out to the pub - everyone knows that's illegal and dangerous - I mean the morning after, leaving one hour per unit of alcohol consumed so that your body can process it out of your system."

Distractions are a main cause of accidents like this says Vicky,' if you have the music blaring out, you're talking to people, your brain can't process information quickly enough- the more things that are going off, the more likely you are to have a car accident '

It's an exercise today but sadly a common occurrence for the real emergency services taking part as Vicky told us, "To give you some idea of how big a problem it is - everyone thinks of the fire service as fighting fires across the country, but in any age group there are only between 3 and 400 people killed in fire each year. That's obviously devastating for anyone that's happened to, but each year, car accidents cause 2,000 young people to be killed or seriously injured on our roads."

Vicky agrees that the shock tactics seen today actually work, "It's so easy to see it on TV, it doesn't affect you, but when it does happen to someone that you know, those sort of things - imagining them getting put in a body bag, or getting that phone call – it's horrendous and it happens every day."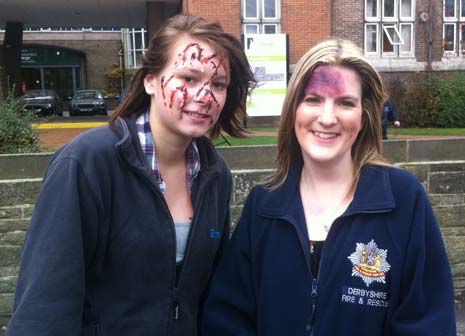 Students, and Sharon Robinson (right) took part in the staged incident and had realistic injuries

Sharon Robinson who works for the fire service was one of the volunteers who took part today. She says it was a valuable experience and an unusual part of her working day, "I got roped in as they needed an adult - there's only me and my boss and she volunteered me!"

Her role was significant, "I was the driver of the Tigra, and was hit by the other car which had 5 young people in. I was on my way to work, and broke both my legs in the collision, I'm psychologically damaged by it and have had to take time off work."

Sharon had to actually be cut out of the car as part of the role play and she says that was the most thought provoking part of the experience, "It was scary, very frightening even knowing it was a mock up. When you hear them with the cutting equipment around you, and the windscreen smashing around you - I wouldn't want to be in that situation in real life."

She was emphatic that it has made her think about the dangers on the road and has this message for drivers, "Be aware of everyone around you - you may be a safe driver but others might not be so be aware of them and how they are going to respond."
RECENT STORIES
WARNING AFTER RECALLED BEKO FRIDGE FIRE -
Derbyshire Fire and Rescue Service have issued a reminder that certain fridge freezers made by BEKO have been recalled after they attended a house fire which had been caused by the type identified. More...
A DAY IN THE LIFE OF A CHESTERFIELD FIREFIGHTER -
The Chesterfield Post met with Firefighter Deborah Dixon to find out just what life was like being a firefighter in the Chesterfield area. More...
DERBYSHIRE FIRE & RESCUE SERVICE ONE OF THE BEST! -
Derbyshire Fire & Rescue Service has been awarded 'Excellence' - the highest level of achievement More...
"WE FEARED THE WORST" DERBYSHIRE FIRE & RESCUE -
Derbyshire Fire and Rescue Service has this morning confirmed that the fire at Mitchell Way, New Whittington is not being treated as suspicious. More...
NEW WHITTINGTON HOUSE FIRE UPDATE -
Fire Investigations continue this morning into a blaze at a house in New Whittington. More...
ICE IS NOT NICE! FIRE OFFICER WARNS OF FROZEN DANGERS -
For one group of emergency personnel, the recent icy cold weather was a blessing in disguise. More...
THINK SPRINKLER CAMPAIGN LAUNCHED BY DERBYSHIRE FIRE SERVICE -
A seminar to highlight the benefits of having sprinklers fitted in domestic dwellings was held at the Old fire Station Sheffield Road, and the b2net More...
FIRESERVICE ADVICE ON KEEPING SAFE THIS CHRISTMAS -
Derbyshire Fire & Rescue Service is launching a campaign to remind local residents to keep safe at Christmas. More...
CHIEF FIRE OFFICER SPEAKS TO THE CHESTERFIELD POST -
Bob Currie is the Group Manager of Derbyshire Fire and Rescue and he was present at the incident the whole time. More...
FIRE - "IT COULD HAVE BEEN WORSE" -
The Chesterfield Post has just left a press conference with Sarah Turner-Saint, (left) Head of Communications More...
HOSPITAL FIRE UPDATE -
Chesterfield Royal Hospital is this morning assessing damage to it's A&E, Fracture Clinic and Main Entrance after fire ripped through the departments last night. More...
HOSPITAL FIRE STATEMENT -
This is the statement issued by Chesterfield Royal Hospital at 23.36 pm tonight: More...
MAJOR FIRE AT CALOW HOSPITAL TONIGHT -
There is a major incident at Chesterfield Royal Hospital tonight with 10 fire engines in attendance. More...
NUISANCE FIRES IN MASTIN MOOR -
Police are appealing for information after Derbyshire Fire service was called to a burning cabin on Worksop Road More...
NO SMOKE AT CHESTERFIELD'S FIRE STATION -
Over a hundred people attended Chesterfield's fire station ahead of today's 'Stop Smoking Day' to take part in fun activities and learn about the dangers of smoking and how to quit. More...
FIRE KILLS... -
After 4 young children lost their lives in a tragic house fire in Derbyshire earlier this week, the Derbyshire Fire Service has issued safety advice to residents in the area. More...
WINTER DRIVING SAFETY TIPS -
DERBYSHIRE Fire & Rescue Service has given us some advice to help with driving in the hazardous snowy and icy conditions. More...
SNOW WARNING FOR BOILER FLUES -
DERBYSHIRE Fire & Rescue Service is warning people to make sure the flues of their gas boilers are kept clear of snow More...
STAY SAFE IN THE SNOW -
WITH snow covering Chesterfield, Derbyshire Fire & Rescue Service are urging people to take extra care both in the home and when they are out and about. More...