Monday 16th January 2012



A seminar to highlight the benefits of having sprinklers fitted in domestic dwellings was held at the Old fire Station Sheffield Road, and the b2net last Thursday (12th January).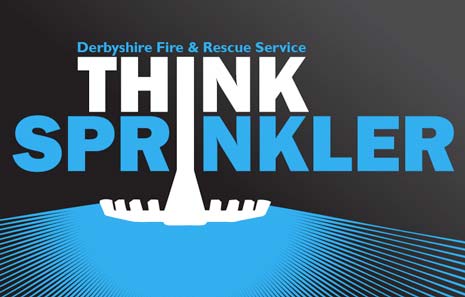 Guests were invited by Derbyshire's Chief Fire Officer Chief Executive Sean Frayne and included key individuals who are responsible for decisions relating to new buildings in Derbyshire.

Speakers at the seminar included the TV presenter and long-time advocate of the benefits of sprinklers, Nick Ross along with Caroline Tucker. Caroline suffered 75% burns in a house fire in 1988 trying to save her sister.

Other specialists in the field of fire prevention and sprinkler systems were also in attendance.

Two live demonstrations were carried out to show the effects of a fire in a house with and without a sprinkler system fitted. Photographs taken on the day clearly demonstrate the huge benefit of having sprinklers fitted compared with the total devastation caused in the unprotected building.

Derbyshire Fire & Rescue Service is actively working to highlight the benefits of having domestic sprinkler systems fitted to all new domestic dwellings and is working with all its key partner organisations and local authorities to this aim. We are all striving to highlight the effectiveness of domestic sprinklers to the wider public.

Sprinklers can provide the ultimate protection to human life, property and the environment virtually eliminating fire deaths, reducing injuries by at least 80%, reducing property damage by 90% and substantially reducing damage to the environment from fire. Domestic sprinklers will not only warn of a fire but also act immediately to control it, even when no one is present.

Derbyshire's Chief Fire Officer, Sean Frayne said: "From 2010 to present, 18 people have died as a result of fires in Derbyshire and 70 people have been injured in the period 2010 - 2011.

"A fire in the home, whatever the cause, can have a devastating effect on families and leave communities mourning, yet the risk to human life in fires can be minimised by having sprinklers fitted.

"On average, Derbyshire is currently losing one person per month as a result of fire and this is not acceptable.

"Having sprinklers fitted into your house is like having a Firefighter in every room. Sprinklers are available immediately to respond should there be a fire, and will act immediately to supress the fire and prevent its spread. Within 5 minutes the fire can be supressed to the size of a waste paper bin."

Sprinklers are not expensive and can be compared with the cost of buying new carpets and curtains. The cost will vary dependant on location, complexity, the number of sprinkler heads required and the available water supply. Multi installations, such as apartment blocks may be fitted with sprinklers at a much reduced cost as companies are able to install several systems in one visit.

Contrary to popular belief, sprinklers are not prone to going off accidentally. Sprinklers are heat activated and statistically there is more chance of winning the lottery than a sprinkler discharging accidentally.

Derbyshire Fire & Rescue Service is promoting the Think Sprinkler Campaign which coincides with the national Sprinkler Campaign.

You can complete the e-petition in support of domestic sprinklers. Download a copy of the Think Sprinkler booklet by following the link HERE on our Think Sprinkler page.
RECENT STORIES
MAJOR FIRE AT RECYCLING FACILTY IN DERBYSHIRE -
Derbyshire Fire & Rescue Service is currently in attendance at a large fire at a recycling facility on Lows Lane, Stanton-by-Dale, Derbyshire. More...
DERBYSHIRE FIRE & RESCUE SERVICES' AWARDS CEREMONY -
On Thursday 6th September, Derbyshire Fire & Rescue Service held its annual awards ceremony at Pride Park Stadium, Derby. More...
WARNING AFTER RECALLED BEKO FRIDGE FIRE -
Derbyshire Fire and Rescue Service have issued a reminder that certain fridge freezers made by BEKO have been recalled after they attended a house fire which had been caused by the type identified. More...
A DAY IN THE LIFE OF A CHESTERFIELD FIREFIGHTER -
The Chesterfield Post met with Firefighter Deborah Dixon to find out just what life was like being a firefighter in the Chesterfield area. More...
DERBYSHIRE FIRE & RESCUE SERVICE ONE OF THE BEST! -
Derbyshire Fire & Rescue Service has been awarded 'Excellence' - the highest level of achievement More...
"WE FEARED THE WORST" DERBYSHIRE FIRE & RESCUE -
Derbyshire Fire and Rescue Service has this morning confirmed that the fire at Mitchell Way, New Whittington is not being treated as suspicious. More...
NEW WHITTINGTON HOUSE FIRE UPDATE -
Fire Investigations continue this morning into a blaze at a house in New Whittington. More...
ICE IS NOT NICE! FIRE OFFICER WARNS OF FROZEN DANGERS -
For one group of emergency personnel, the recent icy cold weather was a blessing in disguise. More...
FIRESERVICE ADVICE ON KEEPING SAFE THIS CHRISTMAS -
Derbyshire Fire & Rescue Service is launching a campaign to remind local residents to keep safe at Christmas. More...
'FATAL ACCIDENT' ON INFIRMARY ROAD -
3 young people, including a motorcyclist, were killed in the grim weather conditions, outside Chesterfield College this morning. More...
CHIEF FIRE OFFICER SPEAKS TO THE CHESTERFIELD POST -
Bob Currie is the Group Manager of Derbyshire Fire and Rescue and he was present at the incident the whole time. More...
FIRE - "IT COULD HAVE BEEN WORSE" -
The Chesterfield Post has just left a press conference with Sarah Turner-Saint, (left) Head of Communications More...
HOSPITAL FIRE UPDATE -
Chesterfield Royal Hospital is this morning assessing damage to it's A&E, Fracture Clinic and Main Entrance after fire ripped through the departments last night. More...
HOSPITAL FIRE STATEMENT -
This is the statement issued by Chesterfield Royal Hospital at 23.36 pm tonight: More...
MAJOR FIRE AT CALOW HOSPITAL TONIGHT -
There is a major incident at Chesterfield Royal Hospital tonight with 10 fire engines in attendance. More...
NUISANCE FIRES IN MASTIN MOOR -
Police are appealing for information after Derbyshire Fire service was called to a burning cabin on Worksop Road More...
NO SMOKE AT CHESTERFIELD'S FIRE STATION -
Over a hundred people attended Chesterfield's fire station ahead of today's 'Stop Smoking Day' to take part in fun activities and learn about the dangers of smoking and how to quit. More...
FIRE KILLS... -
After 4 young children lost their lives in a tragic house fire in Derbyshire earlier this week, the Derbyshire Fire Service has issued safety advice to residents in the area. More...
WINTER DRIVING SAFETY TIPS -
DERBYSHIRE Fire & Rescue Service has given us some advice to help with driving in the hazardous snowy and icy conditions. More...
SNOW WARNING FOR BOILER FLUES -
DERBYSHIRE Fire & Rescue Service is warning people to make sure the flues of their gas boilers are kept clear of snow More...
STAY SAFE IN THE SNOW -
WITH snow covering Chesterfield, Derbyshire Fire & Rescue Service are urging people to take extra care both in the home and when they are out and about. More...