Monday 13th February 2012
pictures courtesy Andy Emmens



The icy cold weather may have stopped football matches, caused problems on the roads and forced people to wrap up this weekend but, for one group of emergency personnel, the recent cold snap was a blessing in disguise.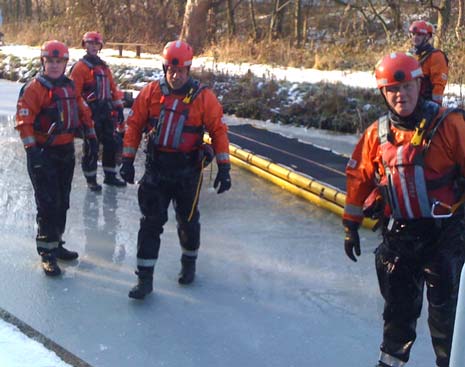 Chesterfield Fire and Rescue Service's Water Rescue Unit train on a frozen Chesterfield Canal

Derbyshire Fire and Rescue Service has 4 water safety units in the County - one of which is in Chesterfield - and Saturday morning saw training for rescues from icy water in a frozen over Chesterfield Canal.

We Spoke to Fire Officer Chris Bailey who told us just why the chance to perform the exercise was so valuable, and - ahead of a cold half term week - a warning on the dangers of frozen over water.

"The icy conditions were perfect! We have to make the most of time like that to train because they're few and far between. The Water Rescue Unit does train on water regularly but when we get ice like that, we have to make it count and get the experience.

"Sadly, ice and frozen over water proves a problem annually across the Country and Derbyshire is no exception" says Fire Officer Bailey, "People die every year from falling through ice. Only yesterday, a lady fell through the ice in Derby getting her dog out - I think in Markeaton Park - and had to be rescued."

As it's half term and it's likely that kids throughout the town will be out and about, Fire Officer Bailey had this warning near icy surfaces, "The dangers are from not being able to get out, as thin ice won't support weight so, once you're in the water, there's nothing to hold onto - to get out with - and it's so cold that your strength soon fades away.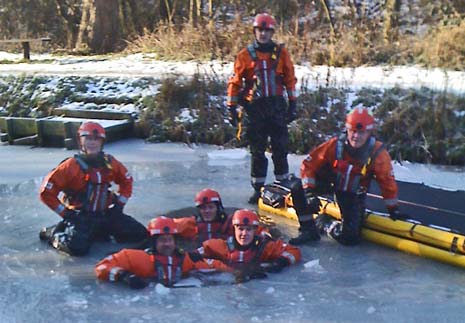 Despite special dry suits, thermal suits and flotation devices, the Rescue Unit Officers still get cold after just a couple of minutes, without the gear, you would be hypothermic within seconds

"In the photos above, you see that we have special clothes on, dry suits and thermal suits - plus flotation aids - and we get cold after a couple of minutes! In normal clothes you would be hypothermic in seconds."

He added that the main danger lies in the fact that ice looks inviting and it looks safe and thick but that's not always the case, appearances can be very deceptive. "Ice can vary in thickness from one piece to the next - undercurrents and other things in the water can make it difficult, you think you're on something nice and thick but the next minute it won't support your weight."

He has one clear message to anyone near a patch of ice this winter, "No matter how thick ice looks It is ALWAYS dangerous, so don't go near it at all."

If you see someone who has fallen through the ice, ring 999, there are 4 specialist water units in the county and they are available 24/7.
RECENT STORIES
FIRE AT LOWS LANE, STANTON-BY-DALE -
We reported on Sunday on a severe fire near the M1, J25 and J26 and today, Derbyshire Fire & Rescue Service have told us that they continue to work to fight the blaze More...
MAJOR FIRE AT RECYCLING FACILTY IN DERBYSHIRE -
Derbyshire Fire & Rescue Service is currently in attendance at a large fire at a recycling facility on Lows Lane, Stanton-by-Dale, Derbyshire. More...
DERBYSHIRE FIRE & RESCUE SERVICES' AWARDS CEREMONY -
On Thursday 6th September, Derbyshire Fire & Rescue Service held its annual awards ceremony at Pride Park Stadium, Derby. More...
WARNING AFTER RECALLED BEKO FRIDGE FIRE -
Derbyshire Fire and Rescue Service have issued a reminder that certain fridge freezers made by BEKO have been recalled after they attended a house fire which had been caused by the type identified. More...
A DAY IN THE LIFE OF A CHESTERFIELD FIREFIGHTER -
The Chesterfield Post met with Firefighter Deborah Dixon to find out just what life was like being a firefighter in the Chesterfield area. More...
DERBYSHIRE FIRE & RESCUE SERVICE ONE OF THE BEST! -
Derbyshire Fire & Rescue Service has been awarded 'Excellence' - the highest level of achievement More...
"WE FEARED THE WORST" DERBYSHIRE FIRE & RESCUE -
Derbyshire Fire and Rescue Service has this morning confirmed that the fire at Mitchell Way, New Whittington is not being treated as suspicious. More...
NEW WHITTINGTON HOUSE FIRE UPDATE -
Fire Investigations continue this morning into a blaze at a house in New Whittington. More...
THINK SPRINKLER CAMPAIGN LAUNCHED BY DERBYSHIRE FIRE SERVICE -
A seminar to highlight the benefits of having sprinklers fitted in domestic dwellings was held at the Old fire Station Sheffield Road, and the b2net More...
FIRESERVICE ADVICE ON KEEPING SAFE THIS CHRISTMAS -
Derbyshire Fire & Rescue Service is launching a campaign to remind local residents to keep safe at Christmas. More...
'FATAL ACCIDENT' ON INFIRMARY ROAD -
3 young people, including a motorcyclist, were killed in the grim weather conditions, outside Chesterfield College this morning. More...
CHIEF FIRE OFFICER SPEAKS TO THE CHESTERFIELD POST -
Bob Currie is the Group Manager of Derbyshire Fire and Rescue and he was present at the incident the whole time. More...
FIRE - "IT COULD HAVE BEEN WORSE" -
The Chesterfield Post has just left a press conference with Sarah Turner-Saint, (left) Head of Communications More...
HOSPITAL FIRE UPDATE -
Chesterfield Royal Hospital is this morning assessing damage to it's A&E, Fracture Clinic and Main Entrance after fire ripped through the departments last night. More...
HOSPITAL FIRE STATEMENT -
This is the statement issued by Chesterfield Royal Hospital at 23.36 pm tonight: More...
MAJOR FIRE AT CALOW HOSPITAL TONIGHT -
There is a major incident at Chesterfield Royal Hospital tonight with 10 fire engines in attendance. More...
NUISANCE FIRES IN MASTIN MOOR -
Police are appealing for information after Derbyshire Fire service was called to a burning cabin on Worksop Road More...
NO SMOKE AT CHESTERFIELD'S FIRE STATION -
Over a hundred people attended Chesterfield's fire station ahead of today's 'Stop Smoking Day' to take part in fun activities and learn about the dangers of smoking and how to quit. More...
FIRE KILLS... -
After 4 young children lost their lives in a tragic house fire in Derbyshire earlier this week, the Derbyshire Fire Service has issued safety advice to residents in the area. More...
WINTER DRIVING SAFETY TIPS -
DERBYSHIRE Fire & Rescue Service has given us some advice to help with driving in the hazardous snowy and icy conditions. More...
SNOW WARNING FOR BOILER FLUES -
DERBYSHIRE Fire & Rescue Service is warning people to make sure the flues of their gas boilers are kept clear of snow More...
STAY SAFE IN THE SNOW -
WITH snow covering Chesterfield, Derbyshire Fire & Rescue Service are urging people to take extra care both in the home and when they are out and about. More...