Wednesday 9th February 2011

Chesterfield Royal Hospital has announced today that HRH The Duchess of Cornwall (below) will be performing the official opening of the new £12 million ward development at Chesterfield Royal Hospital NHS Foundation Trust.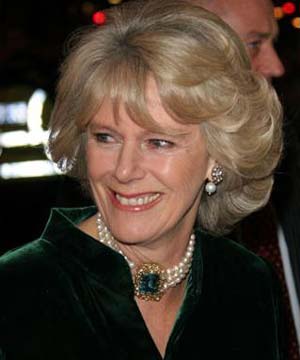 The visit is due to take place next Friday, February 18th, when Her Royal Highness will tour the new facility, meeting staff and patients as well as the architects (The Manser Practice, Leeds), building contractors (GB Building Solutions, Wakefield) and others responsible for the modern, innovative, energy saving design.

Hasland, Elmton and Ridgeway Wards (all named after North Derbyshire areas) became the Trust's largest development since it gained foundation status on January 1st 2005, when they opened in August last year.
The Duchess will be shown around Elmton (Surgery) and Hasland (Orthopaedic) Wards. Each of them feature 32 beds, isolation rooms that help prevent the spread of serious infections, clinical treatment rooms, pharmacy drug preparation areas and two nursing stations.

Fifty percent of the accommodation offers single rooms, with en-suite facilities and the wards bays are also spacious, with en-suite bathrooms with views over fields and Tapton golf course.

Chief Executive Eric Morton said: "We are delighted to welcome HRH The Duchess of Cornwall to officially open this incredible development which was the highlight of an £80million, five-year capital investment plan.

"We are incredibly proud of the facilities - and our patients have been very vocal in letting us know how positive their experiences have been on these wards.

"To have such a prestigious visitor will allow us to showcase the hard work that's gone into making these wards a huge success."

The three wards are the culmination of a period of investment that has seen the trust develop a new birth centre, a specialist children's unit, a central outpatient reception, new pathology laboratories, CT scanner and MRI scanner suites and a continuing ward upgrade programme.

The visit of HRH The Duchess of Cornwall carries on a recent tradition of Royal openings for the trust's new schemes.

HRH The Princess Royal opened The Den in March 2009; and HRH The Countess of Wessex opened Chesterfield Birth Centre in May 2010. HRH The Princess Royal also opened the trust's Scarsdale Wing in 1989 and HRH The Prince of Wales opened the hospital's Cavendish Suite (chemotherapy unit) in 1999. The hospital was itself opened by Her Majesty Queen Elizabeth II in 1985.
RECENT STORIES
PCT CLUSTER CHIEF EXEC APPOINTMENT -
Derbyshire Primary Care Trust Cluster now has a new Chief Executive after the appointment of David Sharp... More...
CRICKETER YARDY'S DEPRESSION AN EXAMPLE TO US ALL -
England cricketer Michael Yardy's decision to open up about his prolonged battle with mental illness proves there's never a wrong time to start fighting depression. More...
PARKING CHANGES AT THE ROYAL -
There's space for change at Chesterfield Royal Hospital - 50 spaces in fact! More...
H-A-P-P-Y
A report out yesterday suggests that staff morale within the NHS Derbyshire County remains among the highest throughout the NHS. More...
COUNTY'S DENTISTS CHAMPION PATIENT SCHEME -
Almost half of Derbyshire County's dentists are now championing a national scheme proving their commitment to patient care. More...
THE ROYAL GOES GLOBAL -
After conquering Facebook, the Chesterfield Royal Hospital has now reached another social networking milestone with its 1,000th YouTube viewing. More...
SAFE AND SUSTAINABLE -
A 4 month long review of the future of children's congenital heart services is about to begin in England and the NHS is seeking the views of people in Chesterfield. More...
ROYAL INSPECTION FOR HOSPITAL -
The Royal Hospital at Calow lived up to its name on Friday as it welcomed HRH The Duchess of Cornwall. More...
KICK THIS BUG INTO TOUCH -
Chesterfield FC and nurses from Derbyshire Community Health Services have joined forces to give one of the most virulent and severe winter bugs the 'Red Card'. More...
MODERN MAKEOVER PUTS STROKE PATIENTS FIRST -
Over 450 stroke patients in Chesterfield are to benefit from a £1.4m purpose-built facility for stroke sufferers will soon open at the Royal. More...
BLOOD DRAW TO SCORE DRAW -
A local donor who was one of the first to give blood at the new B2 NET stadium was Guest of Honour to see The Spireites grab a draw in the dying minutes of the game against Bradford on Saturday. More...
MORE FANS FOR ROYAL HOSPITAL -
A few weeks ago Chesterfield Hospital was appealing for friends on Facebook - now they're proud to announce they have fans of a different kind. More...
FLU ADVICE -
As swine flu cases once again begin to rise, Chesterfield Royal hospital is advising people who think they, or someone they know may have the illness to visit their website in the first instance for further advice. More...
STROKE SERVICES SHOWCASED AT HOSPITAL -
The statistics are frightening - around 150 000 people have a stroke every year, it's the largest form of disability and the 3rd most common cause of death in the UK More...
WHEN A CHILD IS BORN -
There were bumper bundles of joy at Chesterfield Royal Hospital on Christmas Day after 7 mums gave birth. More...
DON'T TAKE RISKS WHEN WALKING HOME-
As we're all out enjoying the Christmas Spirit, there's a warning that we need to take care whilst walking home. More...
MORE MRSA SCREENINGS THAN EVER BEFORE AT ROYAL -
The Chesterfield Royal Hospital has announced today that it has extended its MRSA screening programme to include emergency patients. More...
ROYAL GETS DIGITAL TONIC -
Chesterfield Royal Hospital is appealing for friends today. It's become one of the first trusts in the UK to set up a facebook profile More...
GIVE BLOOD, GIVE LIFE -
As Christmas approaches, the NHS Blood Transfusion Service is asking people in Chesterfield to think about giving one free but valuable gift this Christmas and donate a pint of blood. More...
NEW ERA FOR WOMEN'S HEALTH AS NEW UNIT OPENS -
A ground breaking Woman's Health Unit has opened today at the Chesterfield Royal and hopes to change the way the hospital provides gynaecology nursing and medical care. More...
HOSPITAL MAKE CONTINGENCY PLANS AHEAD OF WINTER -
Although it's only just November, Chesterfield Royal say they are already seeing a rise in admissions due to "winter illnesses" More...
YOUR HOSPITAL NEEDS YOU! -
North Derbyshire's patients are being asked to tell Chesterfield Royal how it can improve it's services. More...