Friday 4th February 2011

With Apprenticeships on the rise and becoming a popular alternative to A level qualifications, National Apprenticeship Week (7th - 11th February) aims to celebrate the work that students do along with the scheme itself.

Chesterfield College is hugely involved, offering a variety of placements,and is taking part in the week by helping to raise money for good causes.

Hair and Beauty Therapy apprenticeship students will be showcasing their talents to the public by offering a wide variety of low cost treatments, such as Indian Head Massage, Pedicures and Brow Shaping, at a Charity Event at Ashgate Hospice.

From 9.30am on Monday 7th February, the apprentices will be based at the Hospice Day Centre, Ashgate Road, Chesterfield, offering treatments including:
Manicure/Pedicure (£5)
Aromatherapy – Face, Back and Scalp (£5)
Indian Head Massage (£2)
Brow Shaping (£1.50)
Total Makeover including:
Cleanse, Skin Diagnosis, Makeup lesson, Manicure (£12.50)
Eve Taylor facial (£10)
Body Massage (£5)
Hair 'put-up' (£4).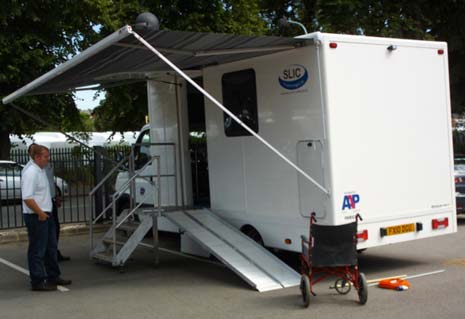 SLIC Training Ltd has also pledged that they will be participating in the Apprenticeship week by:
Using their mobile classroom (pictured above) to visit schools throughout Derbyshire and Nottinghamshire to talk to the 2011 school leavers about the Apprentices they offer in Business Admin, Customer Services, Food Drink & Hospitality, Horticulture and Waste Management.

The idea behind this is to educate the school leavers that if they are not going onto further education then there is an alternative to start their career in their chosen profession and help finding a work placement.


Proactively phoning Employers across the length and breadth of England to encourage them to take on an Apprentice to fill any vacancies they may have.


Proactively phoning Apprentices already on their books to fill the vacancies that come in and match the Apprentice to the Employer
If you have a vacancy and have at least 16 hours per week for an Apprentice to learn a trade then please call Janet Sykes on 01246 505144
RECENT STORIES
COLLEGE STUDENTS HELP OZBOX IN FUNDRAISER -
Chesterfield College Students teamed up with Derbyshire Constabulary's Ozbox scheme to raise over £514 for Thomas Fletcher. More...
STUDENT LOAN ADVICE ON SOCIAL NETWORKING SITES -
The Student Loans Company is to run a series of student finance surgeries to give real-time advice to those going to university this autumn. More...
CHESTERFIELD COLLEGE STUDENTS WIN COMPETITION -
Hair and Beauty students from Chesterfield College were victorious after an Inter-College competition More...
DAD DIGS DEEP FOR HASLAND SCHOOLS ECO-PROJECT -
A green fingered dad has been helping his son's school improve their eco- credentials as part of his employer's Volunteering Grants Programme. More...
COLLEGE FACES CUTS OF £2.8m -
There are expected to be job losses at Chesterfield College as the centre faces a £2.8m funding cut this coming financial year. More...
STANLEY DYSON'S LEGACY LIVES ON -
Three children aged between 8 and 11 were feted in London after winning a special art competition celebrating the life and work of a recently discovered local talent. More...
FATAL ROAD CRASH AT CHESTERFIELD COLLEGE? -
The scene outside Chesterfield College at lunchtime was of a fatal collision which took place just outside the entrance on Infirmary Road. Or was it? More...
YOU CAN 'STOMP' THE BEAT -
'Stomp' the percussion based street performance and award winning West End and International show visited Chesterfield College. More...
CLEANING UP THE FUTURE OF OUR PARKS -
Chesterfield Borough Council's Street Scene Enforcement team has been working with pupils at Parkside School to help improve local parks. More...
£2.5m INVESTMENT BOOST FOR CHESTERFIELD -
Good news today for both businesses and the unemployed in Chesterfield with news that £2.5m of new funding and grants is now available More...
BACK TO SCHOOL FOR CHESTERFIELD MP -
Schoolchildren in Chesterfield heard first hand about life in Parliament when MP Natascha Engel visited their school More...
"SHUTTING THE DOOR ON THE ASPIRATIONS OF YOUNG PEOPLE" -
That's Chesterfield College lecturer and Union Representative James Eadon's view on the Government's proposals to withdraw EMA. More...
BRINGING HISTORY
TO LIFE -
During a period when most schools in Chesterfield closed as a result of the bad weather, one actually opened its doors - for the first time in more than 40 years. More...
SCHOOL CLOSURES DUE TO SNOW FROM
NOV 30th 2010 -
Here's a list of schools closed today that we know of. If you have any more to add to the list, go to our forum More...
NO SUGAR - BUT LIFE STILL SWEET FOR CHESTERFIELD APPRENTICES -
Chesterfield College launching it's innovative Apprenticeship Academy based at it's Tapton Campus. More...
BEST SCHOOL FROM NOTTINGHAM TO LEEDS! -
A Chesterfield School is celebrating after climbing 41 places in the league table and becoming the highest performing prep school between Leeds and Nottingham. More...
'JOG DERBYSHIRE' JOG GROUP LAUNCHED AT COLLEGE -
Chesterfield College has become the first employer in the area to launch an official jogging group for its members of staff. More...
STUDENTS TAKE A 'PREGNANT PAUSE' AT LONDON STATION -
Chesterfield College Childcare and Health and Social Care students took part in a 'Flash Mob' alongside other volunteers including Holby City star Duncan Pow at London's Victoria Rail Station More...
COLLEGES SALON QUALITY ATTRACTS INDUSTRY PROS FROM FAR AND WIDE -
The reputation of Chesterfield College's hair and beauty salon attracted visitors from Japan this week More...
CHESTERFIELD'S GRADUATES PUBLIC SHOW OF SUCCESS -
It was a first for Chesterfield College when more than 100 proud graduates celebrated at the Crooked Spire, after a procession through the town centre More...
NEW FACILITIES FOR CHESTERFIELD HIGH SCHOOL -
A Chesterfield Secondary School is celebrating the opening of its new Student Resource and Learning Centre. More...
BUILDING LIFE
SKILLS -
Year six children at New Whittington Community Primary school got a taste of town planning when they took part in a unique project designed to coincide with 'money week' in school. More...