Monday 21st March 2011

Three children aged between 8 and 11 were feted in London after winning a special art competition celebrating the life and work of a recently discovered local talent.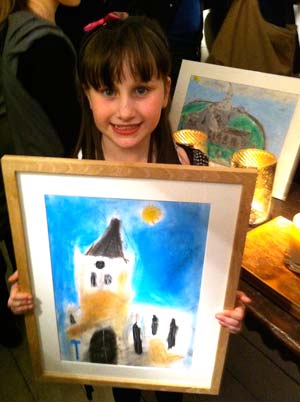 Readers of The Chesterfield Post will recall the exhibition held at Chesterfield Museum featuring the work of recently discovered local artist Stanley Dyson.

Stanley had taught at New Whittington Secondary School in the '50's, moving to Norfolk in later years. His works had been stored in his attic and, after his death in 2007, sold by his daughter at auction.

They were bought by London Gallery, Robert Youngs and, upon the discovery that some of the paintings were by his pupils, some as young as 12 at the time, the owners of the gallery set about researching the story behind the art.

In order to try and trace some of the child artists, bringing some of the paintings to Chesterfield seemed like a natural step and the gamble paid off, with many of Stanley's pupils attending the exhibition in Chesterfield Museum. One, Michael Cronin, even thought he recognized one of the unidentified children's works as his own.

On Thursday last week, the London exhibition of the paintings began at the Robert Young Gallery, with the paintings already having sold like hot cakes. Attended by over 150 guests, including Stanley's daughter herself, the evening was described by a spokeswoman for the Gallery as, "a triumph".

However, In an already personal story, there was one final chapter.

The school where Stanley taught is now New Whittington Primary School. In order to ensure that Stanley's legacy would live on in his hometown, Robert Young's worked with the school to instigate an art competition, the winners of which would attend the exhibition opening, see their pictures displayed alongside those of the Master and his pupils and a win a trophy that would be donated to the school, to become the annual 'Stanley Dyson Art Prize', in memory of the former teacher.

After being given a brief of a 'memorable place in Chesterfield', many entries were submitted to the gallery staff by the school, some from children as young as 6. In what was described as a difficult decision, three winners were selected, along with 4 mor 'highly commended'.

The three winners, all experiencing their first trip to London were:
Emily Mae Fane, pictured above with the winning painting, (Y4) - 1st prize,
Kayleigh Squires (Y6) - 2nd prize
Ellie Potts, (Y6) - 3rd prize

Highly commended were:
Leo Chan, Y1
Jake Hobson Y1
Heidi Hurst, Y6
Jaden Bull, Y3

The winners were awarded medals, money for art materials and a cup along with framed copies of their pictures, which had been displayed at the gallery for guests to see.

At the prizegiving, Robert Youngs' gallery owner talked of the "amazing bundle of art from Stanley's home town of Chesterfield, which we looked at and In our subjective way picked three winners".

In response, Karen Johnson, Chair of Governors at the school thanked Robert Youngs for their generosity towards the children and the school and also in sharing the story of Stanley with Chesterfield. It had, she said, "captured the imagination of the town - everyone in the town is very proud of Stanley, the school is very proud of Stanley too."

A spokeswoman for the gallery later added, "The Exhibition was a real triumph. To date we have sold something over 50 of the paintings and to a wide-ranging and appreciative clientele. We had people who came from Derbyshire, one of whom bought six of Stanley's early topographical works on paper.

"Over 150 people attended the preview during the course of the evening and people were still here when the company came to dismantle the tented awning.

"It has been a fabulous adventure for all of us since Robert and Josyane first discovered these works and the opening was a joyful climax to all of our preparations. The award will be a wonderful and natural way to ensure that the Stanley Dyson legacy will, in however small a way, live on in his home town.

"The girls were so open and friendly and seemed largely undaunted to be with us and the smiles on their faces at the prize giving will stay with us for ages.

"I know it is commonly said, but we really did struggle to select the prizewinners and hope that ALL the contributing children will be thanked and congratulated for their efforts and that the highly commended ones will get a special mention.

"Art is so subjective and one work is often no better than another, it maybe just speaks differently to whoever is looking at it, therefore any number of them could be 'winners' in other people's eyes. It is of course our hope that this will in some way go towards encouraging the kids to see joy in their art and to somehow feel that just making and creating it can be worthwhile, just for its own sake."

The last word went to Emily Mae who, before arriving at the exhibition had visited Buckingham Palace and seen the Queen drive past, as well as visiting the Natural History Museum, declared it had been, "The best day of my life!"
RECENT STORIES
PARENTS ANGER AGAINST SCHOOL PLACES 'LOTTERY' -
Parents in Chesterfield are expressing concerns today after they say that many children have been refused places at the primary school of their choice. More...
WHATS TO DO THIS SPRING BANK? -
Spring Bank Holiday Activities in Chesterfield and North East Derbyshire More...

COLLEGE STUDENTS SUCCESS AT SKILLBUILD HEATS -
Carpentry, Joinery, Brickwork, Painting and Decorating students from Chesterfield College achieved successes at the regional Skillbuild Heats event More...
COLLEGE STUDENTS HELP OZBOX IN FUNDRAISER -
Chesterfield College Students teamed up with Derbyshire Constabulary's Ozbox scheme to raise over £514 for Thomas Fletcher. More...
STUDENT LOAN ADVICE ON SOCIAL NETWORKING SITES -
The Student Loans Company is to run a series of student finance surgeries to give real-time advice to those going to university this autumn. More...
CHESTERFIELD COLLEGE STUDENTS WIN COMPETITION -
Hair and Beauty students from Chesterfield College were victorious after an Inter-College competition More...
DAD DIGS DEEP FOR HASLAND SCHOOLS ECO-PROJECT -
A green fingered dad has been helping his son's school improve their eco- credentials as part of his employer's Volunteering Grants Programme. More...
COLLEGE FACES CUTS OF £2.8m -
There are expected to be job losses at Chesterfield College as the centre faces a £2.8m funding cut this coming financial year. More...
FATAL ROAD CRASH AT CHESTERFIELD COLLEGE? -
The scene outside Chesterfield College at lunchtime was of a fatal collision which took place just outside the entrance on Infirmary Road. Or was it? More...
YOU CAN 'STOMP' THE BEAT -
'Stomp' the percussion based street performance and award winning West End and International show visited Chesterfield College. More...
CHESTERFIELD APPRENTICES 'FIRED UP' -
With Apprenticeships on the rise and becoming a popular alternative to A levels, National Apprenticeship Week (7th-11th Feb) aims to celebrate students work as well as the scheme itself. More...
CLEANING UP THE FUTURE OF OUR PARKS -
Chesterfield Borough Council's Street Scene Enforcement team has been working with pupils at Parkside School to help improve local parks. More...
£2.5m INVESTMENT BOOST FOR CHESTERFIELD -
Good news today for both businesses and the unemployed in Chesterfield with news that £2.5m of new funding and grants is now available More...
BACK TO SCHOOL FOR CHESTERFIELD MP -
Schoolchildren in Chesterfield heard first hand about life in Parliament when MP Natascha Engel visited their school More...
"SHUTTING THE DOOR ON THE ASPIRATIONS OF YOUNG PEOPLE" -
That's Chesterfield College lecturer and Union Representative James Eadon's view on the Government's proposals to withdraw EMA. More...
BRINGING HISTORY
TO LIFE -
During a period when most schools in Chesterfield closed as a result of the bad weather, one actually opened its doors - for the first time in more than 40 years. More...
SCHOOL CLOSURES DUE TO SNOW FROM
NOV 30th 2010 -
Here's a list of schools closed today that we know of. If you have any more to add to the list, go to our forum More...
NO SUGAR - BUT LIFE STILL SWEET FOR CHESTERFIELD APPRENTICES -
Chesterfield College launching it's innovative Apprenticeship Academy based at it's Tapton Campus. More...
BEST SCHOOL FROM NOTTINGHAM TO LEEDS! -
A Chesterfield School is celebrating after climbing 41 places in the league table and becoming the highest performing prep school between Leeds and Nottingham. More...
'JOG DERBYSHIRE' JOG GROUP LAUNCHED AT COLLEGE -
Chesterfield College has become the first employer in the area to launch an official jogging group for its members of staff. More...
STUDENTS TAKE A 'PREGNANT PAUSE' AT LONDON STATION -
Chesterfield College Childcare and Health and Social Care students took part in a 'Flash Mob' alongside other volunteers including Holby City star Duncan Pow at London's Victoria Rail Station More...
COLLEGES SALON QUALITY ATTRACTS INDUSTRY PROS FROM FAR AND WIDE -
The reputation of Chesterfield College's hair and beauty salon attracted visitors from Japan this week More...
CHESTERFIELD'S GRADUATES PUBLIC SHOW OF SUCCESS -
It was a first for Chesterfield College when more than 100 proud graduates celebrated at the Crooked Spire, after a procession through the town centre More...
NEW FACILITIES FOR CHESTERFIELD HIGH SCHOOL -
A Chesterfield Secondary School is celebrating the opening of its new Student Resource and Learning Centre. More...
BUILDING LIFE
SKILLS -
Year six children at New Whittington Community Primary school got a taste of town planning when they took part in a unique project designed to coincide with 'money week' in school. More...