Friday 27th August 2010

Derbyshire volunteers who staged a six-hour sponsored first aid marathon raised £600 for the charity that taught them.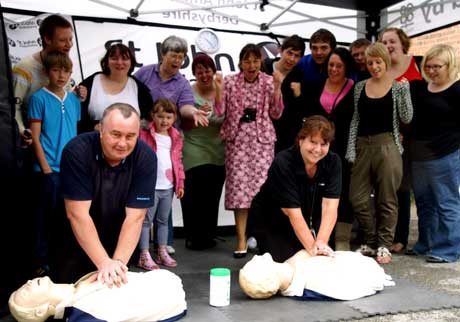 St John Ambulance members Kevin Wilson and Glenda Wood taking their turn in the challenge, urged on by other members of the team.

The event, outside St John Ambulance county headquarters in Chesterfield, saw 18 members delivering, in relays, continuous cardiopulmonary resuscitation to 'Resusci Anne' manikins used in training.

Monies raised will help to pay for first aid training by St John Ambulance Derbyshire, which relies on local fundraising to maintain its services. Over 1,300 uniformed volunteers provide vital first aid cover at events across the county.

The challenge was the idea of senior volunteer for training Wendy Rushby, who has passed on her skills to hundreds of local people. She says, "It was really hard work, but great fun and very worthwhile - the money will be put to good use."

St John Ambulance is the nation's leading first aid charity and believes that everyone who needs first aid should receive it from those around them - and no-one should suffer for a lack of trained first aiders.
RECENT STORIES
CHESTERFIELD VOLUNTEER RECEIVES TOP HONOUR -
Ken Cook, a leading influence within St John Ambulance Derbyshire over the past decade, has been honoured with investiture as a Commander of the Order of St John More...
FIRST AIDER'S LIFE SAVING SUPPORT FOR CHARITY -
A routine 'First Aid At Work' course proved to be a life-changer for Chesterfield banker Ian Boston who became a volunteer for St John Ambulance More...
LIFE SAVERS TAKE TO THE STREETS -
Chesterfield's new 'street pastors' will be equipped with life-saving skills when they take to the town centre next month - thanks to St John Ambulance. More...
PUTTING THEIR SKILLS TO THE TEST -
St John Ambulance members from across Derbyshire put their skills to the test last weekend in a bid to become county champions. More...
FESTIVE SAFETY
TIPS -
With the Big day nearly upon us, St John Ambulance in Derbyshire has issued some festive tips to help people enjoy an injury-free Christmas and New Year. More...
MOVING ON... -
After three years in post, one of the St John's Ambulance most respected members has retired from his role as Chair of Council. More...
DRUMMING UP SUPPORT FOR LOCAL BAND -
Local musician Claire Atack is drumming up support and trying to secure the future of one of the area's longest-established brass bands. More...
PIONEERS HOST NATIONAL CONFERENCE -
Chesterfield First aiders have pioneered an initiative that has led to children nationally being taught first aid skills in schools. More...
Volunteers at a Charity's Chesterfield HQ took part in a six hour fundraiser today.
St John's Ambulance members in the town held a sponsored resuscitation event to raise cash for the branch. More...
DO YOU KNOW HOW TO SAVE A LIFE -
Now, if you're planning to visit any of the shows, matches or carnivals around in Chesterfield this summer you may come across the St John's Ambulance Service there... More...