Monday 20th December 2010

After three years in post, one of the St John's Ambulance most respected members has retired from his role as Chair of Council.
Ken Cook, from Dronfield and a former Sheffield Headteacher, has been a leading influence within St John Ambulance Derbyshire since 2002 when he joined as Commander.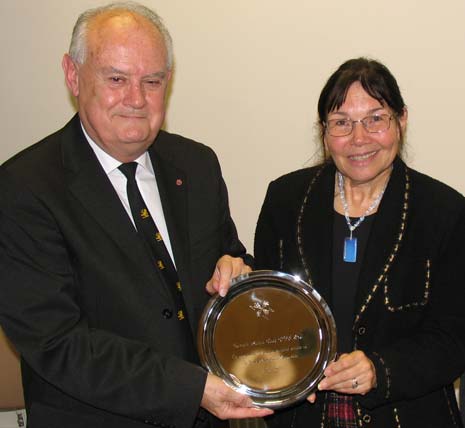 Ken Cook receives his plaque from Chair of Council (Designate) Dr Cheryle Berry.

He took on the Top Job of leading the County's 1300 uniformed volunteers in 2007 and is now moving to other projects.

Renowned for his hands-on approach and respected for his leadership skills, one of Ken's greatest legacies was restructuring the governing Council, which he reformed by bringing in experts and making it more proactive.
Under his leadership, Derbyshire became established as an influence within the organisation nationally and made an impact on a broader scale too, setting up a foundation degree in volunteer management in partnership with the University of Derby. Through this, a number of SJA staff and volunteers went on to gain BA and MA degrees.

Ken now plans to return to studying himself, working towards a doctorate in leadership and management at the University of Derby, where he is a governor. He also plans to develop other interests including a role with Derby NHS Trust.

He will be succeeded as Chair of Council by Dr Cheryle Berry, who paid tribute to Ken's commitment and leadership at a reception last week.
She said: "We have been extremely fortunate to have Ken as Commander and more recently Chair of Council. He has brought many new initiatives into the organisation as well as upholding its traditions.

"His style and leadership have set a very high benchmark, making Derbyshire one of the leading St John Ambulance counties and I'm extremely honoured, as both friend and colleague, to take on the legacy that Ken leaves."
Ken was presented with gifts including a silver salver engraved with the St John Ambulance crest and a citation (pictured above).
RECENT STORIES
CAROL CLOCKS UP 25 YEARS WITH BOLSOVER BADGERS -
Cadet Carol Owen was just 19 when St John Ambulance launched its Badger movement for the under 10s - and this week she led the group's 25th anniversary celebrations. More...
ST JOHN AMBULANCE PREPARES FOR WINTER -
St John Ambulance staff and volunteers in Derbyshire are now busy making preparations to support the emergency services More...
YOUNG FIRST AIDERS HONOURED IN COUNTY'S INAUGURAL AWARDS -
Nine-year-old Emily Salmon didn't panic when her mum fainted in the bathroom, she put her in the recovery position and raised the alarm. More...
CHESTERFIELD VOLUNTEER RECEIVES TOP HONOUR -
Ken Cook, a leading influence within St John Ambulance Derbyshire over the past decade, has been honoured with investiture as a Commander of the Order of St John More...
FIRST AIDER'S LIFE SAVING SUPPORT FOR CHARITY -
A routine 'First Aid At Work' course proved to be a life-changer for Chesterfield banker Ian Boston who became a volunteer for St John Ambulance More...
LIFE SAVERS TAKE TO THE STREETS -
Chesterfield's new 'street pastors' will be equipped with life-saving skills when they take to the town centre next month - thanks to St John Ambulance. More...
PUTTING THEIR SKILLS TO THE TEST -
St John Ambulance members from across Derbyshire put their skills to the test last weekend in a bid to become county champions. More...
FESTIVE SAFETY
TIPS -
With the Big day nearly upon us, St John Ambulance in Derbyshire has issued some festive tips to help people enjoy an injury-free Christmas and New Year. More...
DRUMMING UP SUPPORT FOR LOCAL BAND -
Local musician Claire Atack is drumming up support and trying to secure the future of one of the area's longest-established brass bands. More...
VOLUNTEERS RAISE £600 - Derbyshire volunteers who staged a six-hour sponsored first aid marathon raised £600 for the charity that taught them. More...
Volunteers at a Charity's Chesterfield HQ took part in a six hour fundraiser today.
St John's Ambulance members in the town held a sponsored resuscitation event to raise cash for the branch. More...
DO YOU KNOW HOW TO SAVE A LIFE -
Now, if you're planning to visit any of the shows, matches or carnivals around in Chesterfield this summer you may come across the St John's Ambulance Service there... More...