Thursday 9th September 2010

One lucky bride in Chesterfield made history when she became the first to marry at the B2 Net stadium. Covering both the 'something blue' and 'something new' bases, Claire Mandley from Hasland, married lifelong Spireite Mark Haynes in the first ever ceremony at the new ground. The proceedings, overlooking the pitch at the B2net Stadium was held on Friday 3rd September with over 200 guests attending the 'Haynes'' big day.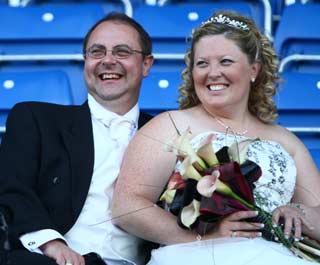 Since becoming a regular Spireite at the age of five, Mark admitted that it made the day even more significant for him: "I've been a supporter of Chesterfield FC for about 40 years now, so being a lifelong Spireite in this new stadium with all the great facilities has made this day even more special to me."
Bride Claire said: "The B2net Stadium was the ideal location for my Spireite mad husband, but as the venue is actually like a 5 star hotel, it will provide a memorable setting for anyone's wedding."

Banqueting manager Gary Cook and his team prided themselves in making sure the day was one to remember with every detail taken care of, including the bride's choice of colour scheme. And it was very much appreciated by the newlyweds with Groom Mark more than grateful for the whole package that the club had provided. He said he couldn't believe how easy it was to organise: "It was about a year ago when we were originally looking for venues and we initially thought about just having the reception here, but after talking to Gary (Cook) the question was raised about a wedding licence, so we just went ahead and booked it all up."

Mark added: "In the end we decided on having the ceremony, the meal and the evening reception here and it's been exceptional, really good fun for all."

Conferencing and banqueting manager Gary Cook said: "It was an absolute pleasure to host Claire and Mark's big day. We wish them both every happiness for the future."

He added: "As a venue we can flexibly accommodate from 10 to 300 guests and pride ourselves on providing premier facilities, exceptional service and a team dedicated to meeting the needs of our clients."

The B2net Stadium is continuing to take bookings for future weddings.

Call the events team on 01246 209765 or email events@chesterfield-fc.co.uk

For more information and other CFC news, go to www.chesterfield-fc.co.uk


RELATED STORIES
ALL IN A GOOD
CAUSE -
It was a far cry from the heat of South Africa when this year's World Cup Final Referee came to the Spireite's new home... More...
FANS ADVISED TO SIT IN ALLOCATED SEAT -
Chesterfield Football Club is warning that anyone who cannot prove they're in the right seat at matches at the B2 Net may be moved. More...
FANS KICK OFF A GREAT START TO THE SEASON -
It's been a record-breaking start to the season at the B2 NET stadium, with home games pulling in a 46% increase in crowds. More...
MAKING SURE FAMILIES ENJOY THE MATCH -
As bigger crowds at the B2 Net testify - these days there's a real family atmosphere at Chesterfield matches. More...
DEMA GLASS
REUNION -
Former employees of any of the companies that were located on the former Dema Glass site on Whittington Moor More...
CAN YOU HELP CFC? -
If you're based near Chesterfield Football Club's B2 Net stadium and you can offer match day parking facilities, More...
BUY TICKETS EARLY -
If you're planning on going to Saturday's game at the B2 Net stadium to see The Spireites take on Cheltenham Town then you're being encouraged to buy a ticket in advance. More...
OWLS CUP DATE FIXED - Chesterfield's Johnstone's Paint Trophy second round game against Sheffield wed at Hillsborough has been fixed for Wed 6th Oct - kick off 7.15 pm. More...
CFC PROUD TO SUPPORT MARIE CURIE CANCER CARE - Chesterfield FC is supporting a major fund-raising initiative in support of The Football League's official charity partner for the 2010/11 season as chosen in a recent supporters survey More...
TICKETS FOR
TROOPS - Chesterfield Football Club is proud to announce that it is to participate in
the 'Tickets For Troops' scheme More...

Related Tags