Monday 21st March 2011
Picture Courtesy of BARRY DYKE

Staveley MWFC 2 - 1 Hemsworth MWFC

Staveley MWFC continued their promotion push with another 3 points in a tight game against Hemsworth MWFC who twice went behind early in each half and must be given huge credit to sticking to their tasks.

As with any football game "No-one will let you win" rightly quoted by long standing Staveley supporter Graham Kingham - and today that point was evidently made.

Staveley opened the scoring after 3 minutes with an audacious back heel from Ryan Damms. Jordan Eagers bursting forward was tackled on the edge of the area and as the ball broke Aymen Tahar on the right put in a good cross for the Staveley striker to notch his 31st goal of the season.

Not to be outdone, Hemsworth responded when they split the right hand side of the Staveley defence open but Scott Dinnigan pulled off a good stop coming off his line to block the shot.

Hemsworth, including 2 players with league experience in their starting line up, were holding their own, albeit the referee's whistle was being blown at frequent intervals as Staveley had started brightly. A great move down the left brought another opening as Chris Coy put in a dangerous cross that just evaded Ryan Damms's diving effort.

Hemsworth won a free kick on the edge of the Staveley area after 18 minutes. As Scott Dinnigan was lining up his wall the referee allowed the quick free kick and Andy Hayward scored the equalizer that Manager Billy Fox was less than impressed about. This gave Hemsworth heart and their willingness to hound and chase Staveley all the way was clear to see.

Staveley were not at running on all four cylinders but with a bobble before most passes were taken or given due to the pitch becoming more difficult, neither side were able to pout flowing passes together.

Chris Coy was singled out for some rough treatment and when he burst through, the Hemsworth defender took the Staveley striker out and the defender waited hesitantly to see which card he was to receive, but surprisingl, a foul was given due to the 'players coming together' as was described by the referee. Coy was bundled over again and this time a caution was shown as Hemsworth were battling all the way.

Using the wind behind them, Hemsworth were looking for their goalkeeper to miss out the midfield and put the ball onto the Staveley back line to be fair both Tom Jones and Ashley Foyle coped with that particular tactic so impressively so much that in the second half Hemsworth did avoid that particular tactic.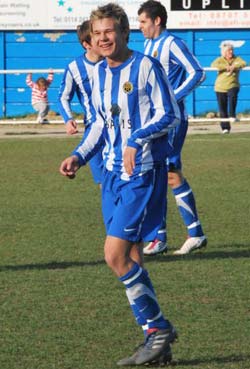 A 1-1 score line at half time was quickly altered in the second half. A Kyle Fores-Chambers free kick down the right was hot goal bound by a right foot strike by Tom Jones that unluckily hit the post and when the ball came out it was knocked back goal bound where Andrew Fox's (pictured left) lightning quick thinking produced an equally audacious side flick to the first goal and Staveley were back in front.

Again money would have perhaps been placed on Staveley opening the flood gates but that did not happen.

Hemsworth were a very workmanlike opponent, battling and chasing every ball but did not create that much up top as their danger came from set pieces or crossed into the box that were too infrequent seemingly for them to have any chance of winning the game.

Ryan Damms made way for Joe Thornton mid way the second half and Aymen Tahar was replaced by Joe Macguire. As the game went on a third goal looked on the cards for Staveley.

Numerous times in the last 10 minutes the Hemsworth back line was breached but that elusive 3rd goal never came. A double block on the goal line when both Joe Thornton and Chris Coy had chances to put the game beyond doubt probably summed up Staveley's afternoon where the result was never in doubt, but where the margin of 2-1 reflected the narrowness of victory and the lack of the cutting edge that Staveley produce more often that not.

This was Staveley's 48th game of the season. The NCEL Division 1 Champions of the last 3 seasons played 41, 50 and 48 games in their complete season and Staveley are faced with playing nearer 60 games than 50 and that is a great deal of football for any team. There are some tired limbs from the turn of Christmas where 18 games have been played in 10 weeks and it is beginning to take it's toll.

With just 6 games to go the initial pre-season target of 76 points is now 2 points away and the Championship title 8 points The latter targets may sometimes be dismissed as being easy but this is definitely not the case. As yesterday's 90 minutes showed, some sides are going to give their all and push Staveley all the way across the 90 minutes of football. It's not just a matter of turning up and beating sides, there is still a great deal of work to do.

Staveley now have 2 league games against Appleby Frodingham away on Wednesday night and Askern Villa away next Saturday and that will not be easy with Askern Villa romping home yesterday against promotion chasing Glasshoughton WFC by 4-1.

With second placed Yorkshire Amateurs winning 2-0 at Appleby Frodingham, yesterday's results probably did more for the top two than others, although Barton Town's faint hopes of promotion hang by a thread after they beat Worsbrough Bridge 2-1.

This week will decide both Glasshoughton and Barton's promotion destiny when in 5 days, they play each other twice.

The top of the table as it stands today...

Pos

Club

Plyd

Pts

Games
To
Play

Points
Available

Max
Points

Points
to reach
76 Pts

1

Staveley MWFC

32

74

6

18

92

2

2

Yorks Amat

33

66

5

15

81

10

3

Louth

31

53

7

21

74

23

4

Barton Town OB

28

52

10

30

82

24

5

Glasshoughton WFC

29

52

9

27

79

24

6

Ponterfract Colleries

28

51

10

30

81

25

7

Handsworth

29

50

9

27

77

26
RECENT STORIES
"WE DON'T WANT TO TAKE THE PASSION OUT OF FOOTBALL" -
On Wednesday Howard Webb refereed the friendly between Staveley MWFC and Chesterfield and spoke with the Chesterfield Post. More..
NCEL ANNOUNCE NEW SPONSOR -
Local company Baris, has just been announced as the sponsor of The Northern Counties East Football League. More...
STAVELEY'S FINAL FLOURISH -
Staveley MWFC brought the curtain down on their season with a 4-1 victory against a young Teversal side who put up a spirited performance. More...
STAVELEY OUT OF THE CUP -
Staveley MWFC went out of the NCEL QF's on penalties by 5-4 after 120 minutes of football that was not for the football purists. More...
"WE ARE THE CHAMPIONS!" -
Staveley MWFC are Champions Of NCEL Division 1 for the very first time in the clubs history. More...
STAVELEY EXTEND THEIR CUP RUN -
Staveley MWFC went through to the quarter-finals of the NCEL Cup with a convincing 2-0 victory away at Barton Town OB FC More...
STAVELEY DEMOLISH 'FROD' 5-1 -
Staveley MWFC's unrelenting push for promotion continued with force with a 5 - 1 demolition of Appleby Frodingham FC. More...
A CLUB ON THE UP -
Back in 2007, Staveley Miners Welfare Football Club faced extinction, their football club committee had resigned en masse due to retirement and just pure time issues. More...
STAVELEY SHOW THEIR CLASS -
Staveley MWFC recorded their biggest away win in the clubs NCEL history with a 8-0 thrashing of Bottesford Town FC. More...
STAVELEY OUT OF THE CUP -
Staveley MWFC went out of the S&H Cup to Parkgate FC by 3-1 in what proved to be a game with little between the sides... More...
STAVELEY MAKE IT 32 POINTS OUT OF 36 AND 7 HOME WINS -
A 1-0 victory fought out against a spirited Bottesford Town side gave the league leaders a battle in front of another very pleasing attendance of 102. More...
STAVELEY EARN A DRAW -
Yorkshire Amateurs push for promotion seemed to necessitate that the 3 points be taken against Staveley and the loss of another 2 points by the Ammers is giving the chasing pack hope. More...
STAVELEY PUSH ON -
Staveley MWFC pushed further ahead at the top of the NCEL Division 1 with a 1-0 victory against AFC Emley, courtesy of a brilliant strike from Chris Fawcus on 68 minutes. More...
LUCKY NUMBER 7 -
Staveley MWFC made it 7 league wins from 7 beating AFC Emley 2-0 at Inkersall Road with 2 goals from the impressive Joe Thornton, one a thunderous 30 yard free kick. More...
STAVELEY LEAD THE PACK AFTER 3-0 WIN -
Staveley MWFC increased their lead at the top of the NCEL to 4 points with 2 games in hand and also maintain an 11-point gap on 3rd More...
A TEST OF CHARACTER -
Staveley MWFC faced a few questions about their character after the weekend's disappointments when Glasshoughton Welfare came to Inkersall Road. More..
STAVELEY GRIND OUT 2-1 WIN OVER LEEDS MET-
Staveley had one hell of a fight to put 3 more points on the board against Leeds Met Carnegie... More...
STAVELEY MWFC ON RECORD SEQUENCE -
Staveley's 2-1 victory against Grimsby Borough brought the club's best ever sequence of results with 20 wins, 3 draws and just 1 defeat in a 24 game run. More...
STAVELEY MWFC HIT TOP SPOT -
Staveley MWFC went to thetop of the NCEL Division 1 with a 6-1 victory against bottom of the league Brodsworth Welfare More...
SHIREBROOK v STAVELEY MATCH REPORT -
Staveley MWFC came away from Shirebrook Town FC with 3 deserved points in a game that they dominated from start to finish. More...