Monday 25th July 2011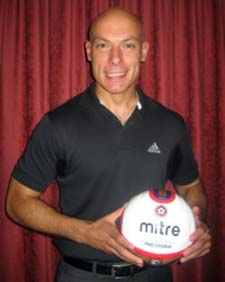 Howard Webb MBE (left) was the referee chosen to officiate at the World cup final in South Africa.

On Wednesday night though he was in more local surroundings when he refereed the friendly between Staveley MWFC and Chesterfield. Though much in demand from fans after the game (which ended in a win for the visitors) he managed to find time for a few words with The Chesterfield Post.

So-his verdict on the game first of all?

"It was an entertaining match," he said, "not much for me to do - a game like tonight you can concentrate on the football. I thought that Staveley gave a good account of themselves and could have nicked a draw. They did the Baris Northern Counties East League, of which I'm President, proud"

Howard is passionate about grass roots football and is proud to be involved in promoting it, "This is all hugely important. I started 21 years ago, refereeing in local football in South Yorkshire - that was a springboard to me going into the Champions League and World Cup, you see it with players also, they start often at local league level and then go onto bigger things.

"Non league clubs like Staveley are right to be proud of what they do," says Howard, "Look at a club like Staveley who have decent backers, who are progressing forward, it's a journey and it will be interesting to see where a local team like this can go . It's great for spectators to come along every Tuesday and Saturday to back the team - an exciting time."

Howard is also a vocal backer of the 'Respect' campaign - which has run through the Leagues for the last 3 years. Designed to promote good behaviour from all sides at games, Howard told us that, "It's a huge campaign, something being highlighted again this coming season. It's not a short term but here for good. We need to send keep sending messages to everyone in the game - show respect to the referee and to the opponents and promote the good side of football."

It's vital too if football is to keep it's reputation as a family game. "It's important to set the right example to the next generation from the top so that the prime example is strong and that everyone appreciates it. I have seen steps forward since it came in; the relationship between the Premier League players and myself is usually decent. We don't want to cut out the passion but it's essential that people behave in an acceptable way."

On a rainy, dark night in Staveley, that few weeks in South Africa must have seemed a world away but the memories are sharp says Howard, "It was an amazing 6 weeks and we were lucky to be part of an amazing event. Everything just fell into place for us to get to the final and that wonderful but challenging match.

"It was the pinnacle of my career without a doubt, it changed my life - I have been asked to be the Northern Counties League President and get involved in lots of charity things - it's nice that with the profile I have, I can do some good. There'll be no more high profile games like that though - it was a once in a lifetime opportunity."

The work begins again soon, with the start of the Premier League on 13th August. Howard admits he still can't quite believe his good fortune, "I'm lucky, I earn money doing something I love - it started as a hobby but the opportunity came to make a living when I started reffing for the Premier League.

"I was a policeman and reduced my hours initially but, once the European games started coming in, I took a five year career break. That's helped as it's been a good safety net - I've a family to support so a back up plan is nice. I need to make a decision in the next 18 months about going back. We'll see what happens. One thing is for sure though - I can't do undercover work anymore!"
RECENT STORIES
STAVELEY MAKE BEST EVER NCEL START -
Staveley made it 5 league wins from 5 starts beating Hall Road Rangers 2-0 with Manager Billy Fox adding that record to the ever increasing list More...
STAVELEY PROGRESS IN FA CUP -
Staveley MWFC made it through the Preliminary Round Replay of the FA Cup with a 3-1 fully deserved victory against Evostick South side Goole AFC More...
FA CUP REPLAY STRETCHES STAVELEY TO THE LIMIT -
An 87th minute equaliser for Goole AFC saved their blushes and earned them a replay at Staveley MWFC on Tuesday night More...
STAVELEY MAKE IT 7 WINS OUT OF 7 -
Staveley MWFC made it 7 wins from 4 league and 3 cup games in a 23 day period and went 2 points clear at the top of the NCEL Premiership More...
STAVELEY THROUGH IN FA CUP BATTLE -
Staveley MWFC made the next round of the FA Cup with a 4-0 score line that probably flattered them against Winterton Rangers in a game full of incidents. More...
STAVELEY MAKE IT 3 OUT OF 3 -
Staveley MWFC got their second league victory in a week with a 2-1 victory against Winterton Rangers who last season finished 5th More...
AWAY WIN AND A CLEAN SHEET IN NCEL PREMIERSHIP OPENER FOR STAVELEY -
Staveley MWFC opened up their NCEL Premiership campaign with a deserved 1-0 victory at Brighouse Town FC. More...
STAVELEY V CHESTERFIELD FRIENDLY MATCH REPORT -
NCEL Division 1 Champions, Staveley MWFC, played npower League 2 Champions, Chesterfield, at Inkersall Road last Wednesday evening. More...
NCEL ANNOUNCE NEW SPONSOR -
Local company Baris, has just been announced as the sponsor of The Northern Counties East Football League. More...
STAVELEY'S FINAL FLOURISH -
Staveley MWFC brought the curtain down on their season with a 4-1 victory against a young Teversal side who put up a spirited performance. More...
STAVELEY OUT OF THE CUP -
Staveley MWFC went out of the NCEL QF's on penalties by 5-4 after 120 minutes of football that was not for the football purists. More...
"WE ARE THE CHAMPIONS!" -
Staveley MWFC are Champions Of NCEL Division 1 for the very first time in the clubs history. More...
STAVELEY EXTEND THEIR CUP RUN -
Staveley MWFC went through to the quarter-finals of the NCEL Cup with a convincing 2-0 victory away at Barton Town OB FC More...
STAVELEY DEMOLISH 'FROD' 5-1 -
Staveley MWFC's unrelenting push for promotion continued with force with a 5 - 1 demolition of Appleby Frodingham FC. More...
A CLUB ON THE UP -
Back in 2007, Staveley Miners Welfare Football Club faced extinction, their football club committee had resigned en masse due to retirement and just pure time issues. More...
STAVELEY CONTINUE THEIR PROMOTION PUSH -
Another 3 points in a tight game against Hemsworth MWFC who twice went behind early in each half means huge credit must be given for sticking to their tasks. More...
STAVELEY SHOW THEIR CLASS -
Staveley MWFC recorded their biggest away win in the clubs NCEL history with a 8-0 thrashing of Bottesford Town FC. More...
STAVELEY OUT OF THE CUP -
Staveley MWFC went out of the S&H Cup to Parkgate FC by 3-1 in what proved to be a game with little between the sides... More...
STAVELEY MAKE IT 32 POINTS OUT OF 36 AND 7 HOME WINS -
A 1-0 victory fought out against a spirited Bottesford Town side gave the league leaders a battle in front of another very pleasing attendance of 102. More...
STAVELEY EARN A DRAW -
Yorkshire Amateurs push for promotion seemed to necessitate that the 3 points be taken against Staveley and the loss of another 2 points by the Ammers is giving the chasing pack hope. More...
STAVELEY PUSH ON -
Staveley MWFC pushed further ahead at the top of the NCEL Division 1 with a 1-0 victory against AFC Emley, courtesy of a brilliant strike from Chris Fawcus on 68 minutes. More...
LUCKY NUMBER 7 -
Staveley MWFC made it 7 league wins from 7 beating AFC Emley 2-0 at Inkersall Road with 2 goals from the impressive Joe Thornton, one a thunderous 30 yard free kick. More...
STAVELEY LEAD THE PACK AFTER 3-0 WIN -
Staveley MWFC increased their lead at the top of the NCEL to 4 points with 2 games in hand and also maintain an 11-point gap on 3rd More...
A TEST OF CHARACTER -
Staveley MWFC faced a few questions about their character after the weekend's disappointments when Glasshoughton Welfare came to Inkersall Road. More..
STAVELEY GRIND OUT 2-1 WIN OVER LEEDS MET-
Staveley had one hell of a fight to put 3 more points on the board against Leeds Met Carnegie... More...
STAVELEY MWFC ON RECORD SEQUENCE -
Staveley's 2-1 victory against Grimsby Borough brought the club's best ever sequence of results with 20 wins, 3 draws and just 1 defeat in a 24 game run. More...
STAVELEY MWFC HIT TOP SPOT -
Staveley MWFC went to thetop of the NCEL Division 1 with a 6-1 victory against bottom of the league Brodsworth Welfare More...
SHIREBROOK v STAVELEY MATCH REPORT -
Staveley MWFC came away from Shirebrook Town FC with 3 deserved points in a game that they dominated from start to finish. More...